From Habitats to Polycultures: patterns and details in edible ecosystem design
Postponed until 2021
Friday: From patterns to details in edible ecosystem design
7:00pm – 9:30pm, Community Base, Brighton
Saturday – Sunday : Habitats, patches, and polycultures: integrating across scale
9:30am – 5:30pm, Stanmer Park, Brighton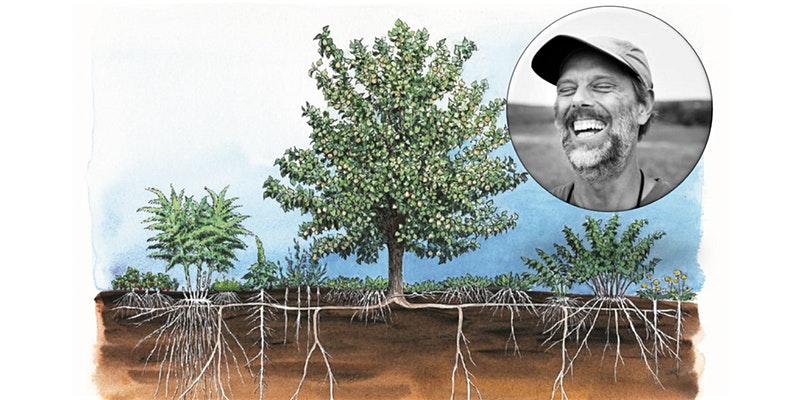 We are thrilled to have Dave Jacke in Brighton on a rare visit from the US. Join him for an evening talk or a full weekend workshop.
Dave is an engaging and passionate teacher of ecological design and permaculture, and a meticulous designer as well as being the primary author of the award winning two-volume book Edible Forest Gardens.
Introduction
Ecosystems operate simultaneously across scales from the subatomic to the regional and planetary. To survive and maximize our own well-being, we humans must learn to design and inhabit healthy ecosystems that integrate across these same scales as best we can.
In forest gardening, our design process must consciously interconnect realities spanning from landscapes to plants, and beyond.
This evening public lecture and two-day interactive workshop will offer fresh insights and approaches to this joyful, powerful, and fulfilling effort.
Come for just the Friday talk, or come for the full experience! Either way you'll find your eyes opened and your head, heart, and hands grasping tools that integrate ecological understanding with practical design skills for co-creating functioning edible ecosystems.
From patterns to details in edible ecosystem design
Evening talk
7:00pm – 9:30pm, Friday 19 June
South Wing Conference Centre
Community Base
113 Queens Road
Brighton, BN1 3XG (map)
This is the first class for those doing the full weekend workshop. Also open to all wanting to come to just the evening talk.
Functional ecological design processes facilitate effective and efficient design of healthy "humanatural" ecosystems. In this talk we'll review ecological design processes, and how the parts of the process fit together as a system.
Designing from broad-brush patterns to nitty-gritty details tends to offer the best results. Examples from Dave's design practice will illustrate both ecological design processes and ecological design results, specifically designing the architecture of forest gardens from habitat scale to polyculture scale.
Habitats, patches, and polycultures: integrating across scale
Saturday 20 June 9:30am – 5:30pm – Sunday 21 June 9:30am-4:30pm
Stanmer Park (near University of Sussex)
Brighton
Sussex
South East England
Get directions to Stanmer Park.
Find accommodation
With an overview of ecological design processes under our belts, we will dive into two days of deeper practical exploration through lectures, discussions, interactive exercises, and design problems.
Plants form patches, which form habitats, which form ecosystems! Nonetheless, we usually design from habitats, to patches, to polycultures and plants.
We will experiment with different phases of ecological design and how they weave together into greater wholes. Together, we will engage and observe, reflect and share, design and discuss, so you can take home a well of new experiences to draw from in your own projects.
Fees and booking
Fees include Friday, Saturday & Sunday tuition, refreshments, handouts and information sheets.
£247.50 – Sponsored/organisation rate
£247.50 – Individual income more than 25k/yr
£200 – Individual income 18-25k/yr
£152.50 – Individual income less than 18k/yr
£84 – Individual, concessionary rate (check your eligibility)*
* Concessionary places are limited. If places are not available check back two weeks before the course/event as more may be available then.
We endeavour to make our courses and events affordable to all. Unfortunately, we do not receive any external funding for most of these and rely on large amounts of voluntary input.
See the cancellations and refunds policy.
Booking the evening talk only
£10 – Ticket for just the evening talk