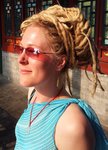 Name:
Liz Ashforth
Position:
Apple Day Coordinator
About Liz:
Liz completed her Permaculture Design Course in April 2016 after a lifetime at Newcastle Uni, and few years living in China doing microbiology, event organising and performing on stage under the descriptive name "The Dreaded Liz". She has implemented 3 additional permaculture designs on the way to a  -:- diploma.
Liz has great admiration for the complexity and efficiency of nature. She lives by the motto "life is too short for apathy and too long for waste" and so enthusiastically applies permaculture principles at both home and work. Her purpose in life is to promote positive life choices, and to discover new ways to inspire and empower a more considered approach to environmental decision making.
Liz enjoys seeing people have a change in perspective, and metaphorically (and literally) picking up rocks to see what's underneath, so you often find her volunteering at the plot and networking in any and all areas of alternative food production.
The  -:- plot is a Soil Association member and LAND Site. It is open every Thursday from 10:30am until 3pm. Please come along and  -:- volunteer!
Name your permaculture hero? Why them?
Angie Polkey – my permaculture design course tutor, and star of the "purposeful permaculture" videos on Youtube.
The way she communicates permaculture is both reassuring and encouraging – perfect when trying to do something new or see something with fresh eyes – which is what permaculture design is all about.
Which permaculture principle do you have to remind yourself of the most?
It's totally Small, Slow Solutions. It's so obvious when you see someone else implementing an idea that is too big, needs to be done too soon, or doesn't need to be done at all! Knowing about and seeing it in others verses acting on this principal yourself are entirely separate skills. I often have to repeat "small slow solutions" out loud to myself to make sure I'm actually doing it at all!
Which permaculture principle is always popping up in unlikely places?
Love this question. Integrate rather than segregate. I see lots of examples where this can be used. Why? Because people aren't great at accepting the things they see as negative and focus on separating themselves from it. Take human character. Perhaps we want to be more considerate kinder, more sociable, less critical, or more logical. The thing is when you accept and embrace that our nature is perhaps a little lazy, self focused, quick to judge, and emotional, then you can stop running away and instead really start to communicate on a level and see how we can realistically integrate – people with people, people with the natural world. Could make one super principal of Observe, Accept, Integrate.
Best example of permaculture in action?
Went to a couple's house in a valley in mid Wales. Everything about their house and land had meaning, was purposefully designed and fitted in with the dynamic aspects of the surrounding environment. They had spent their whole lives together gently working on this personal space.
On more of a quick fix note…rubble from one neighbour's garden being used in another's to build a rockery, surround a pond, and support raised beds. Everyone saved money, waste materials were up-cycled into things of beauty, two gardens were changed to promote greater environmental diversity, income was generated for two livelihoods, plenty of exercise was had, it positively affected the lives of 9 people, and built community as there were lots of great conversations over it!