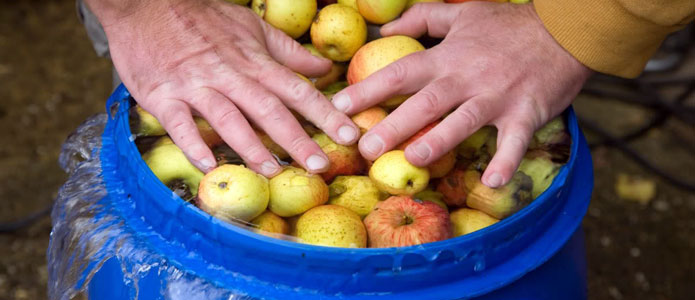 SEPTEMBER 2020
Our scrumping project makes juices, vinegar & cider from local fruit. If you or your neighbours have spare apples or pears we can use them!
Please bring your fruit to us at the Fruit Factory (opposite the tea rooms) in Stanmer Park on Sundays, 1pm-3pm. Get directions. We plan to be juicing every week until the end of November. (However, in exceptional circumstances or poor weather there is a chance we might not be there.)
All fruit should be clean and in good condition or we can't use it. Windfall fruit (fruit from the ground) needs to be kept separate from fruit that you pick from a tree. Windfalls can't be used for juice but are great for cider/vinegar.
For every 15kg of fruit you bring we will give you a litre of freshly pressed juice. Please note: the juice that we give you probably will not contain the juice from your own fruit as our press takes around 70kg of fruit at a time.
If you have more than 50kg of fruit and would like us to press it for you, we charge 62p per litre of juice. Please contact us to book in this service via the Make an Enquiry button at the bottom of this page.