New dates to be announced
1pm – 4pm
A three hour walking tour in Stanmer Great Wood.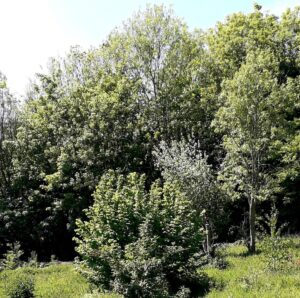 Ever wanted to own or plant a woodland? Perhaps you already do and would like a little more advice. Come and join us on an educational tour of Stanmer Great Wood.
Owning a woodland is a rare privilege not open to many, but the planting of a new wood is more realistic and has a far larger impact on habitat and carbon capture.
Existing woodlands require management due to the fragmented nature of the modern woodland landscape, adding to this stock with new woodlands has so many benefits there is not enough space here to list them, so we will be discussing them in depth on the day.
Existing woodlands contain a relatively even volume of carbon whereas new woodlands capture on average 8 tons per hectare per year over the first 100 years. Many people think of time in terms of weeks; foresters think in decades.
What to expect
The Woodland management tour will be a themed walk covering all aspects of planning, planting and managing a woodland.
It is open to absolute beginners and people already engaged in woodland management.
We will cover the key points of planning, planting, feeding, biodiversity and disease management. In fact, everything required to maintain a healthy woodland. We will also cover how to create incomes and micro businesses from your trees. There will be plenty of opportunities for questions as we go.
The tour will be entirely outdoors and we will walk approximately one and a half miles, so please dress appropriately.
Course tutor
Andy Reynolds will lead this workshop, with assistance from Fran Pickering. Andy is an author, instructor, forester and promoter of self-reliance. He has spent the last 20 years rebuilding a home and changing the surrounding fields from dead agricultural land into an oasis of natural life. Read his blog here.
What to bring
Come prepared for the weather. You may want to bring a drink and snack to sustain you. Our stall outside the Fruit Factory will be open selling freshly pressed apple juice.
Meeting point
The Fruit Factory
Stanmer Park (near University of Sussex)
Brighton
Sussex
Get directions to Stanmer Park.
Fees
Booking
If you have completed the booking process but you haven't received a confirmation email from us please contact us to check your booking has gone through.
If you are booking within two weeks of the event, or the event is nearly full, you will not have the option to pay BACS. Instead, you will need to pay immediately using a credit/debit card or PayPal.