We've relaunched Green Architecture Day as an online event called Green Architecture Sessions and are ready to inspire the designers of the future with a focus on climate and action this year.

Our homes and living environments have come into sharp focus during the pandemic. Many people have transitioned to working from home, streets are being adapted for social distancing and attention has turned to the post-covid future we want to create.

Along with the pandemic, the climate crisis is one of the biggest challenges of this generation. Our built environment contributes to around 40% of the UK's total carbon footprint each year¹ and is responsible for 60% (120 million tonnes) of the UK's annual waste². Last year 90% of local authorities pledged to be Net-Zero Carbon by 2030 and as architects and construction sites open for business again, we have the potential to turn the tide to create a better and more green economy.

Kicking off on the 21st September the two week event hosts a series of online lunchtime talks, tours, Q&A's and a panel discussion where participants will be able to get their questions answered by the architecture and construction industry's leading professionals.

Oliver Heath, innovative designer and TV presenter will be leading the opening the sessions and hosting the plenary discussion, where the industry experts will be taking questions from the online audience.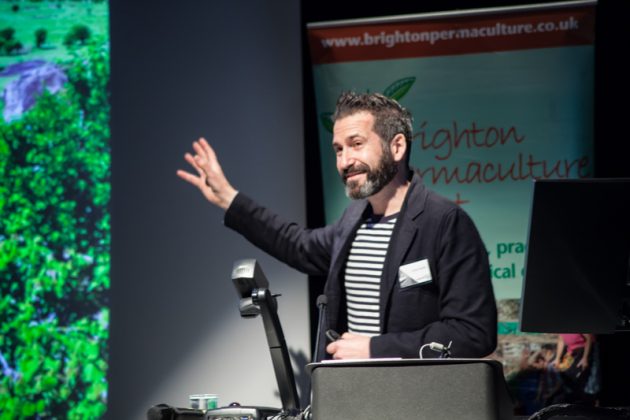 This year's speakers include the award winning Clara Benegal George, Maria Smith, Director of Sustainability and Physics at Buro Happold, Brighton Waste-House pioneer Duncan Baker-Brown, the President of European Green Roof Associations, Dusty Gedge, biomimetic designer Ehab Sayed of BIOHM in conversation with Sally Lowndes, development activist of Onion Collective and Bryn Thomas, director of Brighton Permaculture Trust.

The impressive lineup will be focusing their talks on this year's theme of 'Action' to address the climate and biodiversity crisis. Discussing solutions from regenerative living materials, circular construction systems to community-led bio-manufacturing and equitable business models, and from diverse and carbon neutral green roof adaptation, to how we can transform the property industry to operate within planetary boundaries while facilitating prosperity.

The annual event, usually called Green Architecture Day, has been run in partnership with the Low Carbon Trust since 2002 and attracts a wide range of industry professionals and interested individuals. Join us!

To find out more about this year's online event click here.
1 https://www.ukgbc.org/climate-change/
2https://assets.publishing.service.gov.uk/government/uploads/system/uploads/attachment_data/file/765914/resources-waste-strategy-dec-2018.pdf