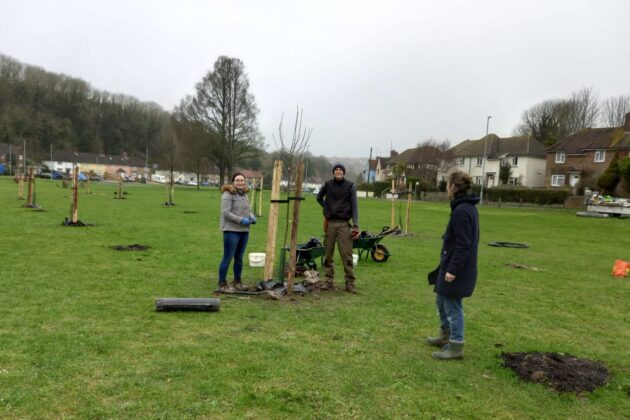 Oops! We've done it again!
We're all set to start another record-breaking round of tree planting this coming winter. Topping last year's tree planting numbers of 138 fruit and nut trees in Sussex, we aim to plant over 170 this year!
Brighton Permaculture Trust will continue to deliver Round 3 of the Forestry Commission's Urban Tree Challenge Fund in partnership with Trees for Cities.  This will allow us to plant 40 trees in Bevendean and 25 in Portslade/ Shoreham area.  We currently await the outcome of Round 4 which would add another 26 trees to this year's planting at Peacehaven Centennial Park supported by Peacehaven Town Council, and a whopping 75 trees in Worthing, Lancing and Southwick areas in partnership with Adur & Worthing Council.
We'll be supporting communities in Southwick and Bristol Estate to plant their own bespoke orchards with funding from Infinity Wholefoods.  This sees the start of 5 years of our partnership with them to provide meaningful support to communities through what they do best: ethical, healthy food!
And we are excited to announce a new partnership working with the international charity The Fruit Tree Foundation. We'll be extending our flagship orchard at Racehill with the planting of 20 handsome walnuts in a joint project in January 2023.
Finally, we're thrilled to branch out (groan) and plant more than just trees with funding from East Brighton Trust. We're choosing 3 orchards as sites for 300 wildflower plug plants skilfully raised by the Wildflower Conservation Society. Traditional orchards like the ones we plant benefit massively from the areas surrounding trees being sensitively managed. This means mowing less often, allowing natural species to thrive increasing biodiversity and creating habitat opportunities. This all brings in beneficial insects and animals who munch on our orchard pests. By adding native species through this funding, we can bolster this natural process.
Have you thought about holiday presents yet? Why not donate to Brighton Permaculture Trust?  This helps with the delivery of our orchard planting projects and the aftercare required, including training-up local people with vital skills.
Short on cash?  Then donate your time and energy and sign up for our volunteer opportunities and make planting a tree top of your list for 2023.