Apple blossom tour
Apple blossom tour: The apples and the bees
The date for the 2019 Apple blossom tour will be announced close to the event.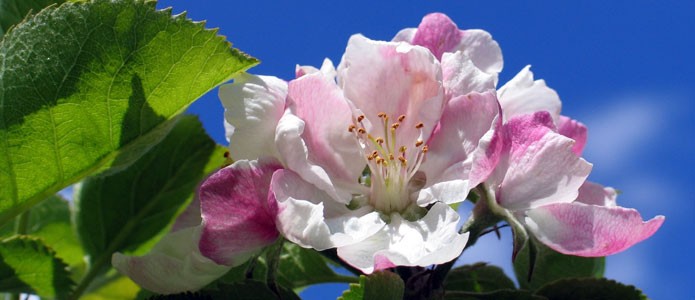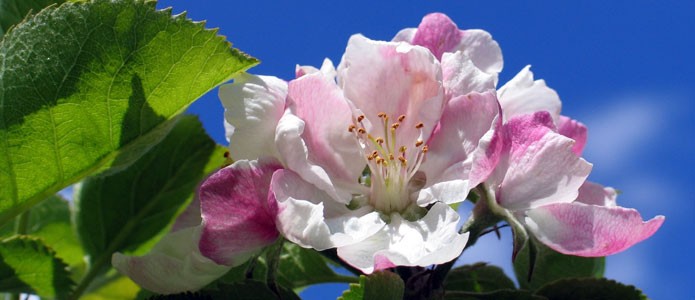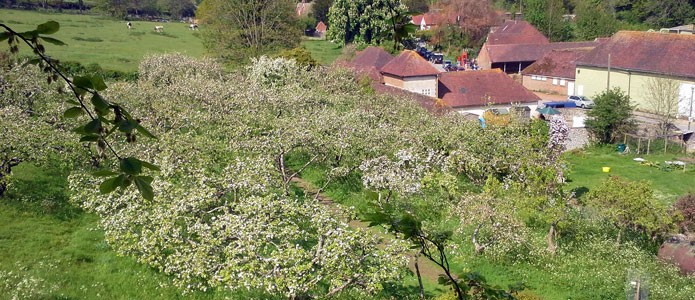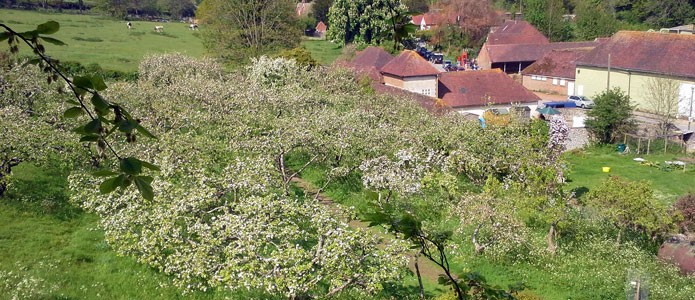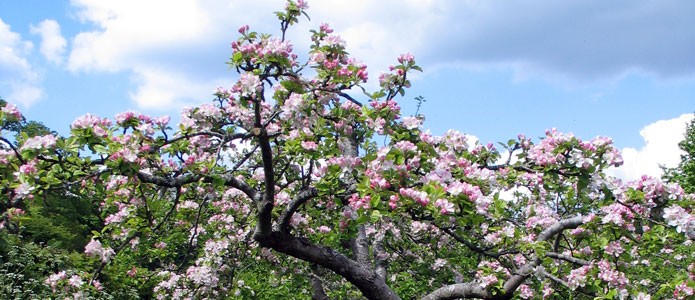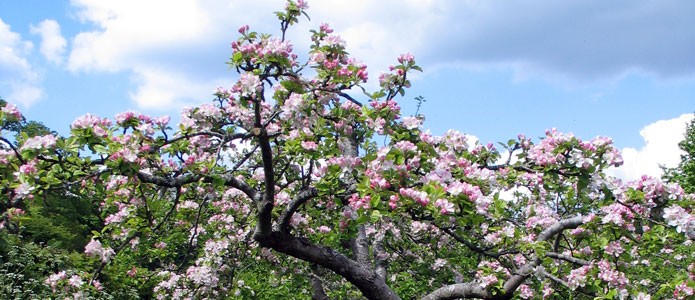 Brighton Permaculture Trust's Home Farm Orchard is a magnificent sight when the apple trees are in full blossom. Join us to enjoy this spectacle and learn about the orchard, how we manage it, our national collection of Sussex apples, how fruit trees are pollinated and the vital work of pollinating insects.
Children are welcome when supervised by an adult. Dogs must be kept on a lead.
Tour leaders
The tour this year will be lead by Peter May, our resident orchard expert along with Stephan Gehrels and Bryn Thomas. They will be joined by Beth Nicholls of the University of Sussex, who will be talking about the vital work of wild bees in pollination and how we can attract them and Hazel Tarragon, beekeeper.
Peter May, a horticulturalist who is jointly responsible for the management of several community orchards and runs regular courses for Brighton Permaculture Trust and Plumpton Agricultural College on a range of orchard skills. He is co-author of Apples & Orchards in Sussex (available at the tour) and has propagated over a thousand Sussex apple trees.
Stephan Gehrels, has lots of experience in school and community orchard planting projects and the Brighton Permaculture Trust scrumping project.
Bryn Thomas is one of the founders of Brighton Permaculture Trust and is now the acting CEO as well as managing Brighton Permaculture Trust's fruit projects.
What to bring
The tour will be outdoors the whole time, so please dress appropriately. You may want to bring a drink. And a camera will help capture the moment! We will be selling our apple juice from the Fruit Factory.
Lyndsey Haskell took these gorgeous photos on our 2015 blossom tour. Read about it on her blog, What You Sow.
Venue
Meeting point: The Fruit Factory
Stanmer Park (near University of Sussex)
Brighton
Sussex
Get directions to our meeting point outside the Fruit Factory. The tour is of Home Farm Orchard.
Accessibility
The orchard is wheelchair accessible. We endeavour to accommodate people with various access issues. If you have limited mobility or a disability that you think may affect your ability to attend, please  contact us  before booking to discuss how you can be accommodated. It is often possible to use a vehicle to get right up to venues or join us at various points on visits. Please let us know if you would like to do this.
Fees
£6 – Adult
£3.50 – Individual, concessionary rate (check eligibility)
£2.25 – Children 10 – 16 years old
£0 – Children under 10
Fees are not refundable except in the very unlikely event that we have to cancel the event or your booking.
Booking the Apple blossom tour
Booking is essential as places are limited. If places are still available, then online bookings can be made until 8pm the day before the tour. A place is not secured until we have received the requested payment.
Please do not book unless you are able to pay for your place.
Be certain that you understand ALL the information on this page, then:
Online registration closes at 8pm on the day of the event.
*PayPal, debit or credit card payments only for this event
Contact Us
See you there!