Sunday 9 May 2021
This free, family friendly event is being held in line with our Covid-19 health & safety measures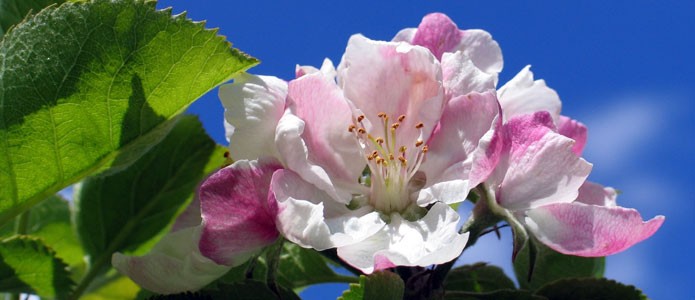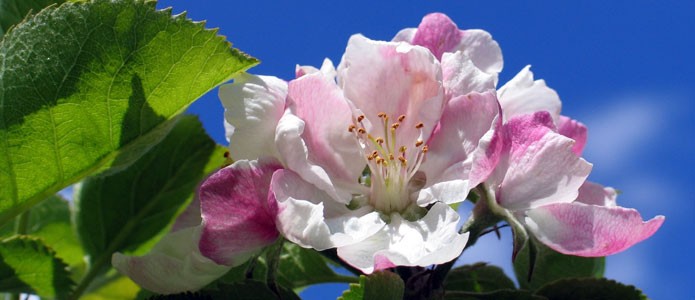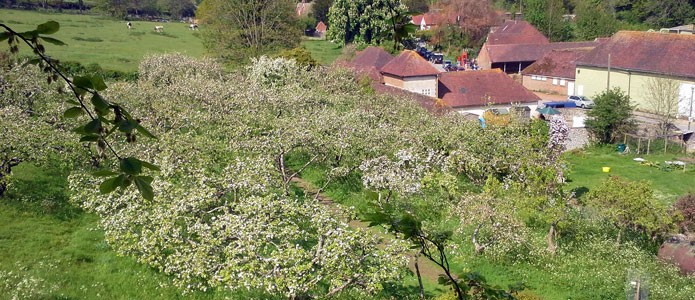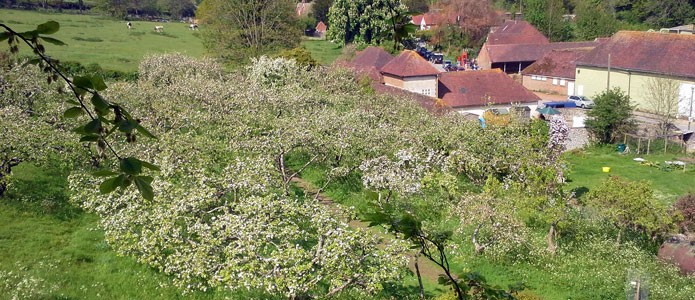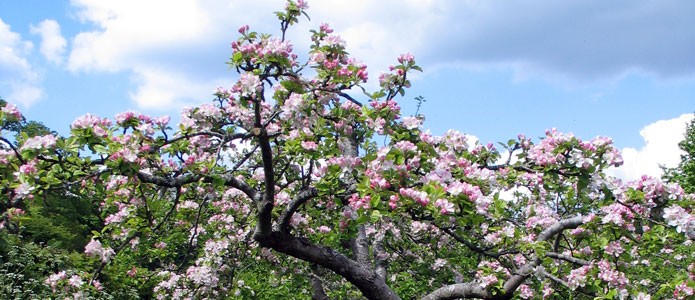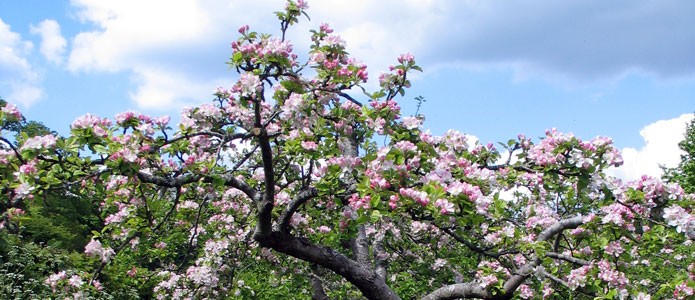 Brighton Permaculture Trust's Home Farm Orchard is a magnificent sight when the apple trees are in full blossom.
We invite you to join us at this free event and behold this annual phenomenon at the heart of Stanmer Village, amid recent developments to Stanmer Park.
You can learn about Home Farm Orchard, how we manage it, our national collection of Sussex apples, how fruit trees are pollinated and the vital work of pollinating insects.
What to expect
There are 4 booking times to choose from. Each tour will last around an hour and a half.
We will meet you outside Stanmer Church. From there you will be lead in a small group of socially distanced people through the orchard to 3 fixed stations. At each station a different speaker will give a short talk.
The tour is family friendly, with an opportunity to make an insect hotel at one of the stations.
The tour will end outside the Fruit Factory where you will be able to buy goodies from our scrumping project.
Tour leaders
Each tour will receive talks on History & heritage, Pollinators & wildlife and Harvests & biodiversity.
History & Heritage
John Coote is a Brighton Permaculture Trust trustee and has been involved with orchards at Stanmer for over 12 years, helping run fruit courses and volunteering with caring for the orchards.
John will talk about the history of orchards and Sussex apples, Brighton Permaculture Trust's work in restoring Home Farm orchard, and projects supporting local communities and schools to plant trees.
Peter May is a horticulturalist who has propagated over a thousand Sussex apple trees. He is particularly interested in growing varieties of apples which have a close connection to the county of Sussex and cares for the Sussex apple collection at Stanmer.
Peter will be talking about Sussex apple varieties, flowering times, pruning cordons, grafting and rootstocks.
Pollinators & Wildlife
Penelope Kenny is project manager for 'Wild Bee', a wildlife-centred community food project that specialises in growing plants to encourage local biodiversity, based at the Stanmer Wellbeing Gardens.
Penelope will be talking about pollination of fruit trees, the role of wild bees and other insects in the orchard and how to encourage them. We will search for some wild solitary and bumble bees and make hoverfly lagoons.
Stephan Gehrels, has lots of experience in school and community orchard planting projects and the Brighton Permaculture Trust scrumping project, turning harvests into delicious juice and cider.
Stephan will talk about the interconnections between pollinators and harvests, tree care and community orchards.
Harvests & Biodiversity
Bryn Thomas has been growing and pruning fruit trees for 30 years. He works with volunteers to prune the trees and pick the fruit from the Home Farm Orchard for Brighton Permaculture Trust's scrumping project.
Bryn talks passionately about the need for a diversity of fruit for different uses at different seasons, and to respond to the vagaries of the weather and changing climate.
Paul Wiggins is a member of Brighton Permaculture Trust's Orchards Team and helps with tree planting and care in our community orchards.
Paul will be talking about the practicalities of growing and caring for fruit trees. Selecting varieties and rootstocks to suit your growing space, round the year care and pruning methods.
What to bring
The tour will be outdoors the whole time, so please dress appropriately. If you will find standing during the tour difficult, please do bring a folding/ portable seat.
Venue
Meeting point: Grounds of Stanmer Church
Stanmer Park (near University of Sussex)
Brighton
Sussex
BN1 9PZ
Get directions to Home Farm Orchard, Stanmer Park. The meeting point for the start of the tour will be outside the entrance to Stanmer Church. We will walk across the road into the orchard as a group.
Please travel to the event as safely and responsibly as you can, avoiding public transport if possible and only lift sharing with people from the same household. Please cycle or walk if possible.
Accessibility
We endeavour to accommodate people with various access issues. The orchard is wheelchair accessible, but the terrain is uneven and off-camber and may not be suitable for all models of mobility device. If you have any questions about access, please contact us via the Make an Enquiry button at the bottom of this page before booking to discuss how you can be accommodated.
Booking the Apple blossom tour
Even though this event is free, booking is essential as places are limited due to social distancing. If you can no longer attend the event, don't forget to cancel your booking so someone else can benefit.
We are only able to run the event for free due to generous funding by Brighton & Hove City Council/ Heritage Lottery Fund, therefore, when you book, we will ask you to give us some information about yourself; this will be entirely confidential and for monitoring purposes only.
With government restrictions in place, we will need attendees to sign up via our booking form. Please book a place for each person coming, including all children. Unfortunately we won't be able accept people turning up on the day who haven't registered.
Well behaved dogs on leads are welcome.
Booking Slots
Please arrive 5 minutes before the start time. You will stay in the same group for the whole tour and be guided by a steward to 3 separate tour leaders.
See you there!
Booking is no guarantee that the orchard will be in blossom! We have made our best estimate at a perfect date but the blossom situation will be entirely weather dependent.
Covid-19
Please abide by any measures you are asked to undertake on the day by our volunteers and workers.
You must NOT attend this event if you or a member of your household has had symptoms of Covid-19 within 10 days prior to the session or had a positive test for Covid-19 within 10 days prior to the session or have been advised by Test and Trace to self-isolate.
If you develop symptoms or test positive or are asked to self-isolate within 5 days of the event, please email Brighton Permaculture Trust immediately at: [email protected]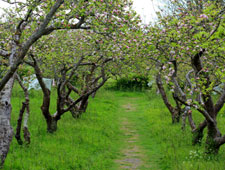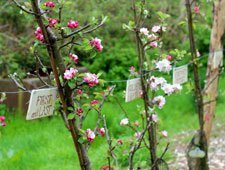 Lyndsey Haskell took these gorgeous photos on our 2015 blossom tour. Read about it on her blog, What You Sow.
Thanks to our funders