Many of the orchards we've helped over the years are now running their own Apple events, including Wish Park Community Garden in Hove.
Sarah O'Dair of Wish Park Community Garden said:
"Apple Day at Wish Park community orchard was a great success – plenty of people came along with fruit to be crushed. The sunny weather helped make for a great atmosphere of relaxed enjoyment – it was lovely to be able to offer people, especially children, the chance to make and then drink the juice, to eat apple cake and fritters and also for children to be able to join in the apple printing activity."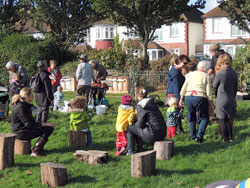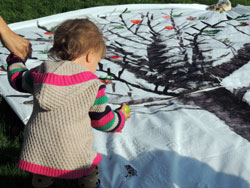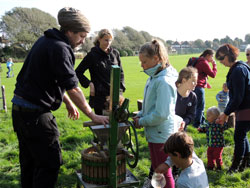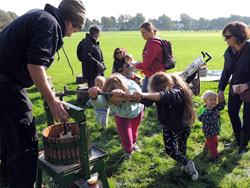 Wish Park Apple Day
Dee Christensen said of the Herrington Field Community Orchard:
"We had an apple pressing day at the orchard last week – of course we had to bring apples from elsewhere [because the trees were only planted last winter]. The school Eco Council came down and we had a fab day! If you want to see photos, visit the This is Arundel website."
If you're interested in cookery, juicing or other ways to engage children and adults in fruity activities, then our  Fruit cookery and juicing course may be of interest.