Saturday 11 May 2024
This one-day course runs from 10:30am to 5:00pm. Based in Stanmer Park, Brighton, the day will end with a visit to an indoor compost loo in a house near Preston Park.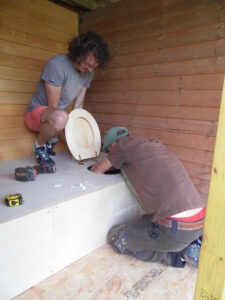 We will discuss the different methods of composting loos and give best practice on how to safely and ecologically use your poo
What will the course/workshop cover?
"There's no such thing as waste"
Turn your manure into a resource! Learn about recycling fertility, reducing pollution and saving water.
We will discuss:
Exploring different kinds of toilets for different situations
The composting process
Practical demonstration of system
Plenty of time for Q&A /trouble shooting
Building regulations and pathogens
Visit to an indoor composting toilet in a Brighton home in the afternoon
Course format
During the course we will be mostly inside the Earthship but please dress warmly and
wear suitable walking shoes to get to the venue as there is a 10 minute walk up the track through Stanmer Organics to reach the venue. Directions and meeting points will be provided a week or two before the course.
In the afternoon we have planned a visit to a Brighton home (featured on Brighton Eco Open Houses). Participants will need to make their own way to the house in the Preston Park area of Brighton. We will facilitate lift sharing. This is a 25 minute cycle or drive from the Earthship.
Who is the course for?
The course is open to anyone over the age of 16, and no prior knowledge is necessary. It is relevant to anyone who wants to learn about composting toilets.
Where possible we aim to make our courses accessible to people with physical and learning issues. Please contact us before booking if you think something might affect your ability to take part in this course.
Course tutors
The courses will be led by the following tutors:
Cordelia Rowlatt & Stella Peyerl
Venue
Earthship Brighton
Stanmer Park (near University of Sussex)
Brighton
Sussex
South East England
Get directions to our meeting point in Stanmer Park.
If you intend to book accommodation, please check availability before booking a place, as accommodation in Brighton can be hard to find, especially over the summer months.
Get details on local accommodation and Brighton Permaculture Trust supporters who can provide accommodation in their homes.
Fees
Fees include tuition, refreshments, handouts and information sheets.
£175 – Sponsored/organisation rate
£175 – Individual income more than 25k/yr
£140 – Individual income 18-25k/yr
£105 – Individual income less than 18k/yr
£56 – Individual, concessionary rate (check your eligibility)*
* Concessionary places are limited. If places are not available check back two weeks before the course/event as more may be available then.
We endeavour to make our courses and events affordable to all. Unfortunately, we do not receive any external funding for most of these and rely on large amounts of voluntary input.
See the cancellations and refunds policy.
Booking your place
Booking is essential, as most of our courses/events are fully booked weeks in advance. However, if places are still available, then bookings can be made until midday the day before the course/event. A place is not secured until we have received the requested payment.
If you have completed the booking process but you haven't received a confirmation email from us please contact us to check your booking has gone through.
If you are booking within two weeks of the event, or the event is nearly full, you will not have the option to pay by BACS. Instead, you will need to pay immediately using a credit/debit card or PayPal.
Thanks to our funders