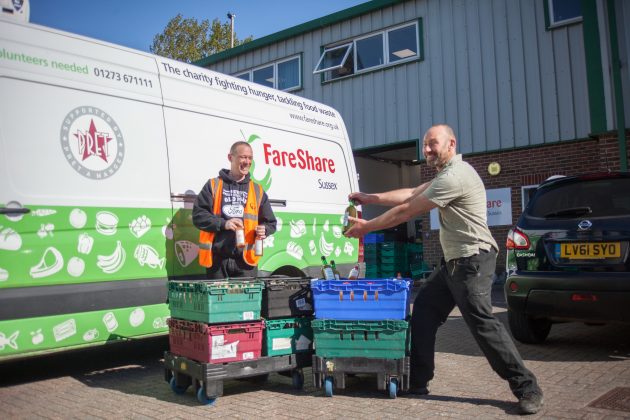 We're raising money so we can donate our locally produced apple juice to those in need.
Each year volunteers collect fruit from across the county that would otherwise go to waste and help us turn it into delicious juice at the Fruit Factory in Stanmer Park.
We usually sell thousands of bottles each year to local cafés and shops across Sussex but many of these are currently closed due to the coronavirus crisis. This means we have loads of bottles sitting in our packing shed that need a belly to call their own!
For each £10 we receive we will be able to donate 6 bottles of locally produced apple juice to FareShare.
We've raised now reached our goal of 1000 bottles! If you'd still like to donate, we will deliver the bottles in September, after we glean and juice some more

Double Donation – Teaming up with FareShare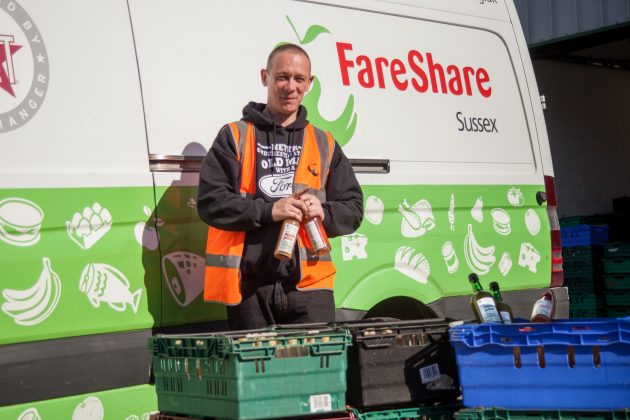 FareShare Sussex is a food surplus distribution charity and depend on donations to supply community groups with good quality food. Demand for good quality food has increased significantly during the crisis.
After donating some of last years' stock to FareShare a couple of weeks ago, the team were keen to donate more,  but how? We would love to be able to give all of our juice away but just can't afford to. Then the cogs started turning, rather than finding new wholesale stockists, we thought of a way we could get it to people in need, with a little help!
All of our juices are made out of fruit that would otherwise go to waste – let's make sure the efforts of our team aren't wasted too!
The bonus is, you'll be helping two charities in one go. We will be able to keep our scrumping project going and FareShare will be able to distribute the juice to those most in need.
"We are so grateful to Brighton Permaculture Trust for the apple juice that has already been donated to us here at FareShare Sussex. Donations will be redistributed within our network and provide an authentically local product and a taste of Brighton's orchards to those who are most in need and socially isolated in these unusual times" – Oli Kyndt from FareShare.
Where will the juice end up?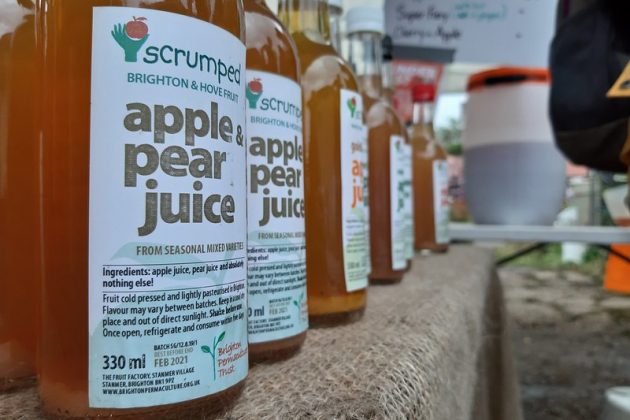 FareShare Sussex donate surplus food to 140 community groups and charitable organisations across Sussex and Surrey. The juices will go directly to those in need, delivered by local organisations working with their local communities.
One of the projects who have already benefited from the locally produced apple juice is 'Food and Friendship' (formerly Hove Lunch Club). Food and Friendship help to tackle social isolation through their twice-weekly lunch club but during the crisis they have been cooking and delivering these meals instead, as well as providing food parcels. Bottles went out in the food parcels over the last couple of weeks, providing a taste of Sussex orchards to those who are isolating.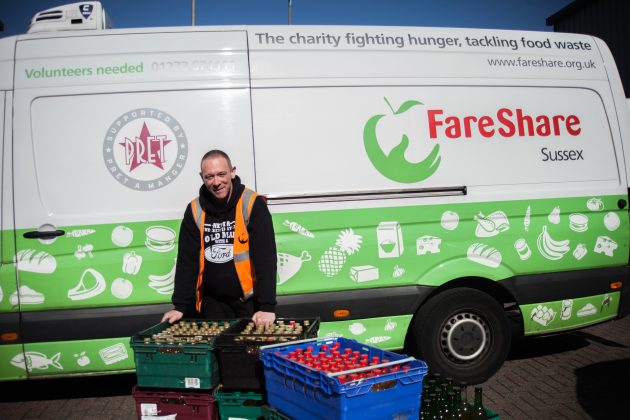 Why we need your donations
Local food surplus distribution charity, FareShare has seen demand increase by about 50% since the crisis hit. Many people who were already struggling with food poverty have been unable to access the places they usually collect food from and plenty more are now out of work.
Brighton Permaculture Trust have also been hit by the coronavirus crisis. Our scrumping project depends on selling the juice that we make with our volunteers and with many outlets closed it is difficult to find new stockists.
How does it work?
You donate to Brighton Permaculture Trust using our online form.
We donate the bottles based on our wholesale price, this ensures that we cover our costs without making a profit.
That's it!
Other ways to get involved
Help us get the word out by sharing the campaign on social media or emailing to a friend. Tag us on Facebook @BrightonPermaculture or @BPTpermaculture on twitter.
Thirsty? If you would like to purchase some juice for yourself, you can purchase bottles at Infinity Foods in Brighton or our stall outside the Fruit Factory in Stanmer Park most weekends. If you can, please make a donation too!
Share on social – yes we already said that, but it really does help!
Further Information
If you need help accessing food, or know someone that does, go to the Brighton & Hove Food Partnership website where they have a list of local resources and services.
If you would like to volunteer with us once it is safe to socialise in small groups again, sign up to our volunteer mailing list.
If you'd like to keep up to date with this campaign, and hear about other permaculture news, courses and events you can sign up to our newsletter here.
If you think you might like to stock our juice or cider in future please: MAKE AN ENQUIRY.
To find out more about volunteering with FareShare go to their website: faresharesussex.org.uk