Rammed Earth Consulting CIC have been busy this summer working with garden designers.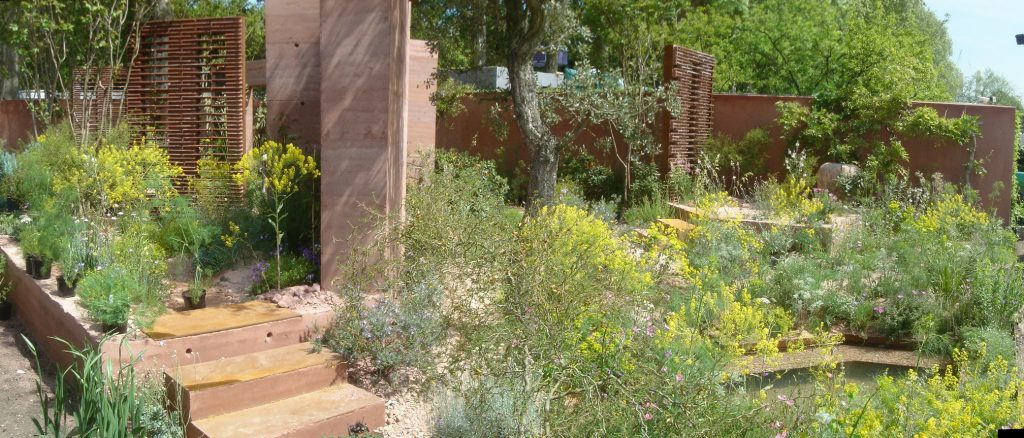 This years prize winning garden by Sarah Price at Chelsea Flower Show (above) had walls, raised beds, steps and furniture of rammed earth, some of which has already been re-used in another prize winning garden!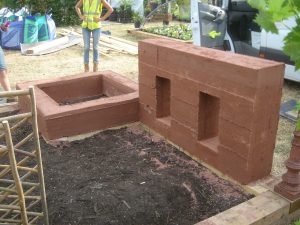 This simple wall and raised bed (above) took a day to build with some very simple formwork, a couple of shovels and hand rammers for this garden by Anna Greenland at Hampton Court Flower Show. She got Best in Show.
Rowland Keeble from Rammed Earth Consulting is passionate about rammed earth. As well as being Honorary Associate Professor UNESCO, Chair of Earthen Architecture, Rowland is the tutor on our Building with rammed earth and chalk course. Why not join him in October for this fun and practical course. For more about Rowland and rammed earth building see our video here:

The next Building with rammed earth and chalk course is on 13-14 October, at Earthship Brighton. For details see our webpage:
Did you know that Waste House Brighton also has a beautiful rammed chalk wall? There's a great video of it here. The video also features Duncan Baker Brown who has been a regular speaker at our annual Green Architecture Day.
The next Green Architecture Day will be on xxx and will include a tour of Waste House Brighton.