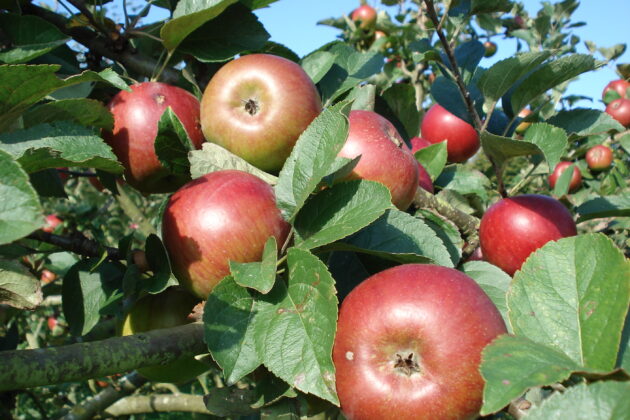 Genetic Fingerprinting of the Sussex apple varieties
In May 2021 leaf samples from 28 of the Sussex apple varieties were collected and sent off to the National Institute for Agricultural Botany for genetic testing.  Genetic testing is a method of accurately identifying fruit varieties by comparing genetic information held in the cell chromosome which is characteristics of that apple variety.
Because of the restrictions of Covid and limited access to laboratories, the testing took longer than expected and the results were finally published earlier this year.
All except one of the varieties with a close connection to the county of Sussex were recognised as the named variety so that the trees labelled as Saltcote Pippin in the two National Collections at Stanmer Park and Duncton Mill are Saltcote Pippin, not a similar-looking variety which may have its origin in another part of the UK.
The exception was Hawkridge which is a golden yellow apple flushed bright crimson with red stripes from Hawkridge Farm near Hellingly. This was genetically tested as Puffin, a variety from Somerset which is similar in appearance and ripening time of early September.  To find where the error in naming has occurred we need to look back at the different people and nurseries who have propagated the variety. I grafted the variety from a tree growing in West Dean gardens which is part of a collection of 17 Sussex varieties in the walled garden. West Dean had the Sussex varieties propagated by a specialist fruit grower 30 years ago and after contacting the nursery they no longer have a record of where the original propagating material came from.  The search now goes back to the National Fruit Collection at Brogdale and to the area around Hellingly where the tree was first recorded in 1851.
Another variety First and Last which has yet to be formally recognised by the National Fruit Collection was found to have four other genetic matches from trees growing in England so now there is a formal process to have it recorded as a variety.
Several years ago genetic testing of two other Sussex varieties showed that Keed''s Cottage from Pulborough and Nanny from the Sussex border with Hampshire were identical varieties.  In this case, Nanny has been taken as the name for the variety as it was first recorded growing in 1842 whilst Keed's Cottage has a much more recent recorded history.
Finally, Crawley Beauty continues to cause a lot of confusion.  The very late flowering cooking apple was thought to have originated at Tilgate near Crawley in 1870 but it appears that it is identical to the French variety Nouvelle France which has a published history back to 1888. The National Fruit Collection has yet to conclude the confusion but it is likely that Crawley Beauty will be a synonym for Nouvelle France so we will wait and see.
Peter May