Cutting-edge talks on green architecture brought to you by Brighton Permaculture Trust and Low Carbon Trust

10:30am to 5pm
Sallis Benney Theatre
University of Brighton
Grand Parade Building
Brighton BN2 0JY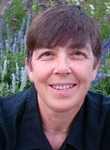 an expert in sustainable water strategies and low-carbon technologies, formed from a background of 17 years in the plumbing industry and 19 years in environmental building. She is director of ech2o consultants ltd, a company that works at both a strategic and individual site level, providing technological and behavioural solutions that reduce the UK's carbon footprint.  Cath is a founder member of SWIG (the Sustainable Water Industry Group) and was a director of the AECB for seven years. Fascinated by how we use water she blogs about showering at a year of showering variously, and writes regular columns and technical posts. She regularly delivers workshops to a wide range of audiences, from school pupils to construction professionals, across the UK about environmental issues. www.ech2o.co.uk
TALK at GAD17: SuDS in the City
Sustainable water solutions. How to incorporate water into your design, why you should and the options available
Duncan Baker-Brown RIBA FRSA
Duncan Baker-Brown is an architect, writer, academic and environmental activist, based in Lewes near Brighton on the South coast of England, where he lives with his wife and daughter.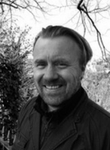 For nearly 25 years Duncan has been at the forefront of teaching, researching, and practicing sustainable design, working on projects as varied as exhibitions & symposiums, new houses and schools, as well as whole urban districts such as London's Greenwich Millennium Village with Ralph Erskine While working for Rick Mather Architects he set up BBM Sustainable Design with his business partner Ian McKay after they had won the RIBA 'House of the Future' competition. In 1994 Duncan started his teaching career at the University of Brighton's School of Architecture where he and Ian had met as post-graduate students. They quickly began to work on research projects, such as 'CityVision' in 1997, which considered ways people could live in beautiful, sustainable, cities.
More recently Duncan has become well known as the architect behind a series of experimental off-grid sustainable 'house' projects, such as Channel 4's 'The House that Kevin Built' with Kevin McCloud. This was the first house in the UK with an A+ energy certificate, as well as the first one made from 90% organic material. It was followed by 'The Brighton Waste House', which was designed and constructed in collaboration with over 360 students at the University of Brighton. It was Europe's first permanent building made from waste.
Duncan is a passionate and informed public speaker on many issues pertaining to sustainable development and the Circular Economy.
Can Architecture Matter?: Duncan Baker-Brown at TEDxBrighton
TALK at GAD17: the themes pursued in his book which is entitled 'The Re-Use Atlas: a designer's guide towards a circular economy'
Bill Knight
Geo

Bill's sustainability consultancy, 4th World Ecological Design, helps its clients reduce their ecological footprint. The permaculture ethics; Earth Care, People Care, and Fair Share have been influential on his thinking. Bill works closely with planners Geo Ltd to provide support and training for both applicants and planning authorities considering One Planet Developments. One Planet Developments recognise that the impacts of development are as much to do with the behaviour of the occupants/users as they are to do with the design of the structure.
TALK at GAD17: Why do planning experts grow mushrooms. Planning permission is often the sticking point for any green building and Bill Knight has many years of experience in how to achieve planning permission whilst staying true to ones design and aims and in fact using the adherance to ecological soundness as an advantage when interacting with planning departments. Bill has a wealth of experience in communicating effectively with council and governing bodies and will be sharing that gold with us in his talk 'Why do planning experts grow mushrooms.'
Lee Evans
Lee is the founder of Organic Roofs Ltd, a Brighton-based nationally operating company specialising in small and medium-sized residential, public and commercial wildflower meadow roofs. Previously, he worked on green roofs in Switzerland and with the Grass Roof Company in the UK.
James Farrell


James is an environmentalist and founder of community group Brighton & Hove Building Green, which promotes green roofs and walls in the city. As policy advisor to the Mayor of London he developed the first planning requirements for green roofs and walls in the UK, and was involved in supporting the green roof revolution in London. He currently works as an Operations manager in the Environment Agency.
TALK at GAD17: Green roofs & Green walls. Lee and James teach on the How to build a green roof course delivered by the Brighton Permaculture Trust. Their combined work has made them responsible for a lot of Brighton & Hove Green roofs and Green walls. James was pivotal in introducing the first UK planning policy requiring green roofs and walls on all major development. They will be talking about green roofs and walls, urban greening and the possibilities this ever improving technology gives us.

Simon is a self taught natural builder and architect, his interest lies in the relationships between materials, people and the landscape. Jasmine has been practising and teaching permaculture in an off grid context for over a decade, with a particular emphasis on creativity, observation and integrating homes with other basic needs, such as food systems. They live and work at the Lammas eco-village in West Wales.
TALK at GAD17: Insights into Lammas eco village and building hobbiton Simon and Jasmine Dale famously built 'the hobbit house' which through popular support managed to halt the bulldozers that were poised to raise it to the ground. They were also involved in the building of Lammas Eco-village. Husband and wife team Jasmine and Simon will both be joining us to share insights into their time at Lammas eco village and building hobbiton.

Sandy is a chartered engineer who has worked in environmental building research for local and national governments and private and 3rd sector clients for nearly 30 years. She founded Gaia Research in 1996 to develop sustainable solutions for the built environment.
TALK at GAD17: EcoMax Sandy's talk will give voice to the many under represented aspects of sustainable development in the built environment through the study of eco-pioneers who have inspired us  in the fields of social responsibility, community participation, conservation, ecology, sustainable economics, biodiversity, landscape, clean technology, green politics and democracy. She will pay respect to them and their legacy as demonstrated by people working in these areas today and the exemplar projects that they are working on. The talk will raise questions as to why, with everything to gain, sustainable design is still marginalised and largely perceived as counter cultural.

Robin is a folk singer and social historian based in East London. He is a founder member of the Community Food Growers Network, and created the show 'Three Acres And A Cow, A History Of Land Rights And Protest In Folk Song And Story' to spread his passion for the topic.
PERFORMANCE at GAD17: Robin Grey is keeping alive the tradition of story telling through song.
His impromptu, satirical serenade to David Cameron went viral whilst Cameron was on his campaign trail. Robin will be performing a few songs for us around and about the history of land-rights. Expect laughs and learning.
Green Architecture Day archive
Presentations from other years can be found in our archive.