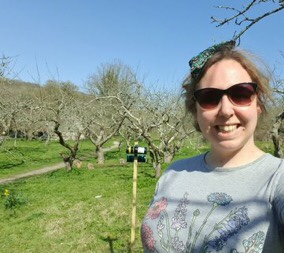 Dr Beth Nicholls installing the bee hotels in Home Farm Orchard
Dr Beth Nicholls, a biologist from the University of Sussex, will be installing homes for solitary bees in our orchards this Spring.
Solitary bees, such as mason bees and leafcutter bees visit the flowers of orchard trees to collect nectar and pollen to feed to their young, pollinating the flowers in the process. Different types of plants vary in how nutritious their pollen is, so Beth is trying to discover if and how bees can tell which pollen is best for them, and the ways in which this affects their decision to visit a flower or not. This is important to know because these choices will determine whether a plant or crop gets pollinated and produces seeds or fruit. You can find out more about Beth's University of Sussex research here.
The bee 'hotels' will support and hopefully increase solitary bee populations in our orchards by providing bees with a place to nest, and the pollination service they provide could mean more and even better quality fruit for us! Win-win!"
Interested in making your own bee hotel? Click here for instructions on making your very own!
Want to find out more? Come along to one of our blossom tours we're planning some time in May. There will be activities in the Stanmer Park orchards, including learning more about bees – watch this space for further details…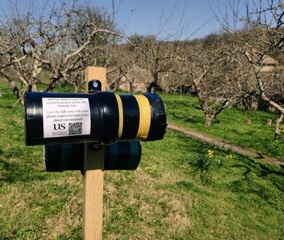 A close up of a bee hotel