Course 1: Sat 2 – Sun 3 July 2022 
Course 2: Sat 10 – Sun 11 September 2022 
This two-day course runs from 9.30am to 5pm in Stanmer Park, Brighton.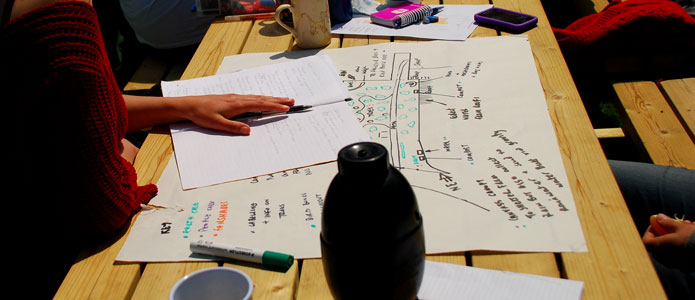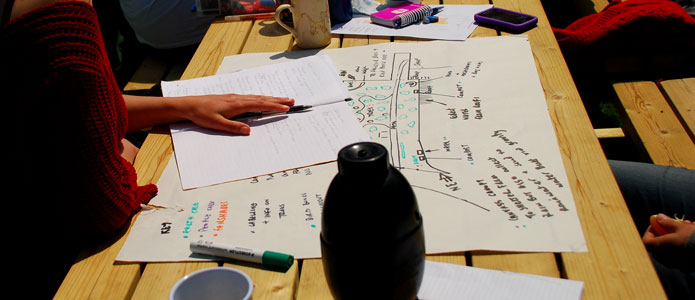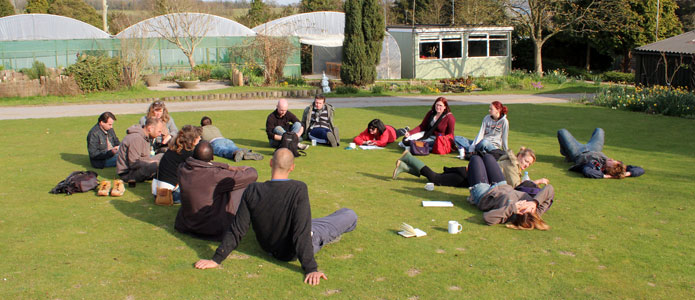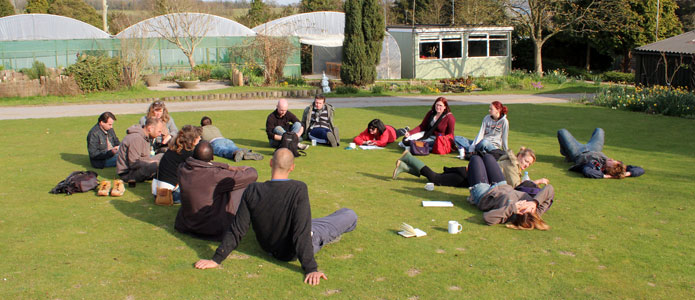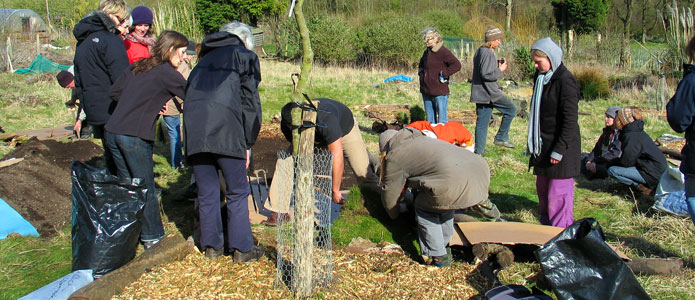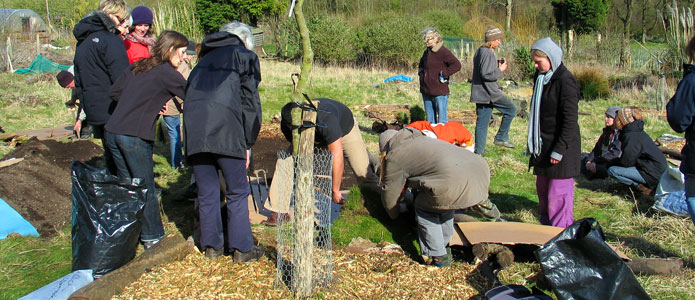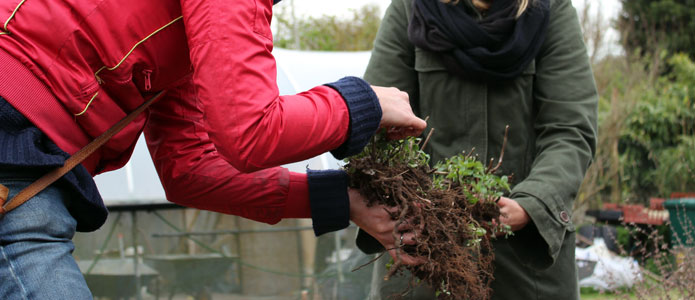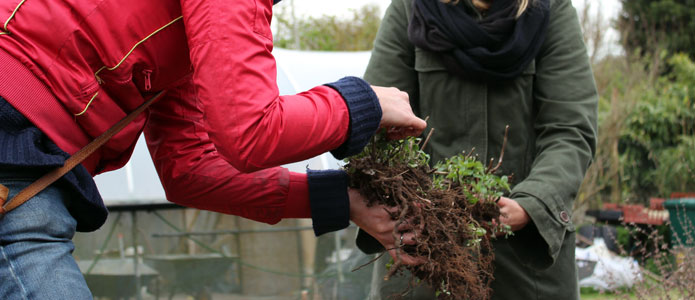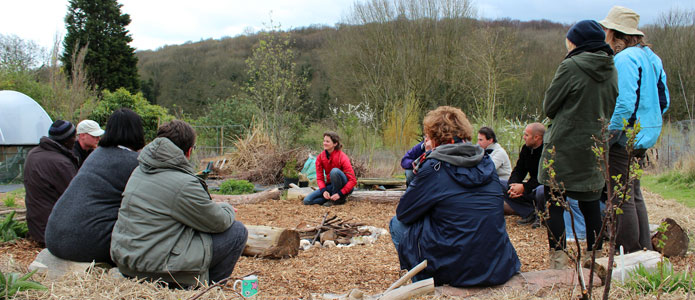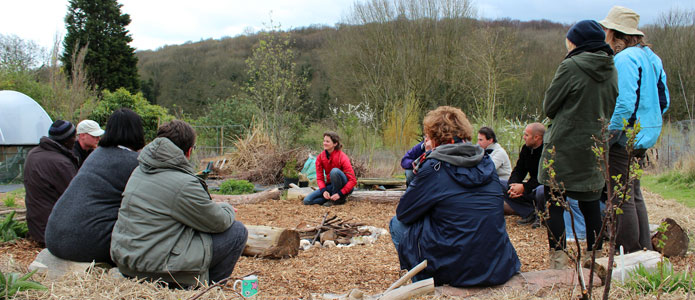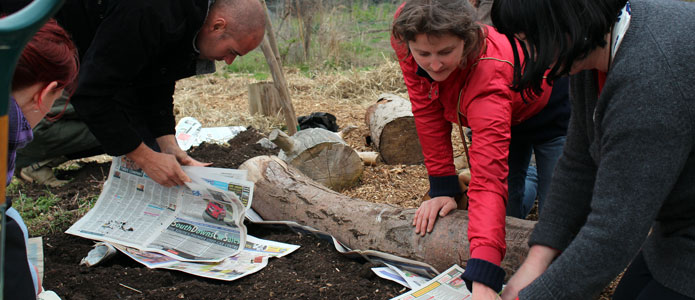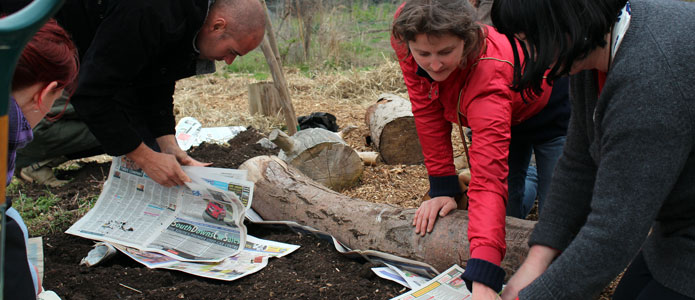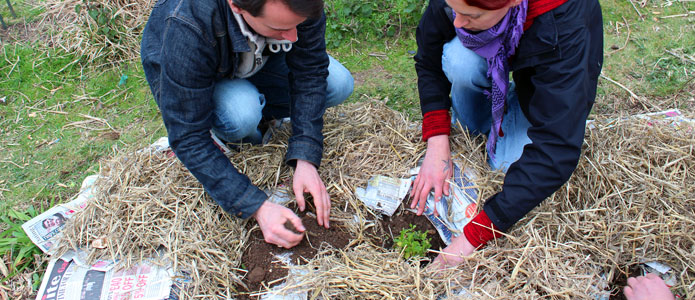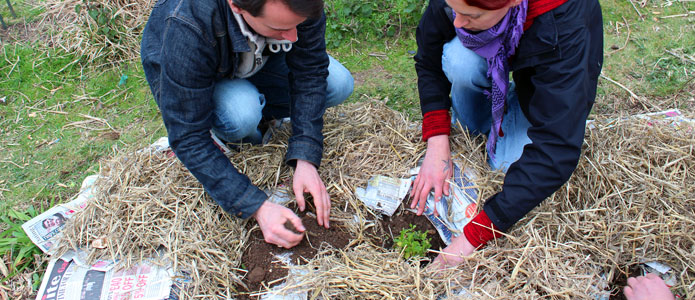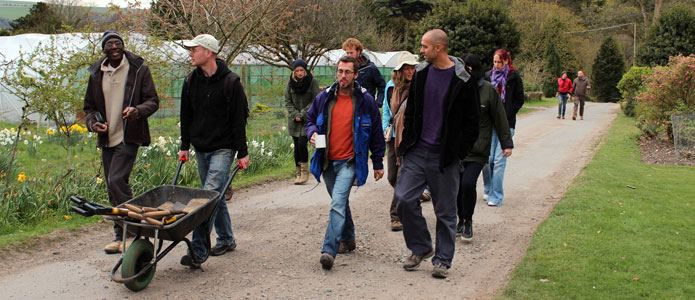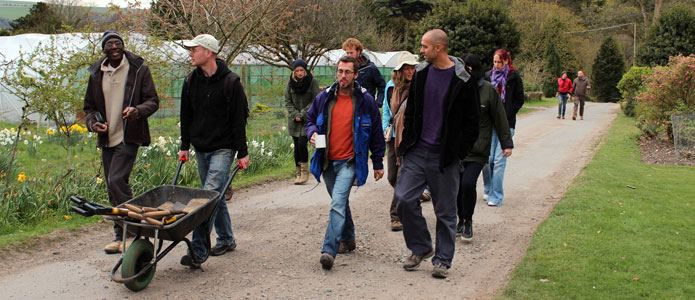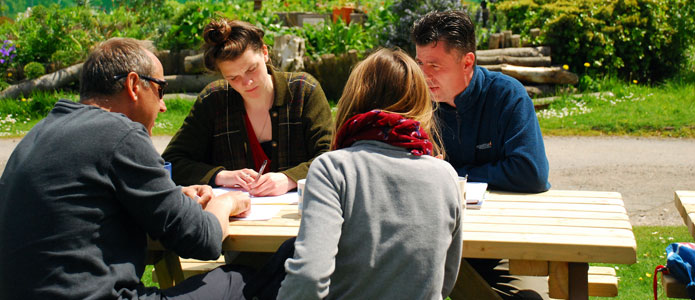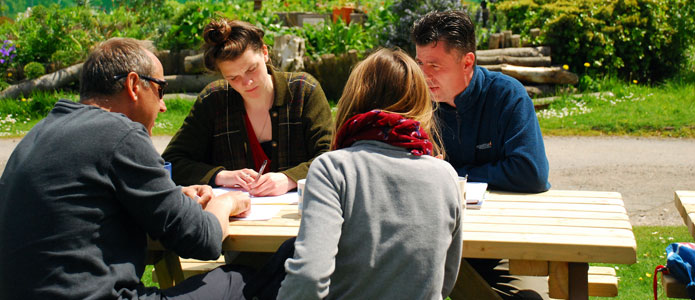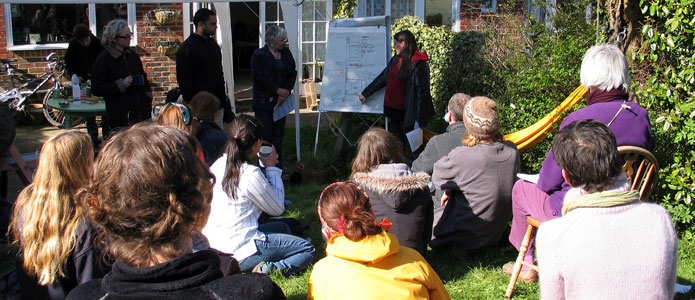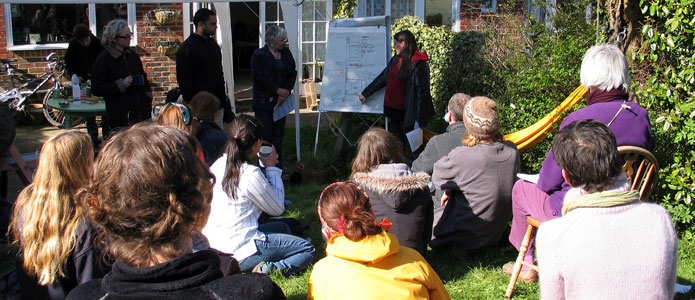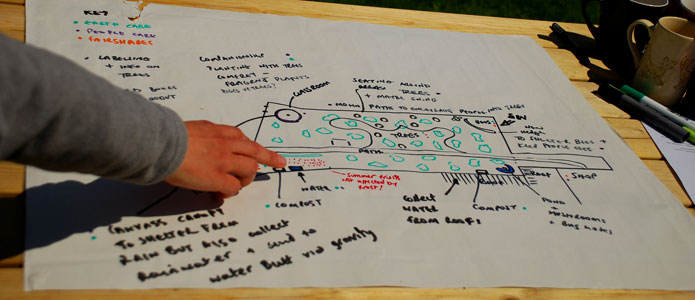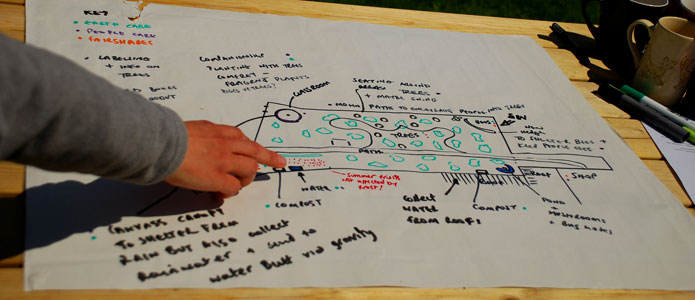 This course introduces the basics of permaculture design. It aims to inspire and empower you to use permaculture design in your everyday life.
What will the Introduction to permaculture course cover?
This course will cover the history, various definitions, design process, ethics, principles, other design tools and case studies from a range of applications.
You will use this theory to co-create a design over the two-day course.
Please note that attending this course does not qualify you to use the term 'permaculture' as part of your work as a professional or with the public, such as being a gardener, a teacher, a designer, giving talks about permaculture, etc. In order to do this you need to go on to complete a permaculture design course such as our Permaculture design course (Building sustainable communities).
Who is the Introduction to permaculture course for?
This course is for people concerned about the state of the world, who want to look at those challenges and create solutions. It is open to anyone aged 16 or over. No prior knowledge of permaculture is needed.
Learning methods and outcomes
The course will be taught using a variety of methods; group work, games, presentations, discussion, video and slides. We will visit our plot at Stanmer Organics project. By the end of the course, you will have a basic knowledge of some of the permaculture ethics and principles and how to apply them. Course participants who complete the entire course will receive a certificate, which will be sent via email after the course.
What does the Introduction to permaculture course lead on to?
This course is an ideal starter for anyone interested in a full permaculture design course. It is now necessary to have completed an Introduction to permaculture design course in order to take Brighton Permaculture Trust's Permaculture design course (Building sustainable communities). You can also go on to explore other specialist courses.
Course tutors
The courses will be led by the following tutors, with assistance from trainee teachers:
Stephan Gehrels also received his Permaculture Diploma in 2009 and runs school environmental projects in Brighton.
Tracy Hind works freelance in youth and community development and has a long-held belief that community activism is the only thing that really changes anything.
Venue/Accommodation
Stanmer Park (near University of Sussex)
Brighton
Sussex
South East England
Get directions to our meeting point in Stanmer Park.
If you intend to book accommodation, please check availability before booking a place, as accommodation in Brighton can be hard to find, especially over the summer months.
Get details on local accommodation and Brighton Permaculture Trust supporters who can provide accommodation in their homes.
Recommended introductory material
The following provide good introductions to permaculture. It is not essential to have covered this material before the course.
These books are recommended, but it is not necessary for those attending to buy or read them.
Fees
Fees include tuition, refreshments, handouts and information sheets.
£247.50 – Sponsored/organisation rate
£247.50 – Individual income more than 25k/yr
£200 – Individual income 18-25k/yr
£152.50 – Individual income less than 18k/yr
£84 – Individual, concessionary rate (check eligibility)*
* Concessionary places are limited. If places are not available check back two weeks before the course/event as more may be available then.
We endeavour to make our courses and events affordable to all. Unfortunately, we do not receive any external funding for most of these and rely on large amounts of voluntary input.
See the cancellations and refunds policy.
Booking the Introduction to permaculture course
Booking is essential, as most of our courses/events are fully booked weeks in advance. However, if places are still available, then bookings can be made until midday the day before the course/event. A place is not secured until we have received the requested payment.
If you have completed the booking process but you haven't received a confirmation email from us please contact us to check your booking has gone through.
If you are booking within two weeks of the event, or the event is nearly full, you will not have the option to pay by BACS. Instead, you will need to pay immediately using a credit/debit card or PayPal.
"Really enjoyed this course, strongly focused on Permaculture principles, superbly structured, well delivered supported progressive learning. Thank you."

Rebecca Landau-Wildy
Introduction to permaculture course
"Really enjoyed this course, strongly focused on Permaculture principles, superbly structured, well delivered supported progressive learning. Thank you." Rebecca Landau-Wildy
https://brightonpermaculture.org.uk/testimonials/rebecca-landau-wildy/
"It was an amazing experience and hoping to go back soon. The venue is great, and teachers are awesome. Can't wait for more."

Saray
Introduction to permaculture course
"It was an amazing experience and hoping to go back soon. The venue is great, and teachers are awesome. Can't wait for more." Saray
https://brightonpermaculture.org.uk/testimonials/saray/
"The course left me feeling really positive. The problems of climate change, peak oil, and our all-consuming culture often leave us feeling overwhelmed and hopeless. This course showed practical steps can be taken, which gave hope."

Nick
Introduction to permaculture course
"The course left me feeling really positive. The problems of climate change, peak oil, and our all-consuming culture often leave us feeling overwhelmed and hopeless. This course showed practical steps can be taken, which gave hope." Nick
https://brightonpermaculture.org.uk/testimonials/nick/
"I found the course very powerful…. I came out of the course feeling empowered and motivated to apply permaculture principles to all aspects of my life and learn more."

Kristina
Introduction to permaculture course
"I found the course very powerful…. I came out of the course feeling empowered and motivated to apply permaculture principles to all aspects of my life and learn more." Kristina
https://brightonpermaculture.org.uk/testimonials/kristina/
"The tutors were very approachable, knowledgeable & enthusiastic. They allowed us to make our own minds up, rather than forcing their opinions on us. The tutor:student ratio gave us the chance to get to know each other, contribute and network."

Roy Hill
Introduction to permaculture course
"The tutors were very approachable, knowledgeable & enthusiastic. They allowed us to make our own minds up, rather than forcing their opinions on us. The tutor:student ratio gave us the chance to get to know each other, contribute and network." Roy Hill
https://brightonpermaculture.org.uk/testimonials/roy-hill/
"All in all a great weekend, learning a great subject which, thanks to the enthusiasm of the team, has left me hungry to learn more and more importantly put it into practice and pass the lessons learned onto my family."

Phil O'Donoghue
Introduction to permaculture course
"All in all a great weekend, learning a great subject which, thanks to the enthusiasm of the team, has left me hungry to learn more and more importantly put it into practice and pass the lessons learned onto my family." Phil O'Donoghue
https://brightonpermaculture.org.uk/testimonials/phil-odonoghue/
"I came away feeling inspired, wanting to know more, wanting to get involved, pondering much on the importance of a relationship with the land and also with community, and generally struck with the profound beauty of our ancient, staggeringly diverse home."

Richard Basgallop
Introduction to permaculture course
"I came away feeling inspired, wanting to know more, wanting to get involved, pondering much on the importance of a relationship with the land and also with community, and generally struck with the profound beauty of our ancient, staggeringly diverse home." Richard Basgallop
https://brightonpermaculture.org.uk/testimonials/richard-basgallop/
"I liked the fact that the course covered some elements of allowing us to look, discover, and learn for ourselves."

Ann
Introduction to permaculture course
"I liked the fact that the course covered some elements of allowing us to look, discover, and learn for ourselves." Ann
https://brightonpermaculture.org.uk/testimonials/ann/
"This is a great course, fully supported by the tutors … the potential is almost overwhelming, the sense of inclusion that comes from them and the trust helps ground you in its principles which allows you to learn and think about its application."

Nathan
Introduction to permaculture course
"This is a great course, fully supported by the tutors … the potential is almost overwhelming, the sense of inclusion that comes from them and the trust helps ground you in its principles which allows you to learn and think about its application." Nathan
https://brightonpermaculture.org.uk/testimonials/nathan/
"The teachers and the delivery and the content was just right for first timers to feel permaculture can be for them."

Millar
Introduction to permaculture course
"The teachers and the delivery and the content was just right for first timers to feel permaculture can be for them." Millar
https://brightonpermaculture.org.uk/testimonials/millar/
"My interest and study of permaculture over the last year or so has been an autodidactic solitary endeavour. So it was lovely to attend a course and meet people who not only actually knew what permaculture was ? but also were just as eager and interested."

Sinéad
Introduction to permaculture course
"My interest and study of permaculture over the last year or so has been an autodidactic solitary endeavour. So it was lovely to attend a course and meet people who not only actually knew what permaculture was ? but also were just as eager and interested." Sinéad
https://brightonpermaculture.org.uk/testimonials/sinead/
"A fantastic two days that I would recommend to anyone."

Richard Millar
Introduction to permaculture course
"A fantastic two days that I would recommend to anyone." Richard Millar
https://brightonpermaculture.org.uk/testimonials/richard-millar/
"Even if you can get the information covered on the course from books, you can't buy enough books with the course fees to get access to the range of practical expertise the course teachers have, or the valuable second opinions from other course participants."

Ville Koskinen
Introduction to permaculture course
"Even if you can get the information covered on the course from books, you can't buy enough books with the course fees to get access to the range of practical expertise the course teachers have, or the valuable second opinions from other course participants." Ville Koskinen
https://brightonpermaculture.org.uk/testimonials/ville-koskinen/
"Brighton Permaculture Trust is a revolutionary organisation for the times that we are we in. I can see the change and impact of what I am learning transforming my way of living."

Ozichi Brewster
Introduction to permaculture course
"Brighton Permaculture Trust is a revolutionary organisation for the times that we are we in. I can see the change and impact of what I am learning transforming my way of living." Ozichi Brewster
https://brightonpermaculture.org.uk/testimonials/ozichi-brewster/
"All of the tutors were amazing. They had a very personable manner about them and were great at listening to what everyone said and valuing it. They created a space in which anyone could say what they wanted to."

Hannah
Introduction to permaculture course
"All of the tutors were amazing. They had a very personable manner about them and were great at listening to what everyone said and valuing it. They created a space in which anyone could say what they wanted to." Hannah
https://brightonpermaculture.org.uk/testimonials/hannah/
"Very helpful to attend a class – information stuck much better than home reading on its own…. Good to be amongst doers, not just talkers."

Gill
Introduction to permaculture course
"Very helpful to attend a class – information stuck much better than home reading on its own…. Good to be amongst doers, not just talkers." Gill
https://brightonpermaculture.org.uk/testimonials/gill/
"I enjoyed the exercises, the way the trainer encouraged people to get involved, the mixture of theory and practice, etc. Being a trainer myself, I can fully appreciate the high standard applied both in the design of the course and the delivery."

Maria Esperanza Sanchez
Introduction to permaculture course
"I enjoyed the exercises, the way the trainer encouraged people to get involved, the mixture of theory and practice, etc. Being a trainer myself, I can fully appreciate the high standard applied both in the design of the course and the delivery." Maria Esperanza Sanchez
https://brightonpermaculture.org.uk/testimonials/4145/
"Been seeing every aspect of life differently since."

Anna
Introduction to permaculture course
"Been seeing every aspect of life differently since." Anna
https://brightonpermaculture.org.uk/testimonials/anna/
"The course was what I hoped it to be – a design course – so not too airy, and specific and directed enough to be useful and practical … I thought for an introduction course it was perfect."

Mark Seiltz
Introduction to permaculture course
"The course was what I hoped it to be – a design course – so not too airy, and specific and directed enough to be useful and practical … I thought for an introduction course it was perfect." Mark Seiltz
https://brightonpermaculture.org.uk/testimonials/mark-seiltz/
"Really well taught, structured and thought through. Amazing to be brought from knowing very little to having a go at your own design in two days."

Catherine
Introduction to permaculture course
"Really well taught, structured and thought through. Amazing to be brought from knowing very little to having a go at your own design in two days." Catherine
https://brightonpermaculture.org.uk/testimonials/catherine/
"I thought the site was beautiful. I loved spending a lot of time outside…. A really lovely group of people, relaxed atmosphere, delicious lunches and an inspiring course."

Kate Lewis
Introduction to permaculture course
"I thought the site was beautiful. I loved spending a lot of time outside…. A really lovely group of people, relaxed atmosphere, delicious lunches and an inspiring course." Kate Lewis
https://brightonpermaculture.org.uk/testimonials/kate-lewis/
0
Introduction to permaculture course