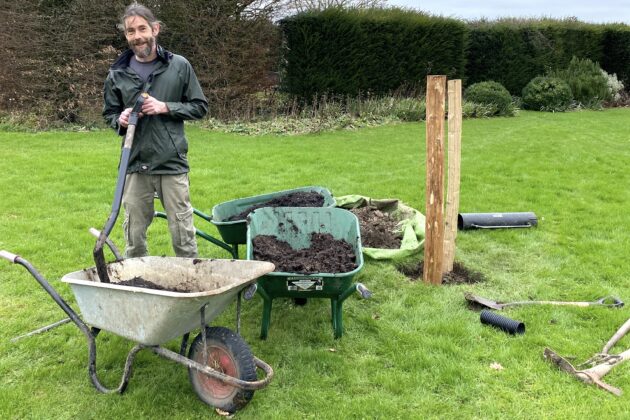 Jamie's Farm is so thrilled to be the next chapter in a big story of orchard planting by the Brighton Permaculture Trust. The farm becomes home each week to groups of vulnerable children from schools in the southeast who come to re-engage through gardening, cooking, farm work and being outdoors. These young people are at risk of social or academic exclusion and Jamie's Farm aims to turn around their patterns of behaviour by giving them responsibility, time to reflect, and also a wonderful warm family atmosphere.
Since the farm near Lewes opened in 2019, we have been caring for the existing gardens that surround the beautiful Sussex farmhouse, as well as setting up a productive garden growing fruit and vegetables that supplement the home-cooked meals eaten by staff and students. To add an orchard to the offering was the perfect next step both for the biodiversity of the organic farm and for the apples that will be added to the menu.
We planted 9 trees, aided by expert Jeremy; a mixture of cooking and eating apples and pears. The trees are thriving under the watchful eye of a flock of sheep who are currently grazing the meadow that surrounds them. We shall watch them grow, anticipating the time when the children who come to stay at the farm can be apple picking, making juice, crumbles and pies.
Learn more about Jamie's Farm here.