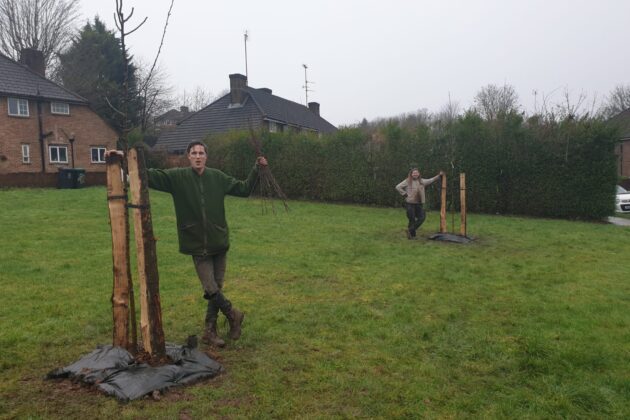 Here's our latest update on our north Brighton orchards project. We've started planting at our second sites in East Moulsecoomb, adding 5 more apple trees at Ashurst Road and Sullington Close.
The planting is part of our funded project (funders include Trees for Cities and Postcode Lottery Trust) to plant 70 trees this winter and we're really up against the clock!  However, with our experienced workers Stephan and Paul we're racing towards our goal.  Pictured here at Sullington Close next to 2 of the Sussex variety apple trees planted last week.
It is vital to the project and trees that the community is actively involved with their ongoing care.  Although we have funding to pay for watering the trees for the first 3 years, there is other support needed with pruning, feeding and mulching.  We are hoping that restrictions will lessen over the coming months around social distancing, allowing us to run tree-related events and training.
If you are interested in helping to prepare and plant the site within social distancing rules or in the longer-term care of the trees and learning more about how to look after them, then please do get in touch with project coordinator Jenni:
by email at: [email protected]
or by phone on: 07746 185927 (this is a message service only)
Notes
For more information about why community orchards are so important and who BPT are, visit our website:  https://brightonpermaculture.org.uk/orchards-and-fruit/our-work-with-orchards-and-fruit/