We've been quietly planting trees every week since the beginning of the year at 9 different
locations across north Brighton and have now completed our target of planting 70 trees this
winter with funding from Trees for Cities/ Urban Tree Challenge Fund, Postcode Local Trust
and Brighton & Hove City Council.
The work has been hard going at times, made all the more challenging by not being able to
host our usual community planting days. However, we did manage to host 3 closed
community planting sessions. We plan to continue growing this and increase volunteer help once Covid-19 restrictions ease.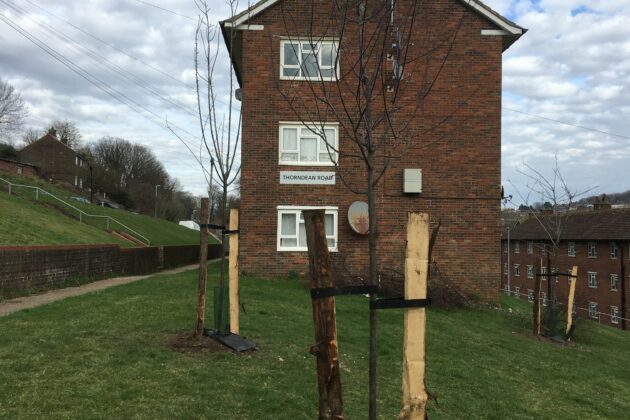 With a small group of socially distanced households, we planted a range of 11 beautiful
blossom bearing trees have been planted which will thrive in the exposed, chalky location at
Roundway/ Highfields in Coldean. Residents can look forward to years ahead of nurturing
their cherry plums, crab apples, walnuts, damson and greengage to provide harvests,
a shelter for wildlife and shade to gather beneath and celebrate. The group followed up by
planting a further 10 trees at Coldean Lane. Here, near a busy road, we have chosen trees
such as walnuts, cherry plums and crab apples that will have a focus on all-round interesting
features rather than fruit production.
We recently completed our planting at Bates Estate of 12 trees including apples, pears,
cherry plums, damson, greengage and medlar, supported in spirit by residents who are
raring to go with using their home-made community compost to mulch the trees as part of
the ongoing support required.
At The Avenue, Bevendean we have added 6 walnut trees to a recently planted orchard of 14
Sussex apples. Local residents spent an afternoon bucketing bark chip to the trees to mulch
them and help keep the soil moist. The walnuts create a huge ring of walnuts providing a
natural sheltered meeting place for neighbours and family.