Plot coordinator, Fran Pickering, explains how to make the most of these surprisingly delicious early spring greens. 
In our household, between January and May, stinging nettles are our go-to substitute for spinach and other leafy greens. Like other leafy greens, nettles can be steamed and seasoned or added to hearty stews and soups. Don't worry, they lose their 'sting' during the cooking process!
As with many leafy greens, nettles are high in many essential nutrients, providing us with vitamins A, C and K, as well as minerals such as calcium, iron, magnesium and sodium, and they even have traces of fatty and amino acids. It's no wonder they've been known for their health benefits and have been used in natural remedies since ancient times.
The leaves also make for a great nettle tea – just add boiling water and let them brew for a few minutes before straining and serving with a bit of honey or cinnamon. For savoury dishes, I often add onion leaves or leek stems, as a way of extending the harvest and using every flavour this time of year has to offer. In the recipe below, I've used nettles in place of basil, the herb traditionally associated with pesto. 
Harvesting Nettles
When you come to harvesting nettles to be used in cooking, be it for this pesto sauce or for other dishes, you should use the nettle tops before they start to flower. You can then cut them down to yield a 'second flush' of leaves in the autumn. You can pick nettles with bare hands without getting stung, though it is a practiced art, so if you're not sure how, use gloves!
The nettles used in this recipe were the heads from my second cut, grown alongside the prime of my three cornered leek flowers and abundant wild sorrel, tempered by overwintered flat-leaf parsley and Jack by the hedge flowers – giving a mustard-garlic overtone. The red beauty amongst them is the first of my radishes, which took 6 weeks to grow from seed. All the ingredients were washed by the welcome rain.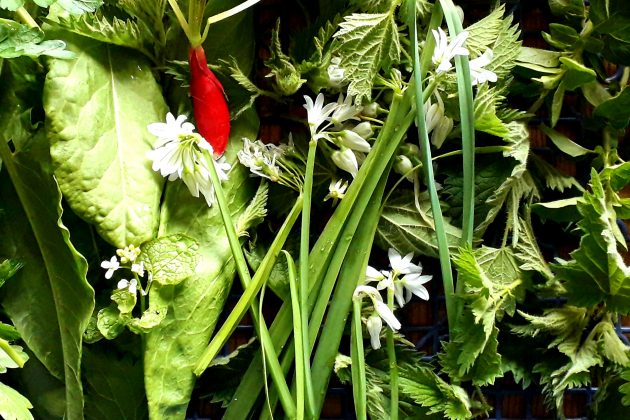 Nettle Pesto Recipe
This delicious and alternative pesto is a perfect way to use up nettle heads harvested in the spring, and needs only a few extra store cupboard ingredients. You can substitute cashew nuts with any nut you have to hand; toasted pine nuts are a classic choice, but if you can find them, locally grown walnuts and hazelnuts are recommended and work very well. 
Swap the Parmesan cheese for 1 tablespoon of miso to make the pesto vegan, and increase or decrease the ingredients in equal measure, depending on the amount of nettles you have. The amounts below will make enough for 4 servings with bread or pasta. 
Ingredients
100 g fresh nettle heads

50 g cashew nuts

200 ml olive oil

50 g Parmesan cheese

6 heads of three cornered leek or

1 garlic clove

8 stalks of sorrel
A few sprigs of parsley
2 flower heads of Jack by the hedge

a dash of homegrown apple cider vinegar or lemon juice (optional)

salt and pepper, to season
Instructions
To lose the 'sting' from the nettles, place them in a shallow pan and lightly heat for a few minutes.

Next, add the nettles and the remaining ingredients to a food processor and blend until the mixture forms a smooth paste. Season to taste.

Serve immediately while fresh on bread or mixed with cooked pasta. The pesto will keep chilled in an airtight container for up to one week.
If you make this recipe you can share how it went on our Facebook community group page, or by sending us an email. We'd love to hear from you!