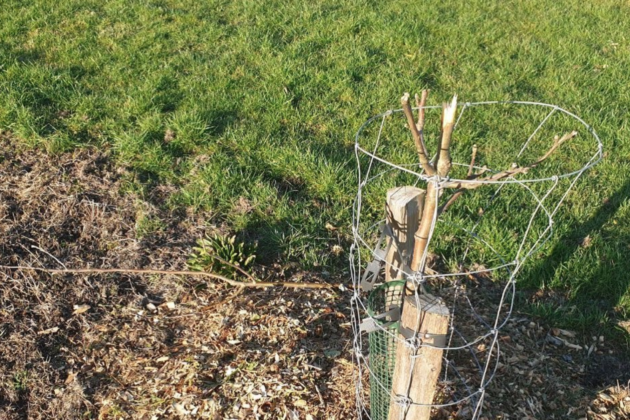 Local residents in Bevendean were shocked to find trees in their local community orchard had been badly vandalised recently.  The Avenue Orchard was created in 2019 by Friends of Farm Green with the support of Brighton Permaculture Trust.
Funded by the Rampion Fund at Sussex Community Foundation a 13-tree orchard was planted in this underused space during two days with over 50 people attending the planting of eight apples, two pears, two plums and a damson. The community showed almost unanimous support and have been carefully caring for the young trees during the following Spring droughts.
In January 2021, The Avenue Orchard was extended by planting a further 20 trees, as part of a 70 tree project in north Brighton funded by Trees for Cities/ Urban Tree Challenge Fund, Postcode Local Trust and Brighton & Hove City Council.  This time under the very different conditions created by Covid-19.  No community planting days, but equal enthusiasm from residents in mulching and caring for the planted trees: fourteen Sussex apples and a ring of six walnuts.
The wilful damage to six of the original 13 apple trees planted – broken off nearly to the ground – has angered and saddened local people who took time to plant and care for the trees over the past 2 years.
Mitchie Alexander, an active community member of Friends of Farm Green, expressed her frustration "I am very sad that some of the trees have been damaged like this, but we won't let this small hiccup spoil the project.  The local community love the new orchard and look forward to seeing the trees grow and grow.  The trees the Bevendean community planted are to be enjoyed by not only us here today but will be enjoyed by our children, our grandchildren and our great-grandchildren for many many years to come."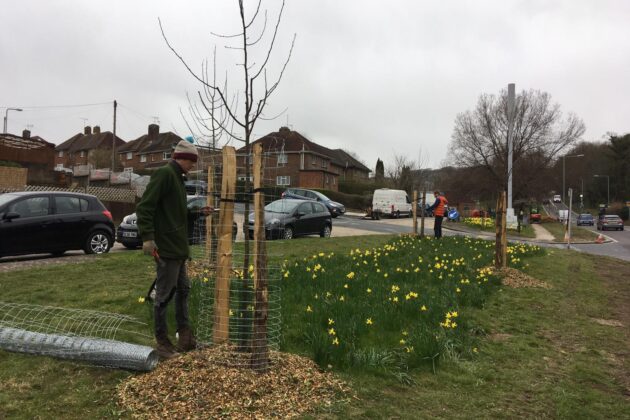 Bryn Thomas, Director of Brighton Permaculture Trust had this to say "Thankfully vandalism of our newly planted trees is unusual and where it does occur is often just snapping off of a few twigs, so doesn't cause too much of a problem. This incident is more serious and involves snapping trees nearly to the base.  We expect them all to survive but it could well be that it sets some of them back for 2 or 3 years and it requires additional care for the trees in the coming years. Very sad but hopefully we won't lose the trees."
Brighton Permaculture Trust tree expert Stephan Gehrels was quick to respond to the vandalism by visiting the damaged trees and pruning away the broken trunks. This will help encourage the trees to send out new growth and prevent infection from setting into the wounded part.  In addition, the community are also hoping to raise funds to provide more signage about the orchards to show how important they are to the local community.
Brighton Permaculture Trust now needs to provide extra care to the damaged trees as a result of this thoughtless act, including regular check-ups by our tree experts and additional physical protection of the trees. Jenni Cresswell, Community Orchard Development Worker with the trust, urges residents to call 999 if they see anyone vandalising trees in public places; vandalism is a criminal offence.  Jenni added "There are costs linked to our work supporting local people care for their community orchards and this wilful damage only adds to the bill. Please help us send a message that vandalism won't be tolerated by donating to the ongoing care of our trees."
You can donate here to support our work.
Want to find out how to get involved with your local community orchard, or to plant your own orchard? Visit this page to make an inquiry.