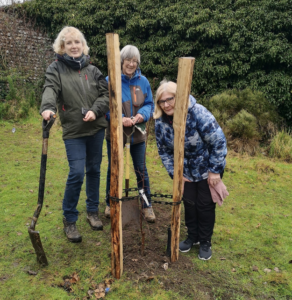 Wednesday 19 January 2022 saw us working with the volunteers of Saunders Park led by Rosie Lindfield, who provide the people power behind the incredible, edible, award winning community garden supported by Brighton & Hove Food Partnership.
The task for the day: to add 8 gorgeous fruit trees to the existing community orchard adjacent to the garden.  The orchard is tucked away up on the edge of the site, offering a tranquil and spacious, open space to wander through.  Varieties of pear, damson and cherry plum were added to a range of apples already at the site.
Stephan Gehrels and Paul Wiggins provided the expertise on planting the trees and around a dozen volunteers provided the muscle power with lots of smiles and laughter.  Jenni Cresswell, Community Orchard Development worker for Brighton Permaculture Trust commented: "It's so important to work with communities to provide local, healthy food and mini orchards really do the job. Giving local people the skills to care for their orchards means we can help create a living legacy for the future together."
Even more amazing is that this new orchard was made possible by the incredibly generous sponsorship by CoirProducts – a local business dealing with coir-based growing products from sustainable sources.  Shiran Am, CEO said: "At CoirProducts, we are conscious of how our actions impact the environment. While we are committed to providing high quality products, we also strongly believe in supporting local communities in their efforts, especially in promoting greener living and caring for the planet. Supporting community orchards is something we greatly value."  Businesses like Coir Products taking an ethical stance by supporting this kind of activity can go a long way to supporting their local communities.
If you'd like to get involved with caring for a local orchard, or planting a new one, get in touch with us.