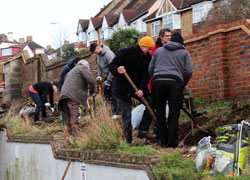 Brighton Permaculture Trust helped The Bevy at Bevendean (set to be the first co-operative pub in the UK) plant fruit trees in what is to become an edible pub garden. Read more in The Argus.
by Warren Carter
The snow had finally melted, so, on a cold but sunny Sunday in January, around 30 volunteers made a start on our edible pub garden. While we still busy fundraising for the money to start on the rebuild, it was great to start work on the outside and show people how we are going to be so much more than just a pub.
Thanks to a grant from Harvest and expert support on the day from Brighton Permaculture Trust, four Sussex apple trees and two plums were planted. Old tree stumps also made way for roses, shrubs and spring bulbs on the steep slopes to give us a riot of colour and some fruit in the coming months and years.
We served up hot drinks to the workforce as some cleaned the pub windows while others canvassed neighbours to talk about our plans and listen to any concerns and ideas for the Bevy.
The fruit trees are part of our plan to produce some of the food for the café at the pub, and the next big task is to terrace one of the overgrown steep slopes so we can start growing vegetables.
Moulsecoomb was built as a model garden estate, and, with more fruit trees already being planted or planned this winter at Moulsecoomb Primary, The Keep and St.Andrews Church, it is fantastic to play our part in getting the estate to grow more of its own fruit.
* If you want to buy shares in the first co-operative pub on a housing estate in the UK, visit The Bevy website.