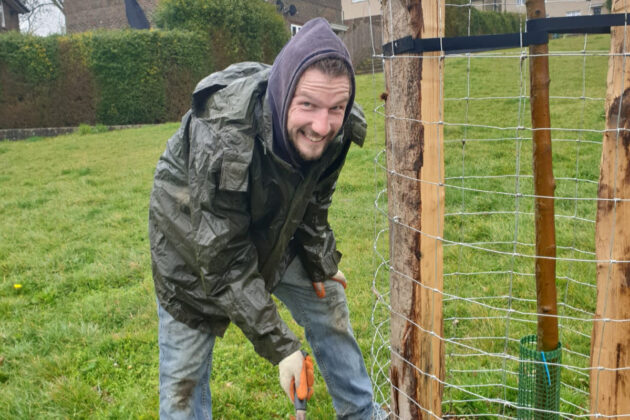 Photo shows Robbi Smoot, BPT contractor, hammering in the last staple of the last wire cage on the last of 70 trees (a crab apple) at Staplefield Drive, Moulsecoomb.
We've done it! We've completed the planting of 70 fruit and blossom trees at 9 orchard sites in Bates Estate, Bevendean, Coldean and Moulsecoomb.
But we couldn't have done it without help from our amazing local community leads who have linked up local support from other residents, helped plant the massive trees, lugged bark chip and pledged to be ongoing tree guardians.  Thanks also to a raft of other supporters including Trust for Developing Communities, Brighton & Hove City Council (BHCC) Communities Team, BHCC Housing, BHCC Parks, BHCC Resident & Tenants Associations, BHCC Councillors, local community groups and organisations, Brighton Permaculture Trust contractors and advisors and – of course – our generous funders including Urban Tree Challenge Fund (Trees for Cities), Postcode Lottery Trust and Brighton & Hove City Council Resilience Fund.
Now, all we need to do is look after the trees for about 80-100 years! Aftercare for the trees – especially in the first 3 years – is vital to their survival. Our main focus will now be ensuring the juvenile trees get enough water and food to put down anchoring and feeding roots to enable them to become sturdy, independent adults.  We have been able to secure funding specifically for watering the trees over the next 3 years; we will be focusing these watering sessions during any dry spells in spring and summer when the trees are in active growth.  We'll be transporting water to each site, so that's one less job for our community volunteers!
We will, however, be relying on our community volunteers to carry out all the other necessary jobs such as feeding, pruning, repairing tree protection and monitoring tree health.  As social distancing rules lift, we aim to run volunteer sessions to help our tree guardians gain the skills needed to look after the orchards for years to come.
Social media is playing an important role in sharing our orchard adventures and tree stories; you can find images on Instagram #brightonpermacultureorchard
To find out more about how you can get involved, get in touch. Or perhaps you'd like to support Brighton Permaculture Trust's work which includes supporting and planting community orchards?  Donate here.
Learn more about our work with community orchards here