A blog post by Kate Ford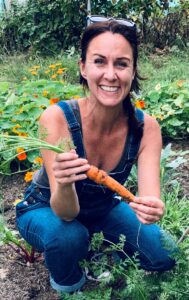 Three years ago, I hadn't heard of permaculture. So how did I discover this wonderful community and beautiful way of being that has enriched my life in every way?
Scrolling through Facebook in January 2020, before Covid changed the world, I saw that the local allotment society was offering plots on three of its sites. I soon discovered there were three half plots available and couldn't believe my luck. I know people are stuck on allotment waiting lists for years. I took my friend along to look as she's an old allotment hand. It was freezing cold and pouring with rain but just as we reached the first plot, 10b, the sun came out and a rainbow arched right over it. It was overgrown and unloved, with a half-built shed in the middle, but I immediately fell in love.
I've always been a huge lover of nature and animals; I walk my dog in the woods most days. But I'd never been a big gardener and started feeling slightly overwhelmed by the enormity of the task. Remembering little from school, I wanted to learn about plant health. I signed up to the RHS Level 2 Certificate – Principles of Horticulture, and spent the next 18 months studying. I was learning a lot but felt really uncomfortable with the references to chemicals – fertilizers, insecticide, fungicide, weed killer. There was no way I was going to use any of those so I started delving further.
I stumbled across Stephanie Hafferty, Charles Dowding and Morag Gamble's brilliant no-dig videos. Morag's Our Permaculture Life YouTube channel was a huge inspiration and a 'wow!' moment. I'd found permaculture and wanted to know more. By this time the plot was coming along well and was all no-dig. I took my RHS exams in June 2021 and immediately signed up to Morag Gamble's Permaculture Design Course and Permaculture Teacher Course. I finally found my tribe!
My confidence was growing, I wanted to learn more and find ways that I could make a small difference. I was following and learning from people on social media and reading and watching as much as I could about permaculture, sustainability and regenerative methods.
Then in December 2021 another incredible opportunity came my way. I saw a tweet from Six Inches of Soil, a regenerative farming agroecology documentary feature film launching in autumn/winter 2023. The film is focusing on three young new entrant British farmers following the start of their regenerative farming journeys. I'm a professional PR strategist, content developer and copywriter so offered to help. In February, after meeting the film's director Colin Ramsay and producer Claire Mackenzie I became the proud publicist of Six Inches of Soil.
I'm meeting and learning from the most incredible people every single day and discovering how to tread as lightly on our beautiful planet as possible. I couldn't be more grateful to Morag and the whole Six Inches of Soil team, and to everyone on this journey. I recently discovered Joseph Campbell's The Hero's Journey, another 'wow!' moment. Campbell talks about following your bliss and this really connects with me. He says, 'We must be willing to get rid of the life we planned so as to have the life that is waiting for us.' If you're eager to spread your wings just go for it – you definitely won't regret it.
Find out more about permaculture with one of Brighton Permaculture Trust's courses:
Practical permaculture gardening