by  -:- Dan Lake, Apple Day Brighton event organiser
-:-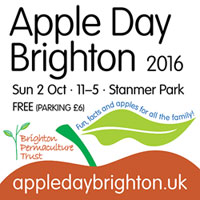 Anyone passing the  -:- Fruit Factory in Stanmer Village at the weekend recently will have seen that the scrumping team are gearing up for Apple Day Brighton, which is on Sunday 2nd October 2016 from 11am to 5pm.
With the juicer duly sluiced and fresh tasty apple and pear juice flowing forth, we know the time for Brighton Permaculture Trust's annual harvest celebration is rapidly approaching. Time for the organisers to venture boldly into the dark recesses of the orchard barn, to emerge blinking and laden with dusty Apple Day signs to wash down and refresh.
Apple Day is a pivotal moment in the calendar for Brighton Permaculture Trust. A gathering of the wide and diverse community of those interested and involved with permaculture, it is a place to reconnect, to share enthusiasms, and revel in the company of like-minded people.
Much more than this, Apple Day Brighton is an open house – a moment to reach out and welcome the world to discover something new. Last year, an estimated 7,000 visitors arrived at Stanmer Park on foot, by bus, bike, train and car, to celebrate with us.
What's on
Chat and find out more about permaculture at the info stall or go home with a tree from Sussex Fruit Trees.
Bring along a mystery variety apple to the Identification stall with apple expert Steve Oram as our special visitor from the People's Trust for Endangered Species.
See how we put permaculture in action by joining a plot tour for a guided visit to Brighton Permaculture Trust's own nearby  -:- growing space.
There is free advice on orchards and the ever-popular Produce Stall.
For the first time, we are proud to be offering our very own Stanmer Scrumpy from the scrumping project. Enjoy it while stocks last!
Our delicious juice will also be served from the bar as well as fresh off the press at the Fruit Factory, where you can have go at juicing.
A mouth-watering array of food will grace the green, including our own Cafe serving gorgeous apple crumble, cake and pie.
There are a range of stalls for your browsing pleasure. Entertainments feature Morris dancers and choirs through the day and kick off in spectacular style with Brighton School of Samba.
Aside from the juicing, children will flock to the fun fair which makes a welcome return.
-:- Orchard tours give guided insight and a chance to ask questions about this beautiful and little known gem.
"The Golden Apples" and other stories will be told by Susan Knight in the Orchard from 12-1pm.
See some photos (thanks to Murray Ballard) and watch a video by Michael Riley covering last year's event. They both capture the spirit of the event beautifully.
Getting there
The Bike Train departs The Level at 11 and 12 o'clock, providing peddlers with a fun, safe organised group journey.  -:- Learn more.
An additional bus means the 78 service will run twice an hour. It leaves from outside the Pavilion on Old Steine, goes via Brighton Station and brings you to the heart of Apple Day.  -:- Learn more.
If coming by train, get off at Falmer station, walk through the underpass and stroll across the park towards the green in front of Stanmer House. Be aware of the bus replacement service on the trains from Brighton to Lewes on 2nd October, which affects anyone trying to get to the park from Falmer train station.  -:- Learn more.
If coming by car, there is a parking fee of £6.