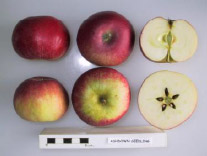 History of the Ashdown Seedling apple
Grown by John Clarke who founded the orchards of the Ashdown & General Land Company during the 1930s. His son Rory Clarke remembers how his father grew it from the pip of a bright red McIntosh apple that he had eaten. The original tree grew in the kitchen garden at his home.
Description
The Ashdown Seedling apple becomes flushed red and has a light, sweet taste, though Rory Clarke describes it as sometimes sour.
Season of use
The Ashdown Seedling is an early apple that ripens in mid to late August and stores till early September.
Tree habit
The Ashdown Seedling is a moderately vigorous tree.
Flowering and pollination
Flowering day: F8
How to identify an Ashdown Seedling apple
Apples can be identified by sending them to the National Fruit Collection at Brogdale or by bringing a sample to Apple Day Brighton, where an expert pomologist will be on hand to identify apples. From each tree, bring three or more ripe fruits and a shoot with representative leaves.
Where to buy an Ashdown Seedling apple tree
Please contact us for details of our supplier for Sussex apple varieties.