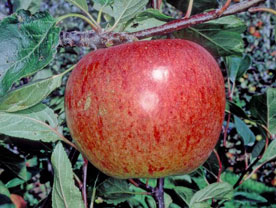 History of the Coronation apple
The Coronation apple was raised by H C Princep at Buxted Park and introduced by nurseryman Pyne, Topsham, Devon. It was recorded in 1902 in the year of the coronation of Edward V11 and won an RHS Award of Merit in 1902.
It is currently cultivated as part of Brighton Permaculture Trust's  -:- National Collection in Stanmer Park, Brighton. You can see a Coronation apple tree (planted 2011) in Home Farm Orchard, Stanmer Park ( map).
Description of fruit
The Coronation is a large, handsome apple which can be variable in size and flat to almost conic in shape. The yellow skin is flushed orange-red and streaked with dark red. There is some russet at the base of the apple. It has soft, coarse flesh with a sweet, light taste.
Season of use
Fruit ripens in mid September and will store until November, though it becomes very soft.
Notes on cultivation
The Coronation is a vigorous growing tree.
Flowering and pollination
Flowering day: F13
How to identify a Coronation apple
Apples can be identified by sending them to the National Fruit Collection at Brogdale or by bringing a sample to Apple Day Brighton, where an expert pomologist will be on hand to identify apples. From each tree, bring three or more ripe fruits and a shoot with representative leaves.
Where to buy a Coronation apple tree
Please contact us for details of our supplier for Sussex apple varieties.