Date to be announced
This half-day workshop runs from 12:00 to 16:00 in Stanmer Park and Hollingdean, Brighton.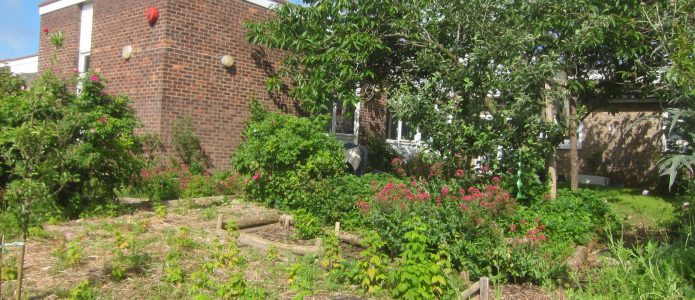 Overview
This workshop is primarily aimed at decision-makers considering options for public spaces but is relevant for anyone interested in considering options for such areas. It will visit mature and young orchards, a forest garden and other edible landscape features. It will focus on enabling participants to decide what is appropriate for public spaces. We will consider what is involved in implementing, establishing and maintaining various options.
Our Forest Gardening course  is more suited to people wanting to learn how to make and maintain a garden.
Programme
12:00     Meet at the Fruit Factory (Stanmer Park). Coffee and short presentation
12:30     Visit to Home Farm Orchard (Stanmer Park)
12:50     Lunch in orchard if weather good (or Fruit Factory)
13:30     Travel to Hertford Junior School (convoy of cars, lifts available)
13:50     Visit Hertford Junior School Forest Garden and Edible Shelter belts
14:40     Visit Hollingdean Park – Edible Landscapes and Orchard
15:00     Visit Hollingdean Estate Orchard
15:30     Discussion about relevance – venue TBC
16:00     End
Workshop tutors
Bryn Thomas, Brighton Permaculture Trust Director, has been creating and maintaining forest gardens and orchards for over 25 years.
Stephan Gehrels will co-teach the workshop and will show us the forest garden, orchards and edible landscapes he has created in Hollingdean.
Fees
£80 – Sponsored/organisation rate
£80 – Individual income more than 25k/yr
£65 – Individual income 18-25k/yr
£50 – Individual income less than 18k/yr
£25 – Individual, concessionary rate (check eligibility)*
* Concessionary places are limited. If places are not available check back two weeks before the course/event as more may be available then.
We endeavour to make our courses and events affordable to all. Unfortunately, we do not receive any external funding for most of these and rely on large amounts of voluntary input.
See the cancellations and refunds policy.
Booking the workshop
Booking is essential, as most of our courses/events are fully booked weeks in advance. However, if places are still available, then bookings can be made until 5pm the day before the course/event. A place is not secured until we have received the requested payment.