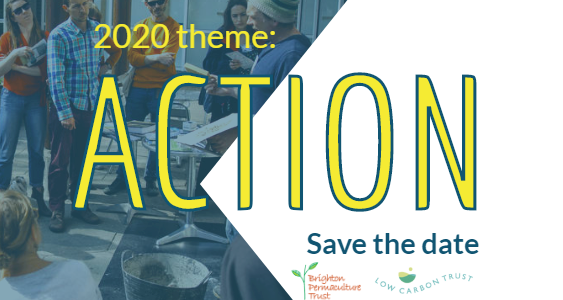 Saturday 28 March, Brighton
There is an army of people who have been doing their best for our environment, our communities and our future.
For this Green Architecture Day we will be hearing from the pioneers of architecture, design and systems who have chosen to actively create a better world.
At Brighton Permaculture Trust we have been quietly part of the solution for 20 years. We would now like to shout from the rooftops in celebration of our colleagues who have been doing the same here at home and internationally.
CHANGE IS COMING
We are very excited about this one and we look forward to welcoming you to:
A day of inspiring talks and break out sessions: this year promises a stellar line up!
Meet the expert Q&A
A variety of stalls and info stands
A delicious vegetarian lunch catered for by the Brighton Permaculture Trust chef in residence Fran.
All welcome – all needed.
View the archive of previous years events here
Stella Peyerl, Event Organiser, 07/11/12019