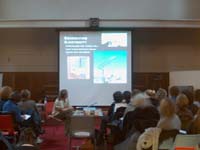 An annual event of stalls, exhibitions and illustrated talks by designers, practitioners and professionals.
For information about the upcoming Green architecture day,  -:- click here.
Illustrated Talks
An overview of green architecture – issues and approaches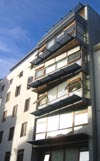 Duncan Baker-Brown
A look at the issues that need to be addressed by design aiming towards achieving sustainability in the built environment. Duncan will consider different building case studies from the current work of his award winning practice, BBM Sustainable Design, as it pursues an ethos of environmentally benign design in housing, commercial, as well as community and school buildings.
-:- Click here for Duncan's presentation, PDF format  [1490KB]
Microgeneration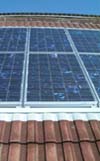 Howard Johns
Howard, founder and Managing Director of Southern Solar, will talk about the possibilities for Microgeneration in the UK.  He has been involved with the installation of solar hot water systems and other small scale renewable energy systems for the last seven years. Southern Solar provides a one stop shop for renewables and is one of the south's leading renewable energy installation companies.
-:- Click here for Howard's presentation, PDF format  [939KB]
Harvesting and recycling rainwater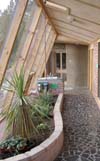 Mischa Hewitt
Mischa is project manager for the Earthship Brighton project, a pioneering 'green' development in Brighton to build a sustainable community centre by Low Carbon Trust and Earthwise Construction for Stanmer Organics. Mischa will share his experience from Earthship Brighton of installing a rainwater harvesting system that treats water to drinking standards, and of creating indoor wastewater treatment planters that treat water to flush the toilet.
-:- Click here for Mischa's presentation, PDF format  [472KB]
An Introduction to Eco-renovation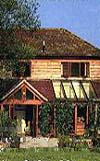 Maddy Harland
Using permaculture design principles, Maddy Harland, takes you on an illustrated tour of different properties and presents both the principles of eco-renovation and the practicalities using her own house as a case study. Maddy is the editor of Permaculture Magazine – solutions for sustainable living – and the co-founder of Permanent Publications, an innovative publisher established in 1990.
-:- Click here for Maddy's presentation, PDF format  [475KB]
ZEDFactory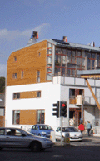 Taus Larsen
Taus of Bill Dunster Architects ZEDfactory, architects of BedZED, will be outlining the ZEDfactory approach and presenting various projects past, present and proposed. This will range from small scale individual kit houses to large urban developments in the UK and further afield.
Building with rammed earth
Rowland Keable
Rowland has been running In Situ Rammed Earth Company since founding it in 1999 after building with earth in Africa since 1985. In Situ built walls at the Eden Project and since then have worked all over the country, most recently at the Centre for Alternative Technology on their new lecture theatre. In Situ also teach and advise a number of companies on how to use earth on site.