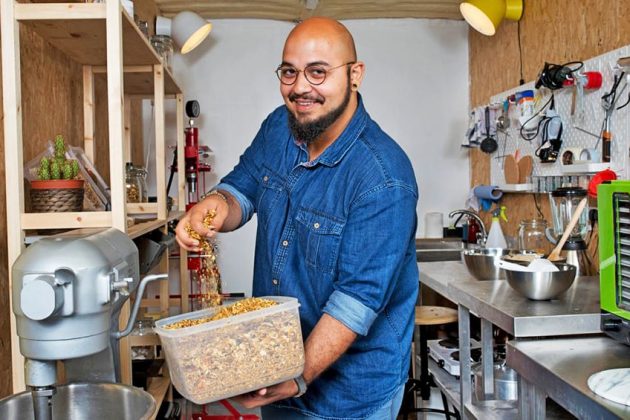 "Follow the question." 
This is the advice offered by Ehab Sayed Founder and Lead innovator of Biohm when we chatted about his journey to establishing an industry leading Biomaterials company here in the UK.  
Advice that has served him well. 
In the past few years Biohm has gained international interest, all stemming from a question Ehab had. 'What could be done about post construction and building waste?'
After committing time and energy to finding a solution to that problem, which he did by way of Triagomy (the ability for buildings to be de and re-constructed, much like the Fruit Factory). Ehab recognised that the answer he was looking for was only going to be addressed if he tackled the root of the construction waste issue – the materials themselves. 
With a manner and gentleness of voice that invites you to listen in, it was a privilege to hear how Ehab's obvious curiosity and inquisitiveness led to Biohm. Alongside a team of scientists and a collection of very sophisticated computers, the Biohm team now spend their time teaching mycelium to consume waste, creating closed loop, beneficial, regenerative materials and much more besides. 
And yes, you did read that right – mycelium – that's the vegetative part of fungus that looks like a feathery web.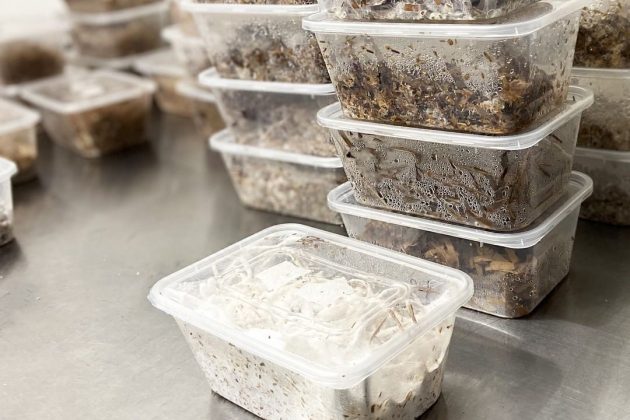 Taking their cues from the natural world, the teams work with mycelium has led to some pretty astounding products. In addition to offering incredible insulation properties they also beat market leaders for fire retardation. Far be it for me to give away too much ahead of Ehab's Green Architecture Sessions talk with Sally from the Onion Collective, it is fair to say that Biohm are getting noticed. And rightly so, in my opinion. 
With impressive environmental credentials and the ear of the construction industry too, Ehab could have stopped there – but he didn't. Rather, he set the team's sights on ensuring that Biohm had a positive social impact too. An ambition that has also been realised.
Following an 18 month collaborative process with the Onion Collective, Biohm now proudly operate on a 50% profit share with the local community where their factory and lab is based. This means, 50% of all profit made is given directly to the community who can use it to support local people, activities and community development projects. 
I asked Ehab, mind racing with all of the things I was hearing, what advice does he have for people, who want to make positive changes in the world, but right now, may have a dining table rather than a high tech lab bench?
"Never underestimate what you can do on your own, it is easy to be intimidated by the companies and think the ideas you have won't, and can't make much of a difference. It starts with an idea,"  was his response.
Questioning, what could be done about construction and building waste, led Ehab invent things that didn't exist, to respond to questions that weren't being answered, to create new ways of doing business that support the whole community. 
"Talk to people, share ideas – with everyone. Transformation comes through the connections we foster with people and with nature, through the communities we create," Ehab advises. 
It was one question, some hard graft and an insatiable inquisitiveness that opened doors. This question has provided platforms, from which Ehab has been able to share his work, passion and commitment to positive and regenerative design. Including candidly calling out financiers for their role in the climate crisis at a recent World Bank Conference – which prompted people to approach him and enter into honest conversations about their role. 
"There has never been a better time to disrupt!" Ehab tells me "and questioning is a great way to do that!"
And, it may be just one question, but much like the mycelium networks deep in the soils below our feet, the reach and spread is often far greater than we can understand by looking at single mushroom. 
So, taking our queue from Ehab and the natural world, what is the question you would like to follow? What problem do you see that you want to address?  
To hear more of Ehab and Biohms story, of Earth Care, People Care and Fair Share – in action, join us at the upcoming Green Architecture Sessions on 21st Sept – 3rd of Oct.
written by Alex Brooks