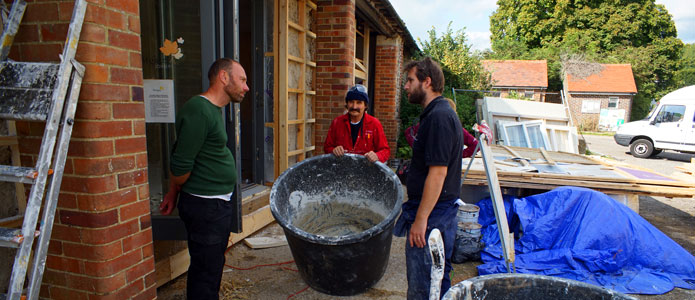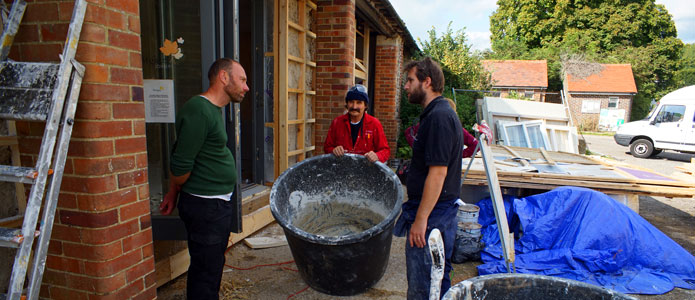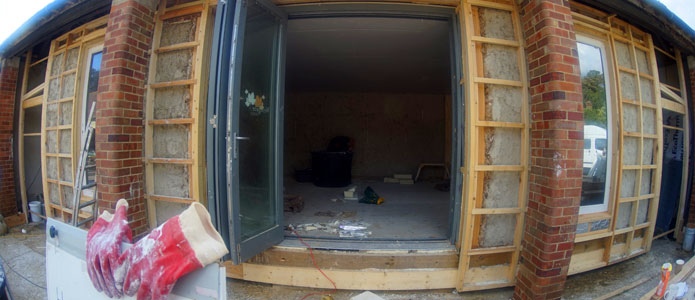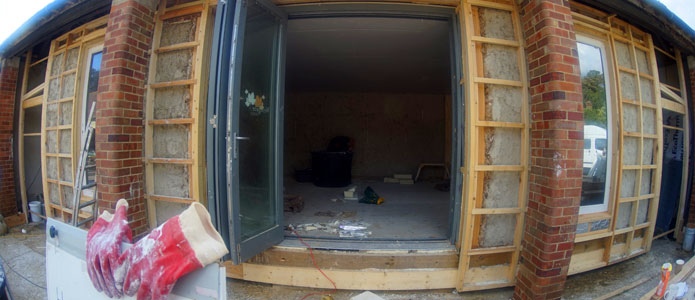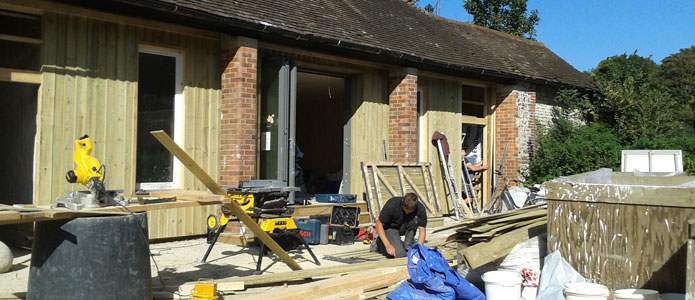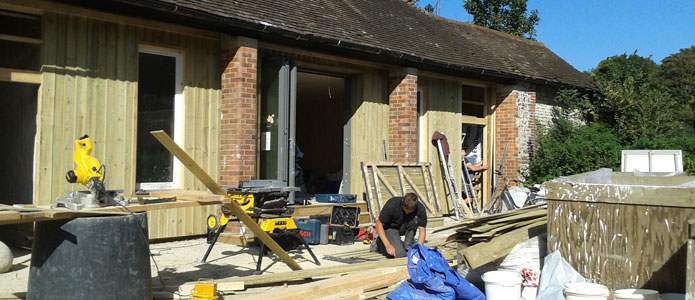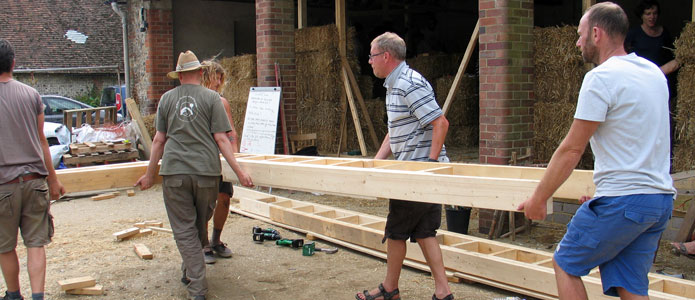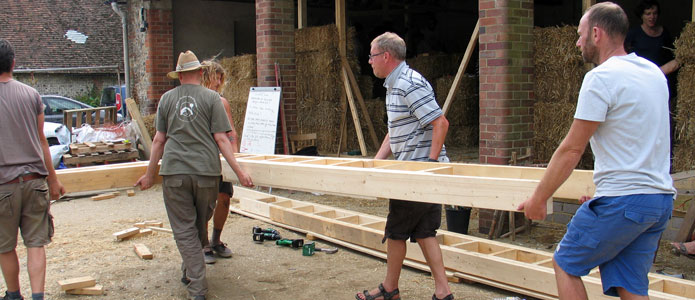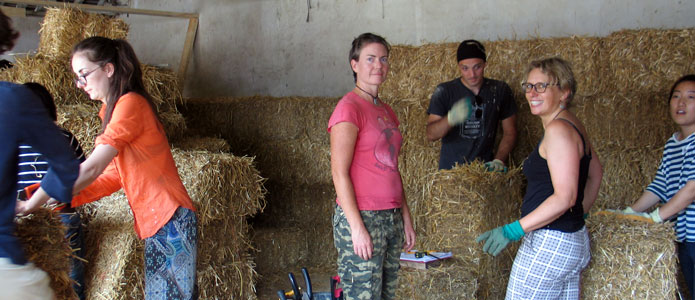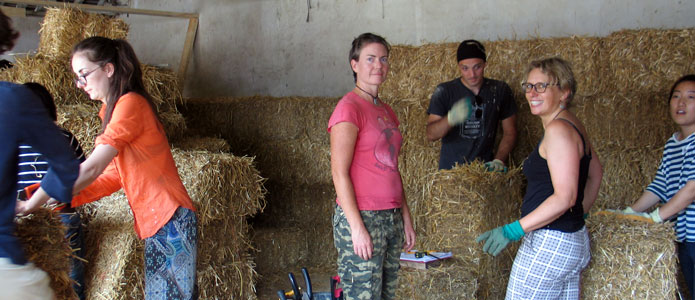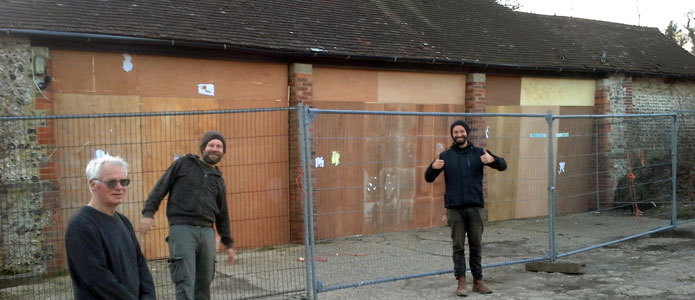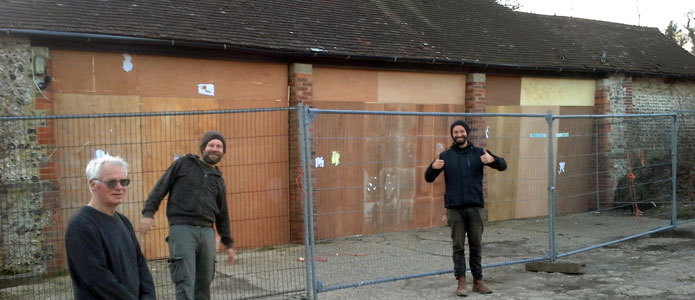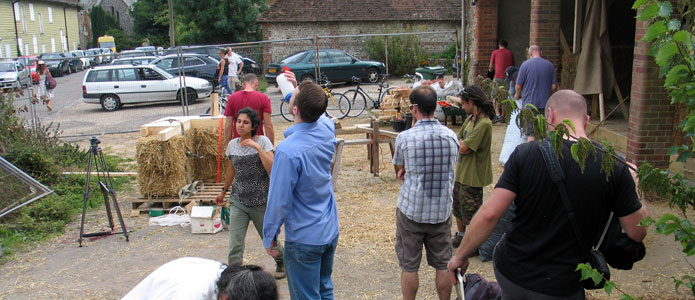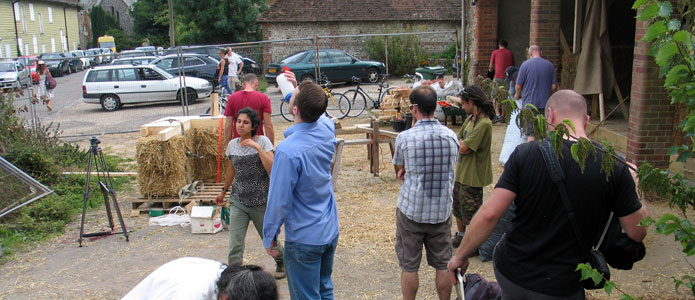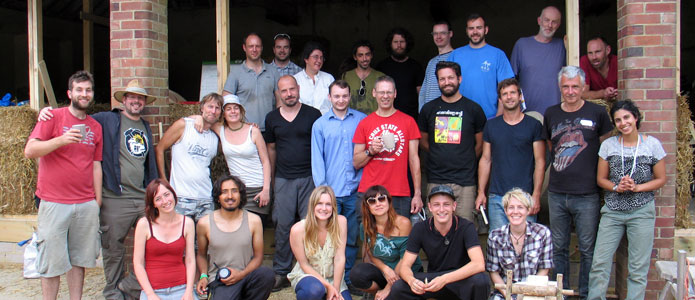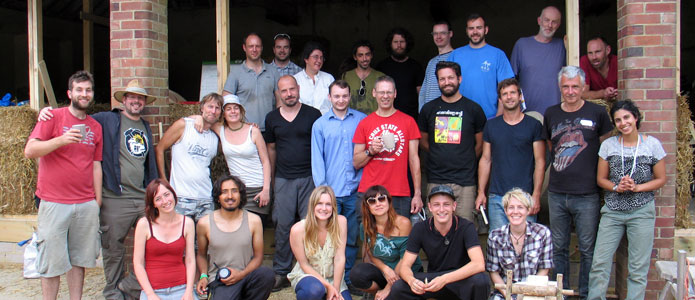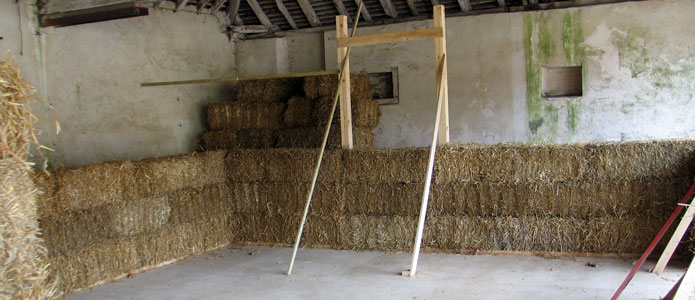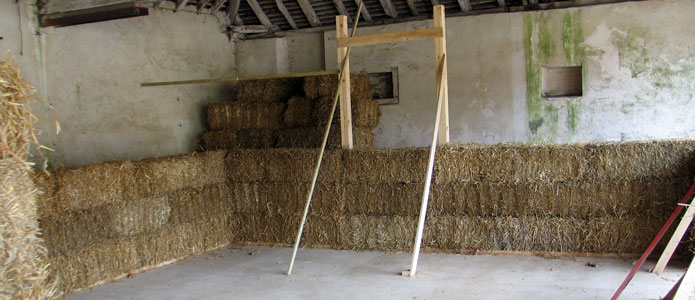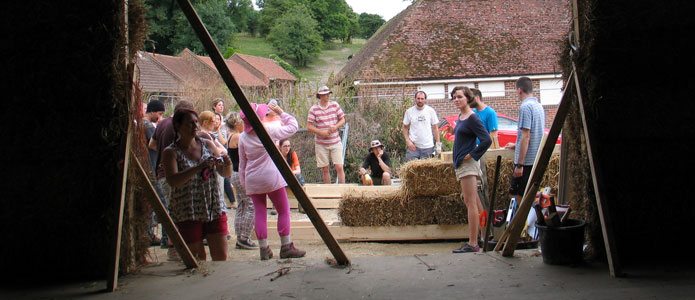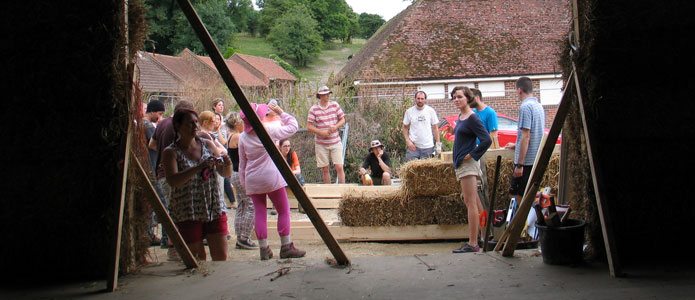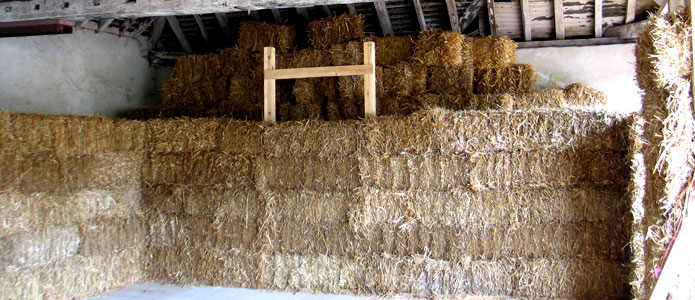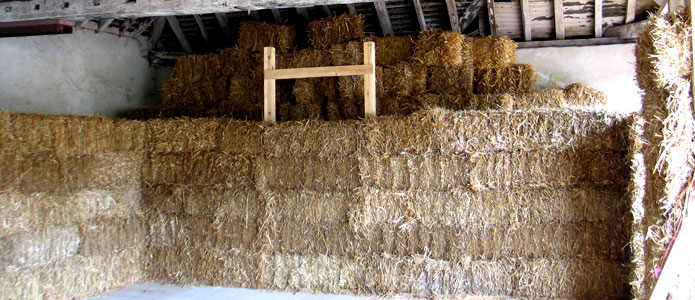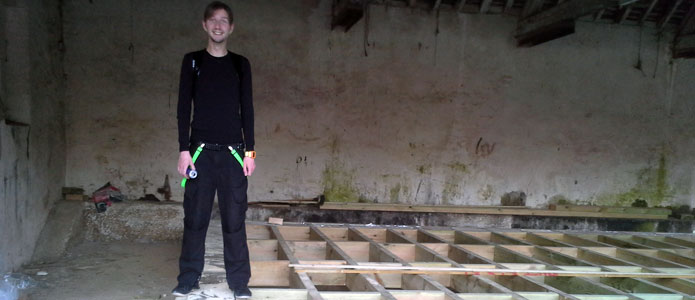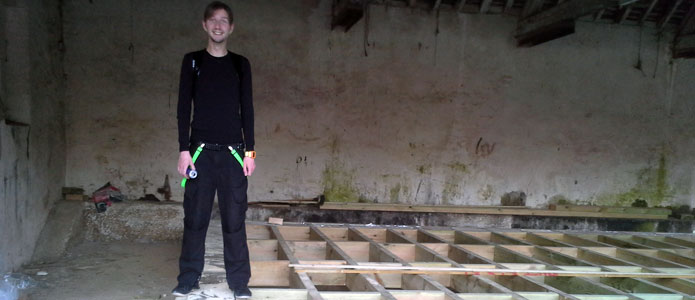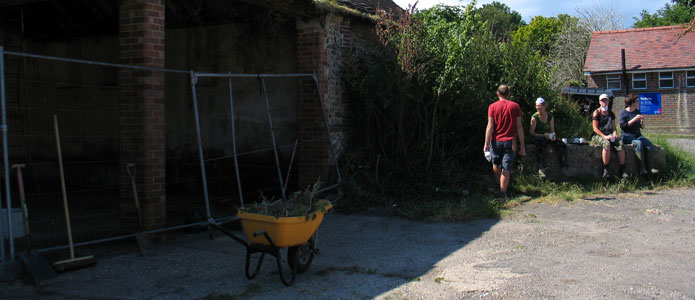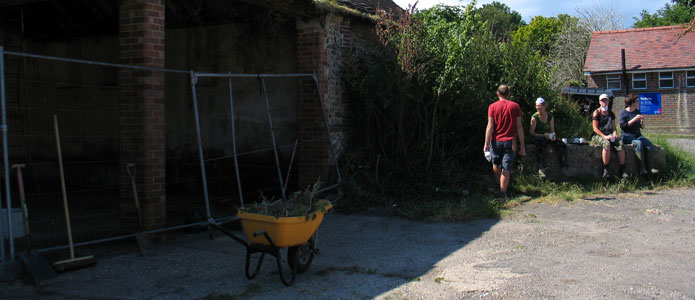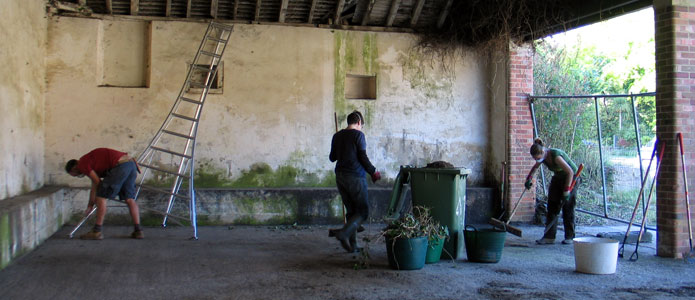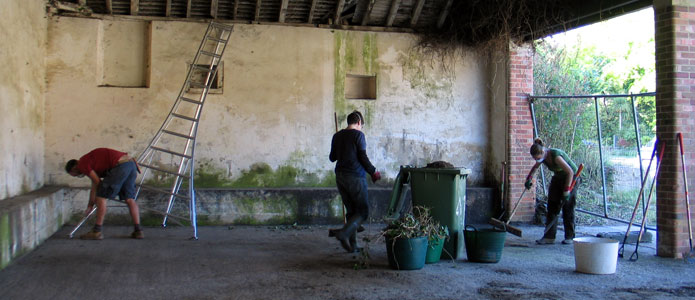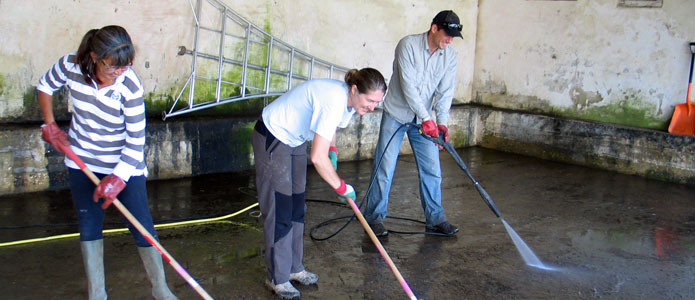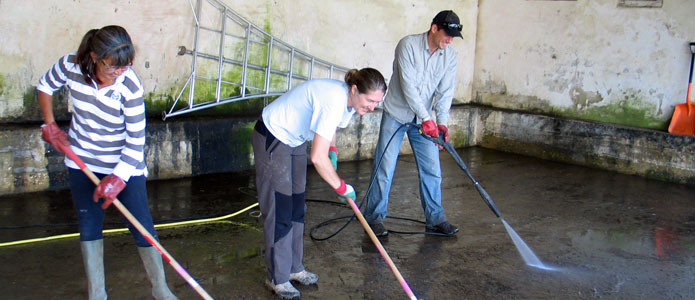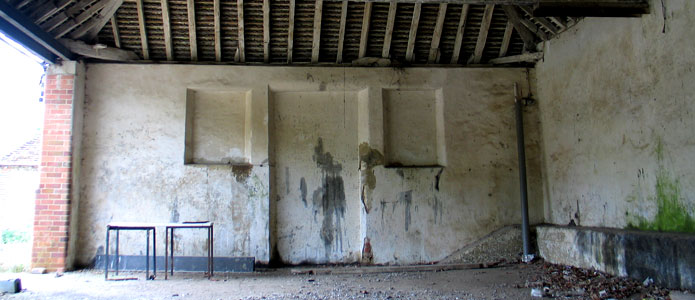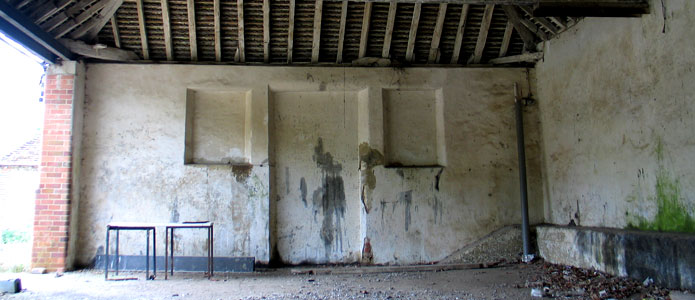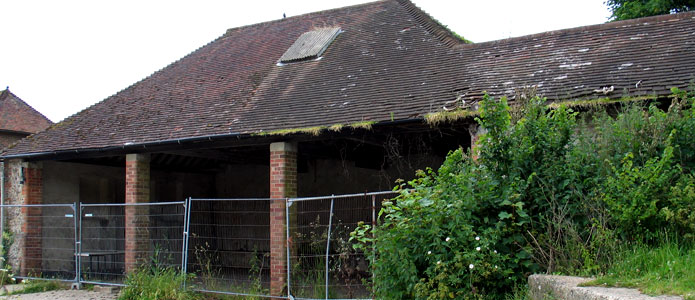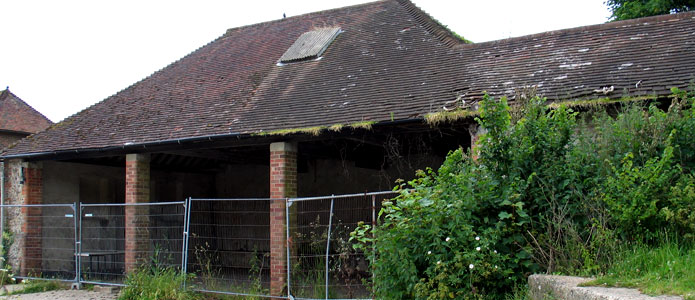 Brighton Permaculture Trust's scrumping project, and Fruit Factory headquarters, are all about local food.
Why we scrump
Every year within 25 miles of Brighton, hundreds of tonnes of fruit go unpicked or never leave an orchard, and yet we import truckloads of it from all around the world to satisfy the demand for fruit and fruit products.
Brighton & Hove Food Partnership share some shocking statistics:
Brighton & Hove residents waste 39,000 tonnes of food every year (that's about 260kg per household).
Tackling food waste can save up to £50 a month on food bills – and save the energy of natural resources and human effort.
Nearly half of what is thrown away is fresh fruit and vegetables.
In a permaculture system, 'waste' is another word for 'resource' — it's not waste until it's wasted, after all!
Our scrumping project plays a vital role in intercepting fruit what might otherwise go to waste or be disregarded.
Juicing at the Fruit Factory
Scrumped in Sussex
We ran our scrumping project for six years on a small scale, with pop-up production at events and using community kitchens. When our scrumping events proved to be fantastically popular, it inspired us to "scale up the scrump" and so the Fruit Factory was born, which has enabled us to create all sorts of delicious local juice and cider.
In recent years Brighton Permaculture Trust, with the help of volunteers, has picked or received over 30 tonnes per year of Sussex fruit that might otherwise have gone to waste and processed it into products including:
Apple and pear juice, delicious and nutritious fresh juice as well as a pasteurised juice that can be kept in the cupboard until you want to enjoy it
Jams, chutneys and preserves, a seasonal range based on what we can harvest of apples, pears, mulberries, damsons, and cherry plums
The products we make are unique in their freshness, truly local in production, and are made with the help volunteers in public view, contributing to our educational aims.
Supporting people with the cost of living
13,212 bottles of juice were supplied to people in need via our partners FareShare Sussex between April 2020 & June 2023. This vital work was made possible by donations from individuals and grant funding. If you would like to support further deliveries please get in touch.
The Fruit Factory
Home of the scrumping project
The Fruit Factory is a hub for our scrumping project – picking fruit that would otherwise go to waste. Our Fruit Factory can process as much as 40 tons of fruit a year. That's more than 250,000 apples!
Given that the average UK consumer drinks 1.5 litres of fruit juice per week (about 75 litres per person per year, or getting on for 20 million litres in Brighton & Hove each year), we use our expanded premises to supply around 10,000 litres a year, all from fruit that would otherwise go to waste. It represents just 0.05% of the juice consumed in the city, but every little helps.
After a successful crowdfunding campaign, The Fruit Factory was built within an old barn in Stanmer Park in 2015, providing us with space to scrump until the cows come home! It has also given us the much needed ability to house and store fruit without worry. The space has naturally supported our other work around education and planting orchards.
The Fruit Factory has been a hub and home for Brighton Permaculture Trust over the past few years. It is a place to process food (in full view of the public), teach courses, host events and sell products and bring people together. The proceeds from our sales go towards expanding the educational opportunities the Trust can provide.
The Fruit Factory Building and Crowdfunder
The Fruit Factory began life as a straw bale 'internal building' in an old tractor shed in July 2014 (Find out more about its construction here). But work on the future Fruit Factory had to pause while we raised funds to complete the rest. The bales were in place, but we needed windows, doors, roof, plasters, renders, connection to services and much more.
On 3rd March 2015, we launched a crowdfunding campaign with Buzzbnk to raise £12,000 in 30 days. You can view our campaign page here.
It was a new experience for us, mobilizing social media as well as traditional media outlets to spread the word. We hit our first tipping point within two days, covering the roof and doors and two days before the end of the campaign, we'd met our goal – and gone beyond it! We successfully raised £12,601.25 in 30 days, thanks to 236 donors.
If you didn't get a chance to donate during the campaign there are other ways you can help:
We're currently raising money to donate juice to FareShare
We invite you to contact us if you know of fruit trees where the fruit isn't used.
If you would like to do some scrumping yourself (volunteers get to eat lots of fruit!), please sign up to our volunteer list to receive notice of scrumping opportunities. Picking and preparing fruit is a fantastic way to get involved, and the project is totally dependent upon volunteers.
Fruit Factory supporters
This project would not have been possible without a lot of help. We would like to thank:
The many kind donors to our crowd funding appeal
Volunteers who have worked hard to make the project possible
TimberBale: The builders who worked tirelessly to make the project happen
Daniel Jon Griffiths: Artist and blacksmith at Stanmer for his support in many ways
DH Solar Engineers: For assistance with the plumbing
Lightfoot LED: For providing lighting
The Naturesave Trust: Environmental, conservation and community renewable energy grants
SIG PLC: For kindly supplying environmentally-friendly liquid roofing material
Sterling Power Tools, Northbrook Business Park, Worthing: For kindly donating fixtures and fittings
Westgate Joinery, Ringmer: For kindly supplying the byford doors and windows