In 2013-15, Brighton & Hove Food Partnership, Brighton Permaculture Trust and the Collines Normandes CPIE joined forces to carry out an exciting new project to share learning and expertise on the sustainable management of orchards and fruit processing for local consumption.
We jointly planned and planted small orchards in schools on both sides of the Channel, participated in each other's public events (including Apple Day), organised discussions around biodiversity and apples alongside a film on the origins of apples, made short online films and display panels – all aimed at spreading the word on the hows and whys of orchards as part of a sustainable food system.
There were opportunities for people active in community orchards, professional growers and social enterprises to participate in training visits to Normandy.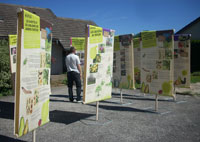 We also had available to hire a wonderful exhibition that was a collaborative production with our French partners about orchards in Normandy and Sussex.The exhibition covered history, apple varieties, wildlife, cider and juice, cookery, pruning, grafting, insects and diseases. Printed on strong and sustainable hemp fabric, using non-toxic inks, this has been one of the lasting legacies of the Orchards without Borders project and was first exhibited at Apple Day 2014. Contact us for hire information.
Activities and events
Our first transborder activity took place at Apple Day 2013, when we were joined by our French partners, Les Croqueurs de Pommes, a local group active in the conservation of local fruit varieties, and a Normandy fruit tree propagator who demonstrated grafting techniques. .
On Friday 4 October 2013, we showed – for the first time in the UK – the French documentary "The Origins of the Apple".
In November 2013, our team visited Normandy to look at the cider orchards that are characteristic of the area. Find out more about the trip.
Another trip to Normandy in September 2014 explored the relationship between birds and orchards, and our French partners visited us again for Apple Day 2014, where a group of French students performed a short play on Calvados smuggling.
In March 2015, our team visited Normandy again to look more closely at organic apple growing.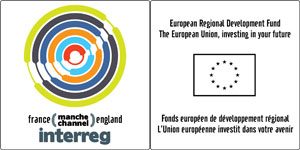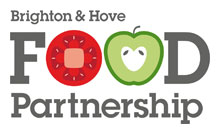 Orchards without Borders was selected under the European Cross-border Cooperation Programme INTERREG IV A France (Channel) – England, co-funded by the ERDF