Peter May reports on the Orchards Without Borders visit to Normandy in November 2013.
The area of Lower Normandy near the town of Flers, where our visit was based, is gently undulating with small fields, hedgerows and woodlands with the occasional larger forest. Nearby the river Orne flows north towards Caen and the Channel.
The Orchards Without Borders visit was arranged by Evelyne Ramon of the CPIE (Union Nationale des Centres Permanents D'Intiative pour L'Environment) in Normandy and Anne-Marie Bur of the Brighton & Hove Food Partnership. The project looked at the cider orchards that are characteristic of the area and the production of apple juice, cider and Calvados as well as dessert apples and growing techniques in a tree nursery. Apple trees from Sussex and Normandy were also planted in two primary schools at la Ferté-Macé.
Phillipe and Marie-Claire Derouault at la ferme du Bois à Loré farmed orchards of large cider apple trees interspersed with large pear trees for the pressing of Poiré or pear cider.  Cattle were grazed under these trees until the autumn, when the fruit was mechanically shaken off the tree. It was then collected by a machine which swept up the fallen fruit into a hopper, which could then be emptied, after washing, into a pallet outside the pressing barn. Phillipe demonstrated the entire process from apple collection to pressing and the bottling of the resulting pasturised juice. Twelve trays of pulped apples were compressed at a time by a hydraulic press, from which a river of apple juice flowed into a ground level reservoir. Calvados and Pommeau, a mixture of Calvados and apple juice, were made at the farm and sold direct to customers who also turn up at weekends to have their glass bottles filled with apple juice.
At the Enterprise Gauquelin at Briouze, an agricultural machinery workshop, we saw another method of pressing apples using a mobile press that can be towed from village to village by tractor.  Using the same techniques of pulping and pressing the fruit, except on a small scale, this mobile apple press used to be a common site in the villages of Normandy in the autumn, but, as an older generation gradually retires and small scale production declines, it is hired out less and less.
While many of the orchards in this part of Normandy are for cider apples, the organic orchards owned by Bruno Liehn at Lignères-Orgères are mainly dessert apples with varieties like Dalinette, Benedictin, Calville Blanc, Goldrush and Pilot.  Here the fruit is marketed by a co-operative to customers in Paris, who also buy organic milk and cheese from other farms in Normandy.  Fruit is also sold to a large farmers market in Caen.  With 17Ha of pasture and 5Ha of orchards, the centre leader trees are grown on a post and wire framework with a radial pattern of branches that are tied down to encourage fruit bud growth.  Sheep graze underneath the trees as part of the cycle of production and manuring the ground. Many of the lower branches of the trees are grazed off by the feeding sheep, though Bruno commented that the sheep usually graze the grass and only tended to feed on the lower branches of the apple trees when there was not enough grass to eat.  As an organic material, lime was used as a spray mixed with a sediment from Mont St Michel against canker. Sulphur was also sprayed against scab from 10 to 30 times a year depending on the variety.  The grazing sheep helped to interrupt the life cycle of the fungal disease scab, which overwinters on fallen leaves and feed on overwintering Codling and Winter Moth larvae.
One bed of trees grafted onto an M9 rootstock had been damaged by voles, and from this apparent difficulty Bruno noticed that the grafted variety had produced its own roots. To encourage this rooting of damaged rootstocks, the base of the trees are now earthed up and the apple varieties are now vigorously growing away.  Trees growing on their own roots have several advantages, which include a better uptake of water and nutrients with no possible incompatibility between the scion or variety and the rootstock.  The main disadvantage is that there is no control on the size of the tree, which will vary from variety to variety.  The other rootstock he uses in this bed of trees is the vigorous M111, which the voles avoid.
All the orchards we visited, including the collection of old varieties at the Conservatoire de Carrouges and at Cerisy Belle Etoile, use a vigorous straight growing interstock which is grafted onto a seedling rootstock as a method of producing a tree with a branching height of 1.8m or higher. The apple variety is then grafted onto the top of the interstock. This is a traditional method of growing fruit trees in Normandy, where most of the trees are grazed underneath by cattle and sheep. This grafting technique was most clearly seen at the nursery of Mr and Mme Léger at St André de Briouze, where there were rows of young topworked apple, pear, plum and cherry trees which are then sold for planting out in orchards. This method is unusual in the UK, where it is limited to the grafting of weeping cherries like Kiku-shidare Sakura and other weeping species where the branches hang down. Seven apple trees and a late ripening cherry were dug up from the nursery rows for planting in two schools in Brighton.
Six apple varieties from Sussex were brought over for planting at the Ecole Paul Souvray and the Ecole Jacques-Prevert at Ferté-Macé.  Saltcote Pippin, Tinsley Quince, Hawkridge and Nanny, along with some Normandy varieties, were planted by the children of the two schools under the guidance of Stephan, who encouraged everyone along with great drama and excitement.  In the meantime, Anne-Marie introduced a class to the wonders of different apple varieties, and Mara taught the children useful apple words in English.  At the end of the day, Evelyne, who kept us all on time and in the right place, took us to the CPIE buildings at Segrie-Fontaine, where she is based.  CPIE in Normandy is part of a national association which encourages sustainable development and environmental education, and we were able to see a wide range of marvellous resources and facilities, including a freshwater tank representing the ecology of the neighbouring river. We could also have a cup of tea.
A part of our visit was to see how the apples grown in Normandy were sold or made into apple juice, cider, Pommeau and Calvados.  Producers in this very rural region need a market for what they grow; otherwise, the small orchards of the region and its characteristic landscape will change.  Spain is now one of the export markets for Normandy apples, and recently a direct link by ferry has been reopened to Santander. Calvados is a speciality of this part of Lower Normandy and has Appellation d'Origine Contrôlée status, which regulates the methods of production and the area of France in which it is made.  At the Monnerie distillery, where three generations of the Legay family have been making Calvados, we were shown by Mme Legay the alembic still from which a dry cider is distilled into eau-de-vie and then aged in oak barrels, where it finally matures into Calvados.  It is the length of the storage in these oak barrels which adds to its complexity and smoothness. In the cavernous workshop of the distillery, there was, curiously, a made-up bed on which Monsieur Legay sleeps when distillation is taking place. Apparently, the alembic cannot be left until the distillation is complete.
The food and drink of Normandy and a warm welcome was a feature of the visit. From the marvellous lunch at the home of Madeleine Corbenois, to the apple cookery workshop by Laurence Féron, there were many fine things to eat and drink.
At La Bergerie at Ste Opportune, where we stayed, we returned each evening to a marvellous dinner, and on our final day gave Sylvie and Frédéric Leblond a Hawkridge apple tree to plant in their garden before returning to Sussex.
We will be doing much more with our French partners over the coming year and look forward to welcoming them again at  -:- Apple Day 2014.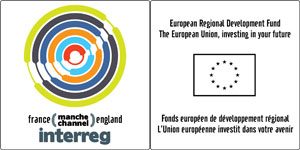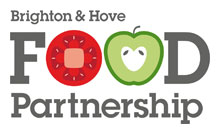 Orchards without Borders was selected under the European Cross-border Cooperation Programme INTERREG IV A France (Channel) – England, co-funded by the ERDF