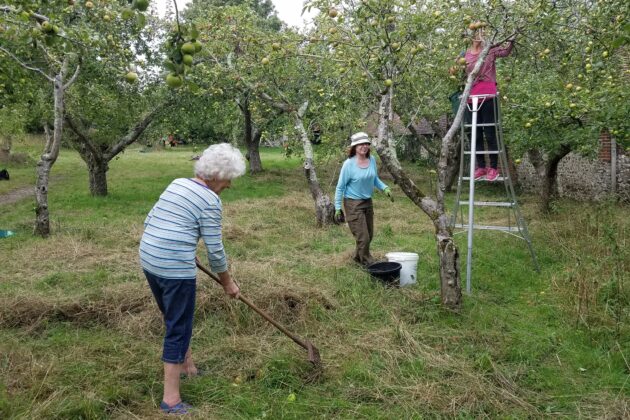 Brighton Permaculture Trust is what it is because of its volunteers.
Our volunteer's hard work, resilience, and goodwill have never been so evident as it has been in the face of the Covid-19 crisis. Permaculture ethics and People Care underwrite all of our decisions and we have been amazed at the levels of dedication, compassion, and drive exhibited by those that have helped us in vital projects.
Here are some highlights from our volunteers in what has been a difficult year;
Our plot at Stanmer Organics continues to be entirely volunteer-run, showcasing permaculture in action, with volunteer sessions attracting an average of 4 people every Thursday. Over 273kg of herbs, fruits and vegetables were harvested in the year to June 2020: 120kg were sold at Apple Day in September 2019.
Volunteers have played a crucial role in our adaptation to Covid-19, helping us achieve the form of blended learning with our courses that has been so effective.
In light of the Covid-19 crisis and with the help of volunteers, we have helped to supply emergency food parcels, redirecting food that we grow for volunteers and increasing the planting of annuals in spring 2020 by one-third.
Our work with volunteers at orchards in the region has been a continuing success and a tribute to the dedication and hard work of everyone involved. This has involved volunteers from Brighton Permaculture Trust, the South Downs Volunteer Rangers, Brighton & Hove Cityparks Rangers, Brighton Conservation Volunteers and Green Gym.
Based at our Fruit Factory at Stanmer, the Scrumping Project has continued to produce juices, cider, jams, chutneys, and preserves from local fruit. Much of this fruit, picked and processed with the help of volunteers, would otherwise go to waste. Much of the juicing is done in public view, contributing to our educational aims.
And the list goes on…
We are always on the lookout for new volunteers so if the above got you thinking about getting involved, please don't hesitate. We're a friendly bunch!
Click here to learn more about current volunteering opportunities.
So from all of us at Brighton Permaculture Trust we would like to say an enormous thank-you to our volunteers!
Brighton Permaculture Trust