Saturday 27 January 2024
This one-day course runs from 9.30am to 4.00pm in Stanmer Park, Brighton.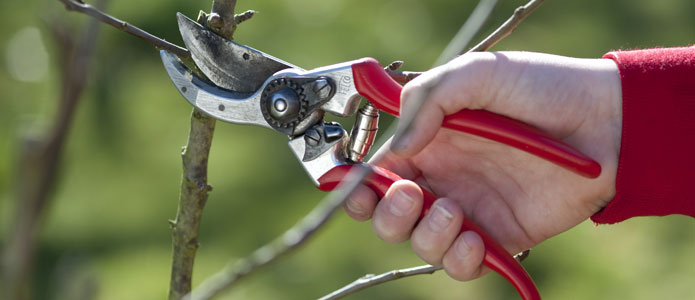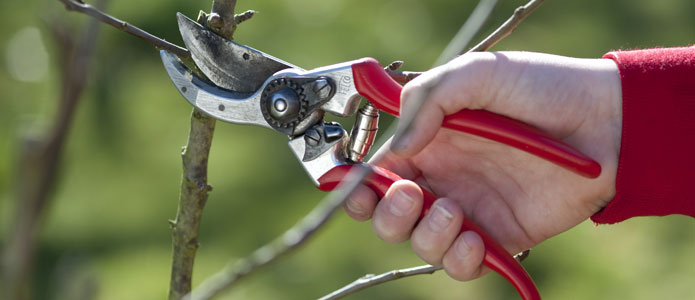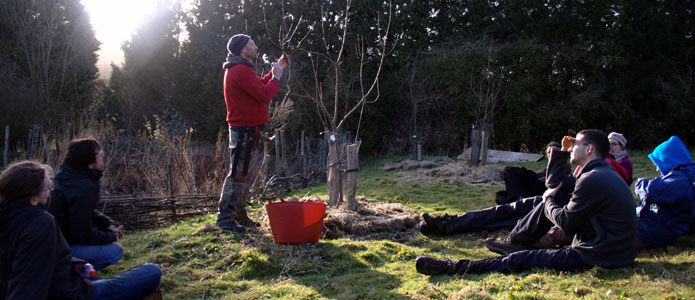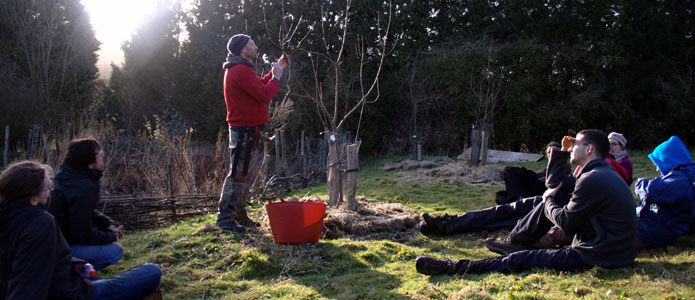 In this hands-on course you will learn how to prune a fruit tree from the time of planting until it is established.
What will the course cover?
We will cover some theory first with slides and discussion. We will spend much of the course practicing pruning on our young apple trees. You will learn how to prune a tree from planting until it is reaching its mature size.
"My tree doesn't look like the books" we often hear. Each species and variety has its own growth habit, and the local conditions affect how a tree grows. This course will teach you how to "read" how the tree is growing & how to respond to it.
"Why do we need to prune?" We usually want to affect the shape of the tree: we want the fruit to be accessible and fit them into ours spaces. We need to keep them healthy, and deal with pests and diseases.
After the course you will be able to prune small trees on allotments through to large trees in orchards. The techniques are similar whether the tree branches out at knee height or head height. We will look at both open centred "goblet" tree forms and "centre-leader" trees. We will NOT cover pruning of "restricted  forms" (espaliers, cordons, fans, etc). Our Growing fruit in small spaces course introduces growing restricted form fruit trees.
We will practice on apple trees. Pruning pip fruit (apples, pears, quinces, etc) & stone fruit (plums, damsons, etc) are similar. There are some important differences which we will discuss at the end of the course.
Who is the course for?
The course is open to anyone over the age of 16, and no prior knowledge is necessary.
We will be outdoors for much of the day, regardless of the weather. The course will involve up to 2 miles of walking and the ground in places is uneven. We will be using ladders to prune some of the trees, though some trees are accessible with both feet on the ground.
Where possible we aim to make our courses accessible to people with physical and learning issues. Please contact us before booking if you think something might affect your ability to take part in this course.
Course tutors
The course will be led by the following tutors:
Venue
Stanmer Park (near University of Sussex)
Brighton
Sussex
South East England
Get directions to our meeting point in Stanmer Park.
If you intend to book accommodation, please check availability before booking a place, as accommodation in Brighton can be hard to find, especially over the summer months.
Get details on local accommodation and Brighton Permaculture Trust supporters who can provide accommodation in their homes.
Fees
Fees include tuition, refreshments access to notes/resources after the course.
£175 – Sponsored/organisation rate
£175 – Individual income more than 25k/yr
£140 – Individual income 18-25k/yr
£105 – Individual income less than 18k/yr
£56 – Subsidised concessionary rate (check eligibility)*
* Concessionary places are limited. If places are not available check back two weeks before the course/event as more may be available then.
We endeavour to make our courses and events affordable to all. Unfortunately, we do not receive any external funding for most of these and rely on large amounts of voluntary input.
See the cancellations and refunds policy.
Booking your place
Booking is essential, as most of our courses/events are fully booked weeks in advance. However, if places are still available, then bookings can be made until midday the day before the course/event. A place is not secured until we have received the requested payment.
If you have completed the booking process but you haven't received a confirmation email from us please contact us to check your booking has gone through.
If you are booking within two weeks of the event, or the event is nearly full, you will not have the option to pay by BACS. Instead, you will need to pay immediately using a credit/debit card or PayPal.