New date to be announced
The workshop runs from 10am – 4pm
Stanmer Park, Brighton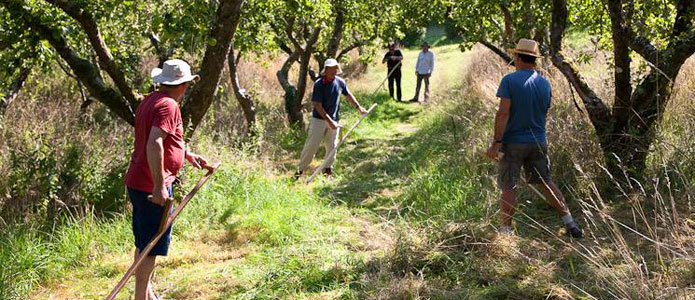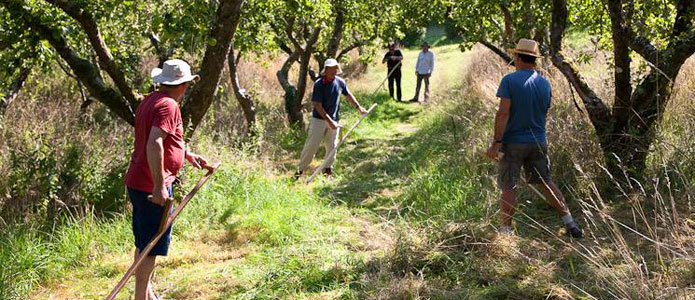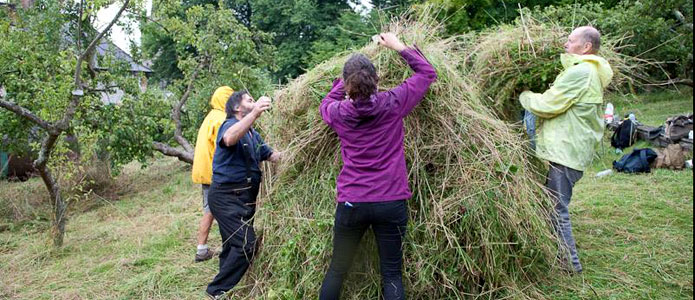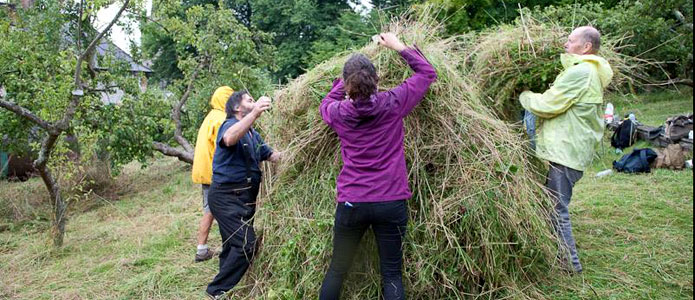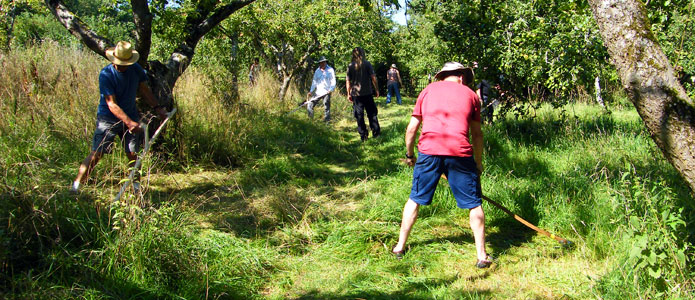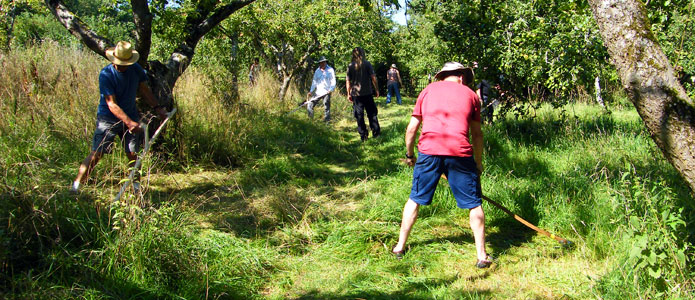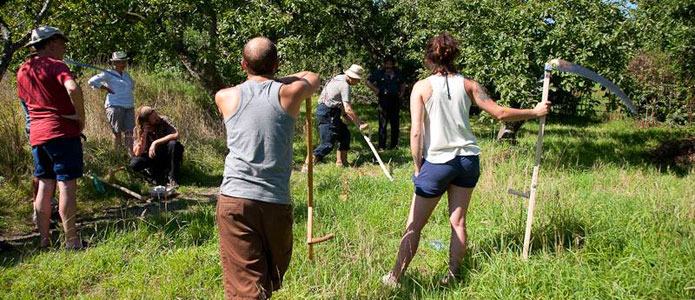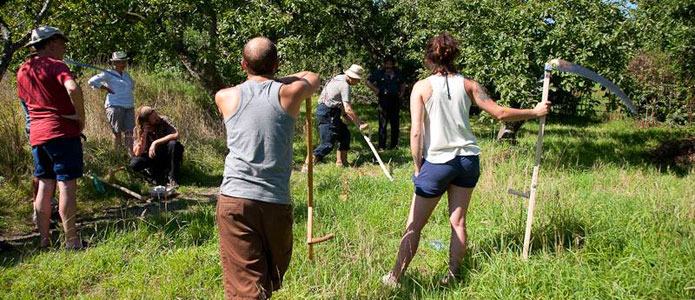 Learn how to cut grass and weeds without the need of a noisy fossil fuel burning lawnmower or strimmer.
This is an outdoor workshop. The theory sessions will be taught in the shade of apple trees, or under a gazebo if the weather is poor. We will look at how scythes can be used in a variety of settings such as lawns, fields, meadows, allotments, brambles, etc.  Lots of hands-on guidance from the tutor will enable you to leave as a competent scythe-person.
What will the Scything workshop cover?
The workshop will look into the history and theory of scything and how it can be applied to a variety of settings such as lawns, fields, meadows, allotments, brambles, etc. The course will be focused on providing the participant with hands-on experience. The number of course participants is limited, so you will benefit from individual guidance from the tutors.
Selecting and setting up the scythe and snath (handle) will be covered. You have the option of ordering your own scythe to be available on the day of the course; see below for details. Maintaining and using a variety of sharpening stones to hone (sharpen) the blade will be an important part of the course, and you will also be introduced to the art of 'peening' (profiling the blade).
Who is the Scything workshop for?
The workshop will be of interest to anyone with vegetation to cut, including gardeners, allotment holders and horticulturists. No prior knowledge of scything is needed. This course is open to anyone aged 16 or over.
Scything is a little less strenuous than one might expect, but please be aware that much of the work does involve twisting and moving of the back.
Learning methods and outcomes
A theory session will begin the course (either under the shade of an apple tree or the protection of a gazebo), followed by the practicalities of setting up and preparing the scythe, before some practical demonstrations. You will also be provided with an information pack that will reinforce and cover the theory and techniques covered. The course will then move on to practical hands-on experience with guidance from the tutor.
By the end of the workshop, participants will have the practical skills and techniques necessary to mow lawns, fields, meadows, allotments, brambles, etc. There will be plenty of opportunities to ask questions throughout the course.
What does the Scything workshop lead on to?
This short specialist workshop is not accredited but should provide participants with the skills needed to begin using a scythe in a home or professional setting.
Our 'Improvers Worksop' covers a more in-depth look at peening, profiling, repairing and maintaining your blade, including more extensive practical work. This is available to those that have completed this introductory workshop and wish to further their knowledge and skills.
Course tutors
Tuition will be provided by
Stephan Gehrels, an experienced scythesman who has been scything and teaching for many years. He is also passionate about permaculture and working with young people and has successfully taught many children to scythe; most of which have lived to tell the tale! Stephan runs school environmental projects in Brighton and has experience of managing orchards and growing plots using a scythe.
Venue
Stanmer Park (near University of Sussex)
Brighton
Sussex
South East England
Get directions to Stanmer Park.
If you intend to book accommodation, please check availability before booking a place, as accommodation in Brighton can be hard to find, especially over the summer months.
Get details on local accommodation and Brighton Permaculture Trust supporters who can provide accommodation in their homes.
Do I need to buy a scythe?
We recommend you bring your own scythe, if you have one. You also have the option of buying your own through us in time for the day of the course.
If you don't have one you can use one of ours on the day. Please let us know your height on the booking form.
You can also purchase some kit, a blade or a snath on the day of the course. If you already have an idea of what you want, please let Stephan know beforehand.
Buying a scythe for the workshop
Stephan has worked closely with renowned scythesman Simon Fairlie for many years and we use/recommend the equipment he supplies. Simon imports Austrian Schröckenfux scythes, made since 1540, these are hand-forged blades that are recognised around the world as being of the highest quality. A beginners set, which includes a snath (adjustable handle), a blade (of your choice under 65cm), sharpening stones and a peening jig costs £156. See www.thescytheshop.co.uk
If you buy your scythe in advance of the course you will benefit from the tutor's expertise in setting it up on the day.
Stephan has a limited stock of kits available to collect on the day of the course (saving postage of around £22 for a complete set). These should be ordered in advance and will be allocated on a first come, first served basis, as stock is limited. Please  contact us  to place your order and Stephan will be in touch.
Recommended reading
In addition to the booklet provided, this book is recommended:
The Scythe Book by David Tresemer
Fees
Fees include tuition, refreshments, handouts and information sheets.
£175 – Sponsored/organisation rate
£175 – Individual income more than 25k/yr
£140 – Individual income 18-25k/yr
£105 – Individual income less than 18k/yr
£56 – Individual, concessionary rate (check eligibility)
We endeavour to make our courses and events affordable to all. Unfortunately, we do not receive any external funding for most of these and rely on large amounts of voluntary input.
See the  cancellations and refunds policy.
Booking the Scything workshop
Booking is essential, as most of our courses/events are fully booked weeks in advance. However, if places are still available, then bookings can be made until midday the day before the course/event. A place is not secured until we have received the requested payment.
If you have completed the booking process but you haven't received a confirmation email from us please contact us to check your booking has gone through.
If you are booking within two weeks of the event, or the event is nearly full, you will not have the option to pay by BACS. Instead, you will need to pay immediately using a credit/debit card or PayPal.
Be certain that you understand ALL the information on this page, then:
BOOK ONLINE
New date to be announced