2022 dates to be announced
This taster workshop runs from 1pm to 4pm, set in our outdoor classroom at Stanmer Park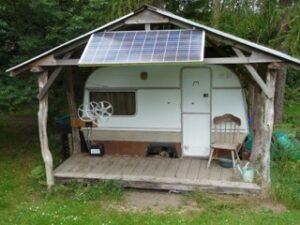 This is a perfect introduction to  off grid power, with a project you can duplicate at home
What to expect
The workshop is suitable for complete beginners. Before the workshop participants will be sent a video where Andy explains parts of Ohms law and an Ohms wheel sheet. This will make the relationship between Volts, Amps and watts much clearer.
The workshop itself will be a demonstration on how to create a small solar/ battery set up. This includes PV solar panels and various wiring systems, different charge controllers, types of battery, and inverters or DC direct use. There will be plenty of opportunity for Q&A throughout as the afternoon is broken up into discussions and demonstration of each technology.
This workshop makes a good grounding for our more in-depth Introduction to photovoltaics course in summer next year.
Andy's book "Wind and Solar Electricity" will be available on the day.
Course tutor
Andy Reynolds will lead this workshop, with assistance from Fran Pickering. Andy is an author, instructor, forester and promoter of self-reliance. Andy has been building and using wind and solar systems since the late 80s. He runs his home almost entirely from home-generated renewable energy. Read his blog here.
What to bring
You may want to bring a drink and snack to sustain you. Our stall outside the Fruit Factory will be open selling freshly pressed apple juice.
Meeting point
The Fruit Factory
Stanmer Park (near University of Sussex)
Brighton
Sussex
Get directions to Stanmer Park.
Fees
Booking
If you have completed the booking process but you haven't received a confirmation email from us please contact us to check your booking has gone through.
If you are booking within two weeks of the event, or the event is nearly full, you will not have the option to pay BACS. Instead, you will need to pay immediately using a credit/debit card or PayPal.