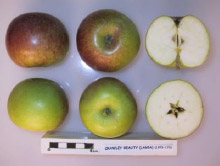 History of the Crawley Beauty apple
The apple was discovered growing in a garden in Tilgate near Crawley and introduced into cultivation by local nurserymen J Cheal & Sons. It was awarded an RHS Award of Merit in 1912. There is some confusion about its origin, as it is identical to the French variety Nouvelle France (National Apple Register 1971).
It is currently cultivated as part of Brighton Permaculture Trust's National Collection in Stanmer Park, Brighton. You can see a Crawley Beauty apple tree (planted 2009) in Home Farm Orchard, Stanmer Park ( map).
Description of fruit
The Crawley Beauty is a very useful cooking variety. The apple cooks to a lightly flavoured puree and can be eaten fresh after storing. Size medium. Shape flat-round to round: flat base. Basin broad quite deep, slightly puckered. Eye open; sepals separate at base; quite downy. Cavity medium width, depth; little russet. Stalk medium thick. The colour of the skin is greenish-yellow, flushed brownish-red and with broken red stripes.
Season of use
Fruit can be picked by mid October and stored until January.
Tree habits
Crawley Beauty is a moderately vigorous, spreading tree which crops heavily.
Notes on cultivation
The Crawley Beauty can be grown in colder, frost-prone areas, because it flowers late and is disease resistant. The variety grows well on chalky soils.
Flowering and pollination
Flowering day: F29
Flowering at the beginning of June, the Crawley Beauty variety is self-fertile.
How to identify a Crawley Beauty apple
Apples can be identified by sending them to the National Fruit Collection at Brogdale or by bringing a sample to Apple Day Brighton, where an expert pomologist will be on hand to identify apples. From each tree, bring three or more ripe fruits and a shoot with representative leaves.
Where to buy a Crawley Beauty apple tree
Please contact us for details of our supplier for Sussex apple varieties.