Dates to be announced
Because of uncertainties relating to COVID-19 we are not currently taking bookings on this course. Please use the Make an enquiry button at the bottom of this page to ask to join a waiting list.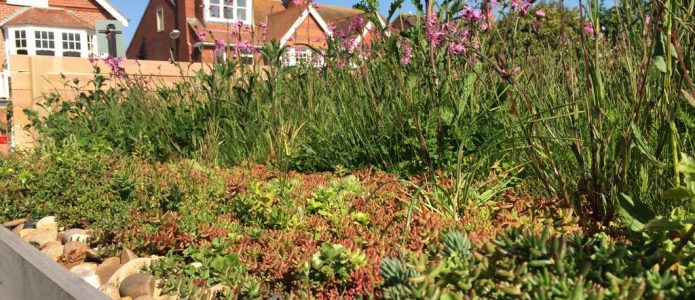 This one-day course covers the theory behind green roofs, case studies, and practical application. You will have the opportunity to build your own accurate section of green roof and discuss your own green roof build with the experts. You will learn everything you need to to begin building your own living roof and will take home membership of the online Small Scale Green Roof Construction Guide.
What will the Green roofs course cover?
Green roofs and their benefits
All the construction details from the roof deck to the plants
Creation of wildlife habitats including local ecologies
Selection and purchase of suitable plants and substrates to be used on a green roof
The morning will be a mix of theory and then the main practical session in which each participant gets to build their own section of green roof. In the afternoon the course talks through the practical in detail.  Each participant will be shown how to build their own section of green roof.
At the end of the day  we will visit the one of the oldest living walls in the country and be shown its features by James Farrell of Building Green.
Who is the course for?
The course will be of interest to architects, planners, builders, conservationists, gardeners and horticulturalists as well as people interested in managing their own green roof project. No prior knowledge of green roofs is needed. This course is open to anyone aged 16 or over.
The optional practical element of the course involves very basic woodwork, which is carried out in pairs and is not strenuous.
Brighton Permaculture Trust aims to meet the needs of participants with physical disabilities and leaning difficulties. If you have any issues which you feel may affect your ability to attend or participate in this course/event, please contact us to discuss them prior to booking.
Learning methods and outcomes
The course will include talks, slide presentations, discussions, question and answer sessions and site visits. In addition, part of the course will be devoted to gaining practical experience in the construction of a green roof, with guidance from the tutors. By the end of the course, participants will have an overview of the benefits of green roofs and how they can be designed, as well as the practical skills necessary to build a green roof for their shed, garage or similar structure. Information sheets will be provided on the day.
Course tutors
Tuition will be provided by Dusty Gedge and John Little with a tour of the Madeira drive green wall with James Farrell.
Venue/Accommodation
The Venue is:
Copperdollar Studios,
22 Montague St,
Brighton
BN2 1JX
If you intend to book accommodation, please check availability before booking a place, as accommodation in Brighton can be hard to find, especially over the summer months.
Get details on local accommodation with Brighton Permaculture Trust supporters who can provide accommodation in their homes.
Recommended reading
There is a wealth of information about green roofs available. The following websites are useful sources of information:
You may also be interested in Hanna Waldbaum's thesis, Green Roofs for Urban Agriculture, about growing food and medicinal herbs on roofs.
Fees
Fees include tuition, refreshments and materials for your sample green roof:
£140 – Sponsored/organisation rate
£140 – Individual income more than 25k/yr
£125 – Individual income 18-25k/yr
£110 – Individual income less than 18k/yr
£95 – Individual, concessionary rate (check eligibility)
We endeavour to make our courses and events affordable to all. Unfortunately, we do not receive any external funding for most of these and rely on large amounts of voluntary input.
See the cancellations and refunds policy.
Booking the Green Roofs course
Booking is essential, as most of our courses/events are fully booked weeks in advance. However, if places are still available, then bookings can be made until midday the day before the course. A place is not secured until we have received the requested payment.
If you have completed the booking process but you haven't received a confirmation email from us please contact us to check your booking has gone through.
If you are booking within two weeks of the event, or the event is nearly full, you will not have the option to pay by cheque or BACS. Instead, you will need to pay immediately using a credit/debit card or PayPal.
Because of uncertainties relating to COVID-19 we are not currently taking bookings on these courses. Please use the Make an enquiry button below to ask to join a waiting list.