Here's an update on the various projects we've been involved with this winter.
Brighton & Hove
Racehill Community Orchard, Whitehawk
This winter we completed planting at Racehill Community Orchard. Sixty six apples, pears, plums & damsons were planted this winter, taking the total number planted to 210. We believe this to be the largest traditional orchard to be planted in Brighton & Hove in a century.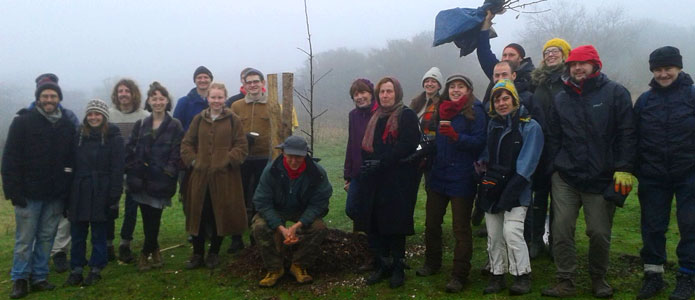 Racehill Community Orchard Group is now part of Brighton Permaculture Trust, and we continue to work with Brighton & Hove Food Partnership on the project.
Much more rubbish has been cleared from the site, and we are running regular activities and workdays.
Carden Primary School
An 8-tree orchard, comprising 7 Sussex apples and a plum, was planted with the pupils in January. This orchard was funded by Infinity Foods.
Hollingdean
A cherry was planted at Hertford Junior School and a plum in Hollingdean Park.
Craven Vale Estate
Two pear trees were planted this winter. Pears seem to be doing very well here, despite the thin soil and slight exposure. We have been working with Craven Vale Community Association for the last 7 years, and the number of fruit trees planted around the estate is now nearly 70.
Stanmer Park
Two rare Sussex apple trees, including a  Coronation, were planted as part of our  National Collection of Sussex apples. A Cambridge gage was also planted at our  -:- plot.
East Sussex
Big Park Project, Peacehaven
We are working with Peacehaven Community Orchard and the Big Park Project to plant an orchard which will extend to 100 apple trees once planed.
In late winter we started work by planting the first 46 apple trees of 28 varieties. The west of the site was planted up with some of the toughest apple varieties we could find, as the site is currently rather exposed. To the east side of the site, we planted the first 12 tree of what will be a further (and hopefully complete) collection of Sussex apples.
We are installing 1.8m height shelter around each tree to shelter it from the wind in the early years. We planted the shelter belt of 2,165 trees of 33 species the previous winter. These included fast-growing species such as Italian alder and Monterey pine; native trees like oak and beech; nut-bearing species such as walnut and chestnut; and fruiting species like cherry plum and crab apple.
Take a virtual glance at the orchard below.
Peacehaven video courtesy of Grant Scott
East Hoathly Primary School
An 8-tree orchard, comprising 6 Sussex apples, a pear and a plum, was planted with the children in February. This orchard was funded by Infinity Foods.
Gildredge House School, Eastbourne
A 12-tree orchard, comprising 8 apples and 4 pears, was planted with the pupils in December.
Ditchling Community Orchard
A further Beth pear was planted by HKD Transition group.
West Sussex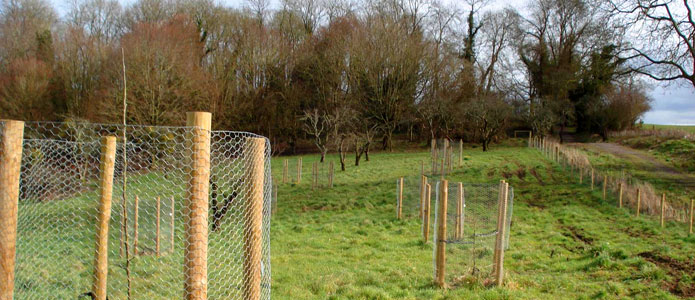 Barlavington Estate, Duncton
Working with Brighton Permaculture Trust, the estate continued to work on the creation of a collection of Sussex apples adjacent to a public footpath. The collection will act as a valuable second location for the National Collection of Sussex apples and will contain two trees of each of the Sussex apple varieties. Last winter, a further four Sussex apple trees were planted, two each of Mareda and Wadhurst.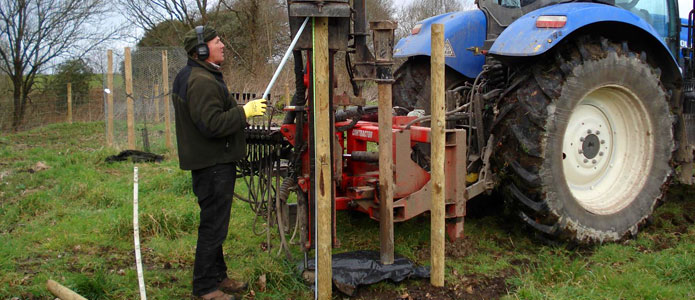 Thanks to our supporters
All orchards were planted in partnership with local organisations. Much of the planting would not have been possible without the dedication and hard work of our volunteers or other volunteer groups, sign up to volunteer with us.
The following organisations and people helping to make these various plantings and associated activities possible:
Barlavington Estate
Craven Vale Community Association
Lewes District Council
Infinity Foods
People's Health Trust
Veolia Environmental Trust
Our thanks also go to the following local authorities for their support:
Brighton & Hove City Council
Lewes District Council
Peacehaven Town Council