Andy will be teaching a few courses this year for Brighton Permaculture Trust:
Photo: Parallel lines, Sol Reynolds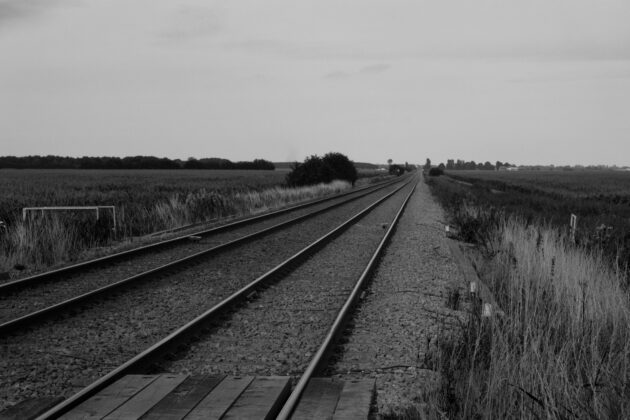 Self-reliance and contentment 
There's no easy way to cover these concepts concisely, but it's easy enough if you work from the perspective of losing your self-importance, a common driver of dis-ease and conflict.
Losing this can mean that you are who you are, not what people expect you to be. Hence there is no need to run to meet the expectations of others. There lies the problem with the western style culture, where identity can be aligned (if we are not careful) with what we own or consume. Hence this can be a great driver for unnecessary and mindless consumption. A brief exploration into modern promotional methods shows that it is all about image and ego, a dumbing down of the sense and perspective on what is important.
Without this self-importance, we can catch a glimpse of what is enough and so reduce our impact. Take this idea to a community level and this can have a dramatic effect on the corporate production dragon. Saying no has many benefits, it helps with reducing environmental impact, establishing an identity based on contentment and fending off those ambient expectations.
So how do you reach this viewpoint? Well, it helps to realise we are but nothing, of no consequence, and there is no grand plan. In some land-based work like forestry we think in anything from 20 to 100 years, but with a multitude of little busy events all the time. It means that there is no chase to an end of a project because there is no end, and so contentment can be found in the everyday. It's a Zen-type attitude of being aware of the now and not running into the future. Having these genuinely held views you can see how it is easy to lose self-importance. It does however help to involve a little meditation along to way to keep the mind calm and fend off those expectations.
We all have to earn a living and have somewhere to live, these two things are the causes of many stresses and strains. This is understandable as they are linked to being part of our primary living needs, and they do vary with how and where you live. Before I continue I am going to introduce the obvious concept of skills, a collection of things built within oneself over time, and they are an expression of self-reliance that helps with general resilience to everyday trials and tribulations.
So what are these skills? Well, the most important thing is that they should be diverse, from dealing with digital information through to mending a wheelbarrow tyre, all are equally important and this collection is not a fixed thing. For example, last century I rebuilt and installed an engine in a Morris minor. This is now a specifically redundant skill but the same set of skills used in this project are transferable, and so can be used to repair a lawnmower or a washing machine. I recently learnt how to build a computer and format a  hard drive, there are many diverse things to learn and the process never stops. Learning keeps the attention active and the brain working; a thing that I assume is positive.
Moving on, skills can then help with preventing or reducing financial slavery by reducing the demands on your finances. This links in with the first point of losing self-importance. There is no driver to fuel the desire to consume as there is no reason to keep up with the mindless fashion of the zeitgeist. Finally and to some extent because of the pandemic some people are realising that repairing things is preferable to replacing them with new ones. Now is the time to move things forward to the next step, by taking the time to learn how to repair things and so gain skills and increase that all-important confidence.
Owning a home normally means being in debt, it's either that or paying rent for all of your life. It takes effort and time to earn money so why do people waste it rather than use this precious resource to reduce their debt. Once the debt is gone you are then as free as you choose to be.