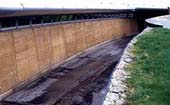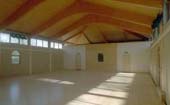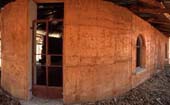 For information about the upcoming Green architecture day,  -:- click here.
1 March 2008
Sallis Benney Theatre, Brighton
A day of ideas and information for anyone concerned with buildings – those who design them, build them, live in them or work in them.
Some of the talks this year follow the theme of eco-renovation – from painting your bedroom to making the most of old housing stock. Other talks include exciting projects for one planet living, green roofs and a conference venue built from chalk.
Illustrated Talks
One Planet Living and One Brighton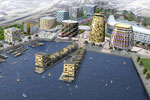 Daniel Viliesid, BioRegional Quintain Ltd
BioRegional Quintain is leading in the creation of sustainable communities throughout the UK by combining the comprehensive application of sustainability principles to a dynamic and innovative approach to property development. Construction has now started on one of its developments in Brighton (One Brighton). Daniel is Sustainability Integrator for BioRegional Quintain. His role is support BioRegional Quintain Ltd's Sustainability Director, Sustainability Project Managers, and construction partners; ensuring implementation of all sustainability measures, construction and non-construction related, to enable future residents to make sustainable lifestyle choices.
-:- Click here for Daniel's presentation, PDF format [1MB]
One Brighton: One Planet, One Address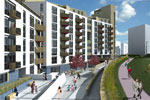 Amanda Whittington, Feilden Clegg Bradley Studios (Architects)
One Brighton, currently under construction in Brighton's New England Quarter, uses environmentally friendly construction techniques and has many features which will enable its residents to lead a lifestyle that is closer to being sustainable. Amanda joined Feilden Clegg Bradley Studios in 2007 and is currently Project Architect for One Brighton.
-:- Click here for Amanda's presentation, PDF format [2.2MB]
Eco-renovation on a Budget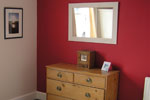 Maddy Harland, Permaculture Magazine
Dreaming of living in an eco house but don't know where to start? Here are some simple DIY and lower cost ideas for greening existing homes. Maddy Harland has renovated two properties in Hampshire and is the editor of Permaculture Magazine – Solutions For Sustainable Living.
-:- Click here for Maddy's presentation, PDF format [0.7MB]
Eco-Renovation to Minimise Energy and Water Consumption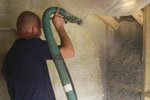 Russell Smith, Parity Projects
Russell will talk about the work done on the award winning Carshalton Grove Eco-Renovation project in Surrey, and how the lessons learned can support widespread work in the UK. On paper the house will provide a 75% reduction of CO2 emissions and a 60% reduction in water use, corroborated by a whole-house monitoring system. It is the first of its kind in the country to use such a wide range of energy and water efficiency measures under one roof, all for the purpose of showing just what is possible and for testing the measures in one location, in-situ.
-:- Click here for Russell's presentation, PDF format [2.5MB]
The Pines Calyx – How it was built and its role as a 'Sustainability Hub'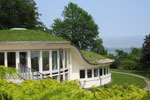 Alistair Gould, Helionix Designs
Alistair is the Project Director for 'The Pines Calyx', a conference and events venue conceived of as a carbon neutral catalyst for rural and urban sustainable development and for grass roots responses to climate change.  This award winning commercial building near Dover demonstrates a successful fusion of historic construction techniques – including rammed chalk walls – with 21st century technologies, design and analysis.
-:- Click here for Alistair's presentation, PDF format [1.1MB]
Retread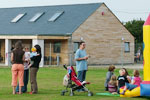 Duncan Baker-Brown, BBM Sustainable Design
If everybody in the UK replaced one of their old light bulbs with a low energy model the energy saved would be equivalent to two nuclear power stations or the power required to light all our streets at night. With this in mind, together with the issue of whether or not we need to invest in new nuclear power stations to satisfy predicted energy demands, Duncan will be focusing this years talk on the potentials of reusing existing structures to ensure that they perform as low energy buildings for the 21st Century using case studies in SE England from the practice portfolio. BBM Sustainable Design pursues an ethos of environmentally benign design in housing, commercial, as well as community and school buildings.
-:- Click here for Duncan's presentation, PDF format [1.6MB]
Livingroofs – How green is your roof?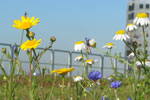 Dusty Gedge, Livingroofs.org and The Green Roof Consultancy
Green roofs are and will become an important part of green architecture. This talk we cover perceived barriers, the benefits and will focus on the need for detailed design rather than off the shelf solutions to ensure that the full benefit of green roof systems can be achieved. Dusty Gedge has been involved with green roofs for over ten years, campaigning and designer roofs In London. He has spoken at conferences throughout the world from South Korea to Chicago via Deptford.
-:- Click here for Dusty's presentation, PDF format [3MB]
Stalls and Exhibitions
Martin Curtis
Bioenergy Technology Limited
Supplier and installer of woodchip and wood pellet boiler systems.
Steve Lovell
Purepaint
Sussex supplier of eco paint
Lili Roseveare
The Front Yard Company
Selling plantlocks and boxdocks for green living
Mischa Hewitt
www.lowcarbon.co.uk
Promoting his book on Earthships – building a zero carbon future
Duncan Baker Brown
BBM Sustainable Design Ltd
Exhibition on eco design and materials
Dusty Gedge
Living Roofs
Green Roofs
Thea Platt
Pestalozzi International Village
Exhibition about One Planet Living collaboration
Vanessa Kelley
Barchester Green Investments – [email protected]
Brighton-based financial consultant
Annie Lowden
Southern Solar
Local supplier and installer of solar products
Phoebe
[email protected]
Working with Hemp and lime
Gillian and Kevin Trott
www.earthship-france.com
French Earthship project
Shelley Warren
Suntrader Solar Energy Limited
Supplier and installer of solar products
Maddy Hartland
Permanent Publications
Bookstall
Mark Pellent
Koru Architects
Local sustainable architectural solutions
Laurent Robert
Villa Natura
Local supplier of Biofa eco paint