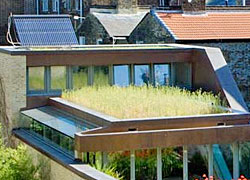 Theme: Designing for communities – low impact living in the UK and abroad

Talks by designers, practitioners and professionals run in partnership with Low Carbon Trust and in association with RESET
Saturday 17 March 2012
9:45am to 5pm
Sallis Benney Theatre, University of Brighton, Grand Parade Building, Brighton, BN2 0JY
Programme
10:30
Opening comments
Bryn Thomas, Brighton Permaculture Trust
10:40
It's Easy Being Green!
Duncan Baker-Brown, BBM Sustainable Design
Click here for a PDF of Duncan's presentation (7.28MB)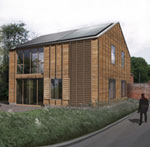 Duncan believes that green design does not have to be more expensive than the norm. He will look at what that can be addressed by design aiming towards achieving sustainability in the built environment, introducing the issues and illustrating them with case studies from the current work of his award winning practice, BBM Sustainable Design, as it pursues an ethos of environmentally benign design in housing, commercial, as well as community and school buildings.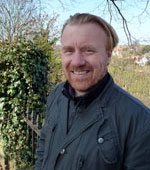 Based in Lewes, East Sussex, Duncan Baker Brown has been a director of award winning architects BBM Sustainable Design since 1993. He also teaches and researches around green ideas at the School of Architecture in Brighton. He has had the good fortune to work on some of the UK's most high profile green developments such as The Greenwich Millennium Village, the RIBA's 'Futurehouse' and 'The House That Kevin Built' with Grand Design's Kevin McCloud.
11:10
BREAK
11:30
Low Impact Communities in Britain
Jenny Pickerill, Reader in Environmental Geography, Leicester University
Click here for a PDF of Jenny's presentation (2.32MB)
Click here for a report on Low Impact Communities in Britain (2.65MB)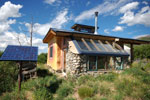 Jenny will give an overview of low impact communities, its evolution in Britain (with examples of the most exciting projects), a reflection upon what has worked well in the building of these communities and what has been less successful. Finally, she will look at how more low impact communities could be encouraged.

Jenny Pickerill is a Reader in Environmental Geography at Leicester University. Her work focuses on grassroots environmental solutions, particularly eco-housing, eco-communities, green economics, and different forms of transition to more sustainable futures. She has published three books and more than thirty magazine and academic articles. Her Green Building blog can be found at naturalbuild.wordpress.com.
12:00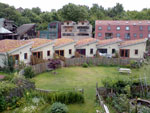 The Ashley Vale Project, Bristol
Jackson Moulding, National Self Build Association
Jackson will talk through what was achieved on the 10 year urban self build scheme in Bristol which comprises of 41 homes, with a following discussion on whether the UK is ready for 'Group Self Build Projects'.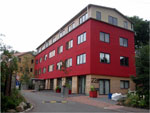 Jackson Moulding is one of the founding Directors of Ashley Vale Action Group, which delivered the self build project in Bristol, through which he has had the opportunity to build his own house.  He is also the Vice Chair of the National Self Build Association, which has been lobbying central Government to promote greater recognition of the role self build can play in housing delivery in the UK.  He is also the Director of Ecomotive, which was set up to support and deliver further self build schemes, and is part of the team which has just created the communitybuild.org.uk social media platform aimed at bringing people together so they can develop their own self build projects.
12:30
LUNCH
1:30
LILAC project, Leeds
Joe Atkinson, Low Impact Living Affordable Communities
Click here for a PDF of Joe's presentation (0.87MB)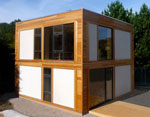 Joe will speak about the overall concept of LILAC – Low Impact Living Affordable Community, and how the project attempts to address the three challenges of our age: climate challenge, economic inequity and the challenge of rebuilding communities. In addition, he will describe the buildings and site layout, the Mutual Home Ownership Society model, and lessons learned along the way.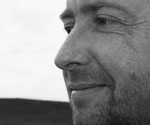 Joe Atkinson is the learning co-ordinator at the Permaculture Association, part time gardener & freelance permaculture teacher. He hold an MSc in Architecture: Advanced Environmental & Energy Studies, and was a co-author of CAT's 2007 ZeroCarbonBritain report. He currently act as a director of LILAC, a low impact, affordable co-housing development in suburban Leeds, which aims to complete during the Autumn of 2012.
Sussex Co-Housing Group
Julian Howell, Sussex Co-Housing
A short talk about a local example of a project like LILAC, but in a much earlier stage.
2:00
Lammas eco village, Wales
Jude Dunn, Lammas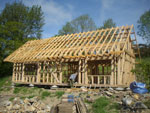 Jude will speak about creating opportunities for low impact communities in Wales, and the Lammas Eco Village. She will describe this case study in 'first steps', including the site at Tir y Gafel, the aims and constraints, the planning process, difficulty with building regulations, and some of the lessons learned in the process.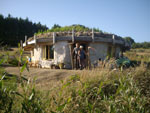 Jude Dunn lived in Scotland for 19 years working for BBC Radio Scotland, the voluntary sector and the co-operative movement before deciding to sell her flat and gave up her job to find a sustainable way to live. She volunteered on organic farms, learnt permaculture design and worked on strawbale house builds and now lives at Tir y Gafel, the first Lammas eco village project in West Wales, developing a low impact smallholding alongside eight other households.
2:30
The 'Localism' agenda: opportunities for building resilient and sustainable communities
Nick Gant, Community21
Click here for a PDF of Nick's presentation (3.44MB)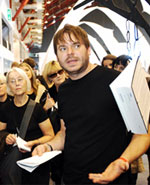 This talk will be about the tools and processes that enable neighbourhoods to develop a 'green' infrastructure for themselves. It will address how communities can embrace their roles as the architects and planners of their own communities under Localism, to ensure their communities are sustainable and resilient.
Nick Gant is principal lecturer at the University of Brighton, co-director of The Inheritable Futures Laboratory (IF:Lab), Sustainable Design Research Group and co-founder of Community21.
3:00
BREAK
3:30
Low-carbon lifestyles and behaviours in Sustainable Communities
Greg Searle, One Planet Communities
Click here for a PDF of Greg's presentation (4.37MB)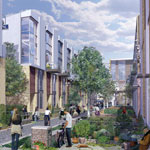 The way we've designed our cities and buildings in the past has created a template for living that makes it inconvenient to live sustainably. This talk, via Skype, will explore how smarter place-making and operating for sustainable behaviours are at least as important to sustainability as "conventional" green buildings and infrastructure. The talk will explore some of the latest findings from behavioural economics and environmental psychology, and their practical application in case studies ranging from BedZED and One Brighton to One Planet Community projects in North America.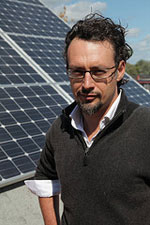 Greg Searle is a sustainable community/lifestyles strategist and facilitator and the Executive Director of BioRegional North America. For 18 years, BioRegional has delivered inspiring, award-winning sustainability projects, from BedZED, to the 'sustainable lifestyle' reality TV series. Greg manages the ecoConcierge and Design for Sustainable Behaviours programs, and as a facilitator he has led the creation of ambitious 10-year sustainability action plans for One Planet Communities – infill projects, master-planned communities, campuses and ecodistricts in Canada and the USA. Greg also publishes One Planet Lifestyles. Greg lives nestled among 200-year-old white pines on the Gatineau River in Quebec, just north of Ottawa. He is painstakingly retrofitting his 60-year-old log cabin into an energy efficient ecohome, and enjoys harvesting maple syrup in the winter and playing with his novice forest garden of fruit and nut trees.
4:00
Plenary
4:30
Close
Partner Organisations