One of our permaculture principles is to create no waste. Our Scrumped in Sussex project saves fruit that would otherwise be wasted.
We turn our fantastic local resources of apples, pears and plums in to raw juices and pasteurised juices along with ciders, vinegars and chutneys and jams.
If you are growing more fruit than you can eat, find out about our Juicing Service and how to Donate Fruit to us: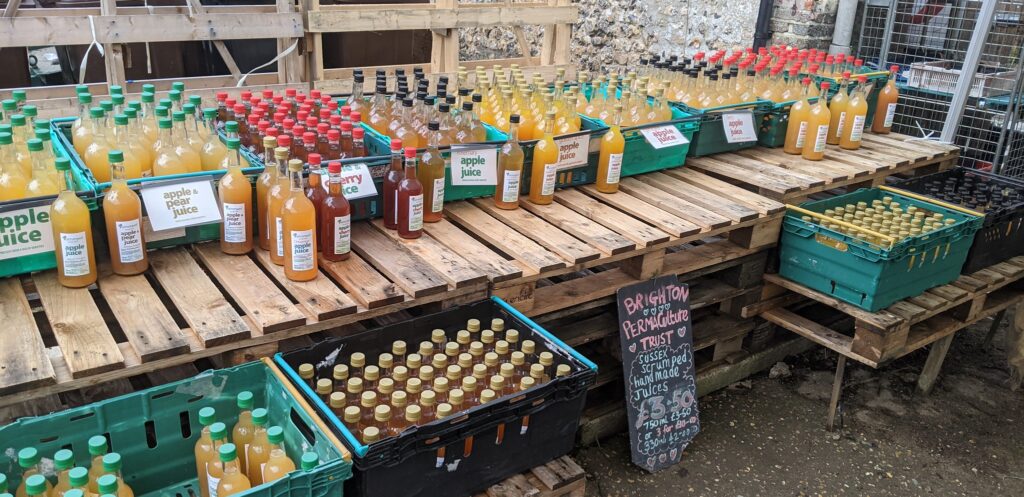 Our Fruit Factory stall
11am-4pm Saturdays and Sundays (weather permitting)
The Fruit Factory in Stanmer Park is home to the Brighton Permaculture Trust Scrumping project. Each year we process up to 40 tons of fruit from local gardens and Sussex orchards into delicious apple juice, cider and other products. Our weekend stall also sells food forest nursery plants and gives us the opportunity to chat to the passing public about the importance of growing and buying locally.
The products we make are unique in their freshness and truly local in production. Over the years we have developed our fantastic and delicious range of juice and cider:
Juice
Freshly pressed juice: £3.50/litre (seasonal, juicing season is August-March)
Pasteurised juices: £3.50/50cl, £2/33cl
Flavours include: Apple, Apple & Pear, Apple and mint, Fiery (chilli and ginger), Golden spice (turmeric and black pepper), Apple & ginger, Apple & cinnamon, Apple & rosemary
Cider
Traditional still dry cider: natural 100% fermented apple and pear, no added sulphites, 5.7% ABV
Medium sweet and flavoured still ciders: uses the natural sweetness of apples, no sugar cane involved, ~100% apple and pear (some flavoured with a herb or spice), no added sulphite, 4% ABV (£3.50/50cl)
Cider flavours include: Golden, Ginger, Fiery, Cinnamon, Mulled
We also sell food forest nursery plants from our Permaculture plot.
At harvest time, if you have more apples or pears than you can use from your own garden or plot, then we can use them, or juice them for you. Find out more about how we can stop your fruit going to waste.
Other places you can find our products:
Stanmer Tea Rooms, Stanmer Park, Brighton
Infinity Foods, North Laine, Brighton
Hollingdean Wholefoods, Hollingdean, Brighton
Village, Hanover, Brighton
Health Rebels, Western Road, Hove
For wholesale prices please use the Make an Enquiry button at the bottom of this page to contact us.
Supporting people with the cost of living
13,212 bottles of juice were supplied to people in need via our partners FareShare Sussex between April 2020 & June 2023. This vital work was made possible by donations from individuals and grant funding. If you would like to support further deliveries please get in touch.
Get involved
Our dedicated scrumping team relies on lots of enthusiastic volunteers who contribute to all aspects picking, processing, juicing, pasteurising, and inventing new recipes. Find out more about what volunteering opportunities are available.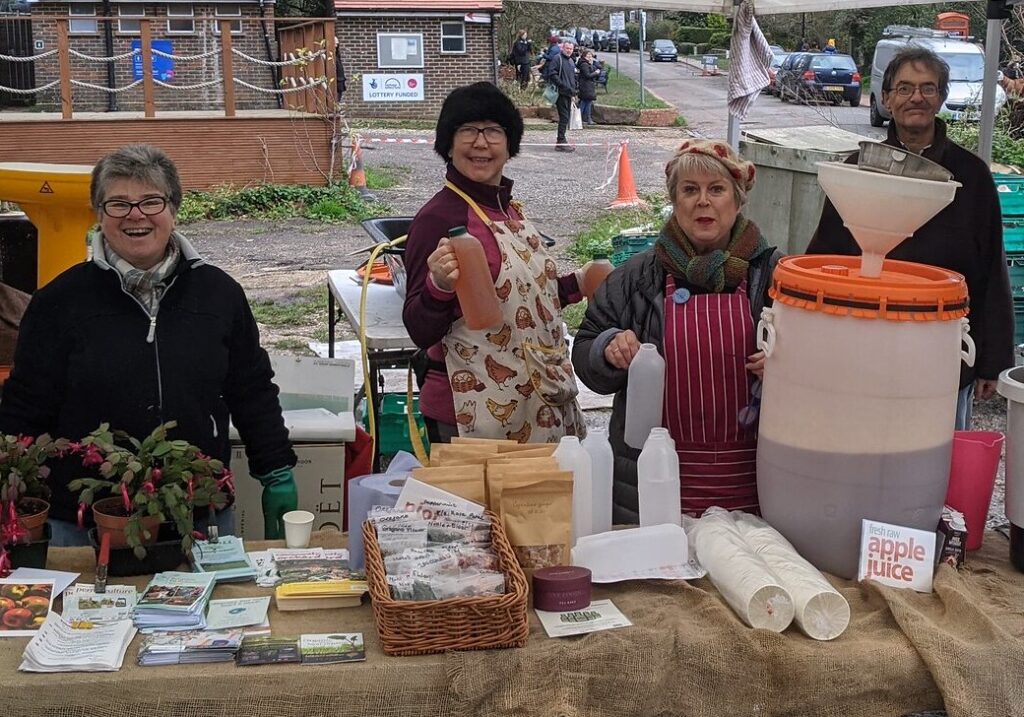 Why we scrump
In private gardens and communal spaces tonnes of fruit goes unpicked each year. This could be from a lack of equipment (e.g. ladders or juicing equipment) or lack knowledge in how to preserve the fruit.
In local commercial orchards every year hundreds of tonnes of fruit goes unpicked or never leaves the orchard. Good food can end up completely unused or as compost or animal feed.
The UK imports truckloads of fruit from all around the world (in 2017 around 67% of apples consumed in the U.K. were imported according to DEFRA statistics). Using produce that is grown on our doorstep reduces food miles and is one of the ways we can reduce the carbon emissions that contribute to the climate crisis.
Our juicing activities are a great way to engage with children and adults, encouraging them to think about local food production and food waste issues generally.
Find out more about the history of our Scrumping project and the Fruit Factory.
Support our work
Brighton Permaculture Trust relies on grants and donations for much of our work. Help us continue to develop projects that connect people to nature and to local, healthy food. Make a donation.