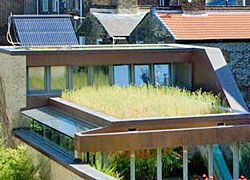 Visions for a sustainable future

Talks by designers, practitioners and professionals run in partnership with Low Carbon Trust and in association with RESET
For information about the upcoming Green architecture day,  -:- click here.
Saturday 26 March 2011
10.30
Opening comments
Bryn Thomas, Brighton Permaculture Trust
10.40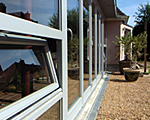 An overview of green architecture, issues and approaches
Duncan Baker-Brown, BBM Sustainable Design
A look at the issues that need to be addressed by design aiming towards achieving sustainability in the built environment. Duncan will introduce the issues illustrating them with case studies from the current work of his award winning practice, BBM Sustainable Design, as it pursues an ethos of environmentally benign design in housing, commercial, as well as community and school buildings.
-:- Click here for Duncan's presentation, PDF format [8361KB]
11.40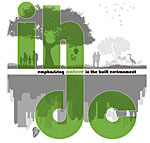 Future adapted cities
Blanche Cameron,RESET Development and the Centre for Alternative Technology
"Human needs and a healthy environment are not opposing claims that must be balanced; instead, they are inexorably linked by chains of cause and effect" – Jared Diamond. Future adapted towns and cities will rely on natural infrastructure to support them. Facing increasing temperatures, flash flooding, sea level rise, poor air quality, biodiversity loss and habitat loss, there are key actions we can take. Blanche will discuss principles of designing, maintaining and improving urban areas to provide essential ecosystem services – the goods and services that nature provides for free – while adapting to these current and future shocks. The Integrated Habitats Design Competition, organised by RESET and livingroofs.org, and RESET's collaborative manifesto, A Future of the World in 100 Objects, will inform the discussion, as well as case studies from communities globally who are adapting to the impacts of climate change, resource depletion and economic and social shocks.
-:- Click here for Blanche's presentation, PDF format [8731KB]
12.20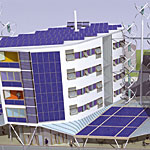 ZEDfactory, APAZed and BoHo Green at PortZED
Bill Dunster with Alan Phillips, ZEDfactory
A last minute addition to the programme. Bill has has been designing low energy buildings since the early nineties and founded ZED factory in 1999.The ZEDfactory is a leader in the field of low carbon architecture. Their designs for zero carbon developments, from individual homes to large-scale urban masterplanning, are sought out by clients around the world.  Alan Phillips of Alan Phillips Architects takes a holistic approach to the practice of architecture and had been awarded an Honorary Professorship 'for his acclaimed profile as Architect, Designer, Urbanist and Author.'
-:- Click here for Bill and Alan's presentation, PDF format [6301KB]
2.00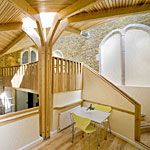 Why architecture matters, illustrated with recent work
Nicolas Pople, Nicolas Pople Architect
Nicolas Pople is an architect with his own practice in Sussex, a published author and lecturer at Southbank University School of Architecture in London. He specialises in sustainable design based on technologies that are part of a craft tradition, rather than industrialised processes. He believes that architecture's role is to make us more human in our social relationships.
-:- Click here for Nicolas's presentation, PDF format [2311KB]
2.40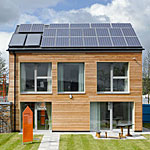 Passivhaus case studies in the UK, saving energy and improving comfort
Justin Bere, Bere Architects
Justin Bere is founding director of bere:architects, specialists in ultra low-energy passivhaus design. Using built examples, both new-build and retrofit, Justin will show how some people are achieving our country's 2050 targets now, and will show how this approach increases comfort and enriches lives without being either too difficult or expensive. Justin will explain how he is driving costs down; why it is essential that we act now to change the way we treat the planet's natural ecosystems; and how acting now leads to more fulfilling lives in the future for both ourselves and our descendants.
3.50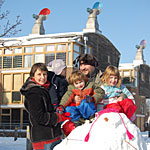 One planet living
Pooran Desai, BioRegional
If everyone on Earth consumed as many resources as we do in the UK then we would need three planets to support us. Is it possible for us to create places where it is easy, attractive and affordable for us to lead happy and healthy lives with a fair share of the Earth's resources?  BioRegional's One Planet Communities programme is working with developers around the world to make this a reality. Pooran's talk will cover international projects as well as One Brighton, and lessons learned from this exemplar project. Pooran Desai is co-founder of international environmental network, BioRegional, and Sustainability Director of eco-property development company, BioRegional Quintain.  He lives and works at the BedZED eco-village in South London.
-:- Click here for Pooran's presentation, PDF format [1418KB]
4.20
Plenary session
A panel of some of the speakers will take questions and discuss issues.
Stalls and exhibitions

Claire Potter Design. An award winning design studio committed to producing innovative, exciting and sustainable interior and exterior design solutions.

Earthship France. Take an earthship holiday in France. This earthship in the heart of Normandy is the first fully official residential earthship in Europe and offers the opportunity of experiencing earthship living first-hand.

Eco High Solar.  Eco High Solar designs, installs, services and repairs solar electric (PV) and solar thermal (hot water, heating and swimming pool) systems for domestic and commercial customers.

Eco Open Houses.  Eco Open Houses aims to show how simple behaviour changes and changes, which can easily be made to your home, can reduce your energy and water bills.

Ecotecture.  Ecotecture designs innovative and sustainable buildings in all sections of the built environment – from domestic extensions to larger, energy efficient commercial and community projects.

Soltek.  Soltek offers full system design, installation and maintenance service of renewable energy systems, which include solar panels to generate electricity, solar panels to produce hot water, or heat pumps or biomass heaters to replace conventional boilers.

Westgate Joinery. Westgate Joinery provides a comprehensive service covering the full spectrum of joinery products from design to installation. The business uses a range of timber species and produces a range of energy efficient double and triple glazed energy rated windows.

Wood Recycling Project.  The Wood Recycling Social Enterprise works with local builders, businesses and organisations to collect waste wood, bring it back to life, and recreate the material as a reusable product.
Partner Organisations