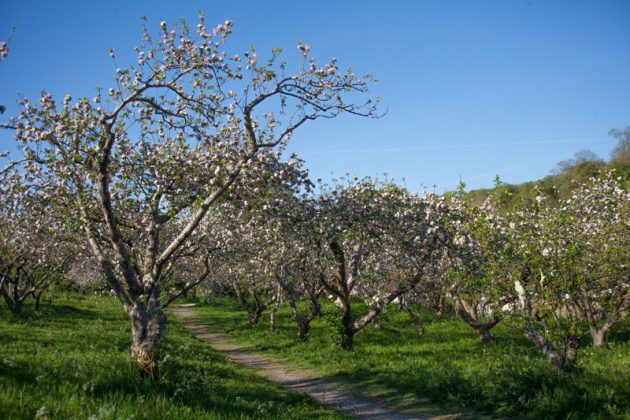 A few years ago one of our members suggested the idea of Brighton & Hove becoming an 'orchard city'. We're well on our way, with many pockets of land in Brighton & Hove flourishing with fruit trees and have set our sights on planting the way to an Orchard County. 
To show you just how serious we are, we totted up the number of trees planted over the 2019–2020 winter – an amazing 56 fruit trees and 1,240 seedling trees at eleven different locations across the county. Thanks to our fantastic Fruit and Orchard team, who are planting us toward to our fruitful Orchard County goal.
Orchards are a way to regenerate neglected land, increase biodiversity, create community spaces while obtaining a yield of delicious fruit for generations to come. From new community orchards to expanding established sites, read on for a tour of our local, future food supply.  
A New Community Orchard in Bevendean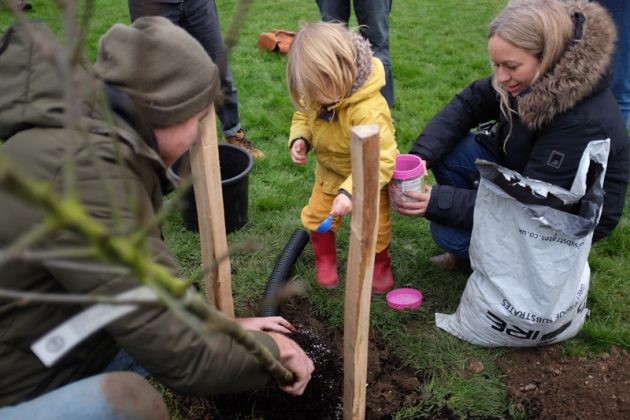 Many of you will know the underused grassy area along The Avenue in Brighton – it's probably not surprising that we've been eyeing it up for years. Funded by the Rampion Fund at Sussex Community Foundation we were delighted to support Friends of Farm Green to plant a 13-tree orchard in this underused space. 
The two days' work in January saw over 50 people attending the planting of eight apples, two pears, two plums and a damson. The community showed almost unanimous support and have been carefully caring for the young trees during the Spring drought. The grassy area is huge so there's potential to expand in future years. We're imaging local fêtes, cheerful children at juicing sessions and people relaxing in dappled sunshine, drinking the cider they fermented.
An Orchard Tour around Hollingdean & Hollingbury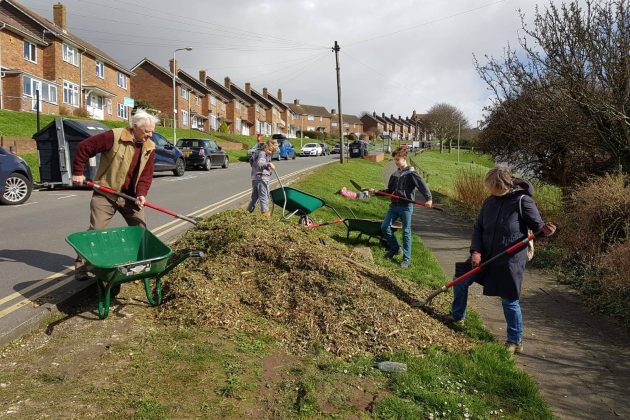 A successful project deserving some serious celebration is the extensive ground design at Hertford Junior School. Over the last 15 years, we have helped to nurture the space and, this winter, The Conservation Volunteers working with OVO Energy provided us with an apple tree and a further five seedling trees for us to plant and grow there.
When it comes to orchards it's true that success breeds success. Thanks to the Rampion Fund at Sussex Community Foundation, residents of Hollingdean Estate were able to come together to plant six apples, two pears and two plum trees. Adding 10 new fruit trees to the 100 we have planted over previous years.
The continuous support of these organisations has also enabled us to add 28 seeding trees to Hollingdean Park's grassy and woodland landscape. We planted loads of different varieties, including native elder, hazel, sea buckthorn and Italian alder.
An Orchard Walk from Stanmer Heights to Stanmer Park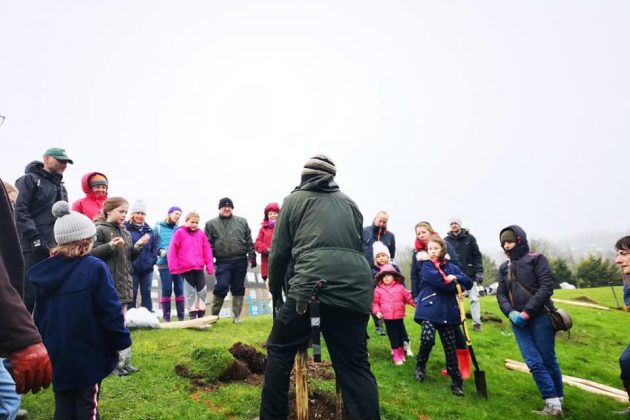 From Hollingdean Estate, take a walk up past Hollingbury Park and Woods, and into Stanmer Heights, and you'll end up at the Old Boat Corner Community Centre. There you'll find a brand new orchard adjacent to the centre in Carden Park, all thanks to the to the support of the City council's ranger service, funding from Infinity Foods, and a host of local volunteers. The amazing turnout on a crisp February afternoon ensured that the six apples, three pears and a plum were safely tucked into their new home.
Carry on your journey, walking over the A27 into Stanmer Park and you'll soon come across Meadow Orchard in Stanmer Organics. Find our Permaculture Plot and you'll find Meadow orchard, and the Nanny and Mike Rowney, planted during our Planning and Planting a Small Orchard course, adding to our ever growing National Collection of Sussex apples.
Expanding our Brighton Orchards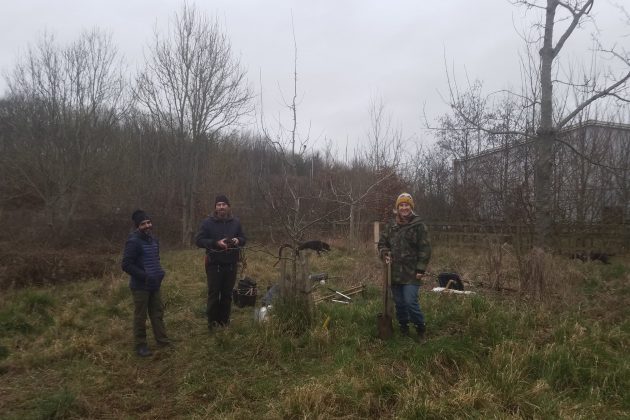 The planting of Sussex apple trees have been at the heart of three projects this winter. Now that the shelterbelts at Racehill Community Orchard are getting established, we were able to plant a rare Nanny Sussex apple tree and a fig and a mulberry tree, adding even more variety to this wonderfully diverse orchard. The Rampion Fund at Sussex Community Foundation funded this planting, as well as Woollards Field in Moulsecoomb, where we planted three Sussex apples, a pear and a mulberry. The recently formed Woollards Orchard Collective are looking after this hidden haven, found tucked behind the Keep.
If that wasn't enough, Saunders Park Edible Garden on Lewes Road welcomed a plum tree to it's establishing orchard, run by our friends at Brighton & Hove Food Partnership and part-funded by our National Lottery Awards for All grant. Not only that, a further seven seeding trees were planted, thanks to The Conservation Volunteers working with OVO Energy. 
Steps to Sussex as an Orchard County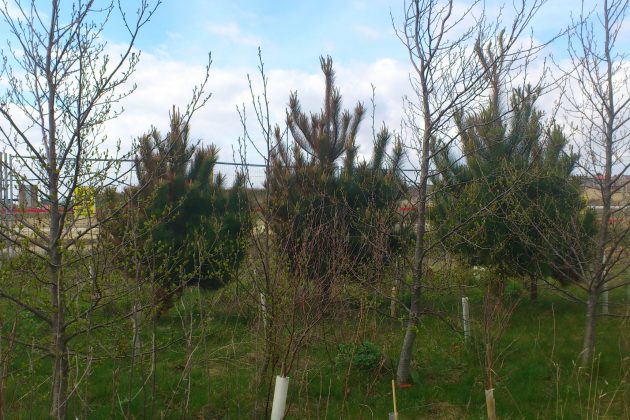 Peacehaven Community Orchard is a masterpiece in the making, when complete, the orchard will extend to over 100 fruit trees. This winter we planted two pears and two damsons, as well as adding an Ashdown Seedling to the collection of Sussex apples. We plan to complete the orchard next winter and the final design will include two of each delicious variety. 
The tree planting, funded by Infinity Foods, and the 1,200 seeding trees provided by The Conservation Volunteers working with OVO Energy, brings the total number of trees planted on this site to over 3,500!  The shelterbelt is mostly Italian alder, sea buckthorn and goat willow, and is already providing welcome protection for the fruit trees closest to it. In time, their growth will protect the entire orchard and provide habitat for a multitude of plants, animals and fungi.
Last, but certainly not least, we've been helping our friends at Barlavington Estate in Duncton to create a collection of Sussex apples. The estate will act as a valuable second location for the National Collection of Sussex Apples and will contain two trees of each Sussex apple variety. This winter the collection welcomed four plum and two damson trees.
Thanks to our supporters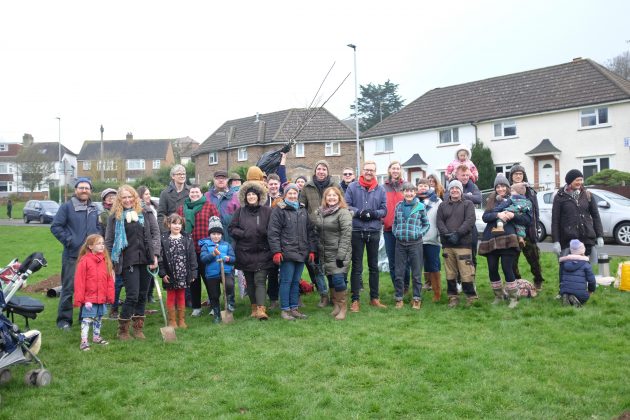 All of our orchards are planted in partnership with local organisations and the planting simply would not happen without the dedication and hard work of our volunteers, and other volunteer groups. If you'd like to join our fantastic volunteering crew, sign up here to find out about the latest volunteering opportunities.  
As mentioned, the following organisations and people provided finance to make these various plantings and associated activities possible, they are a wonderful bunch:

Our thanks also go to the following local authorities for their support:
Brighton & Hove City Council

Peacehaven Town Council
We couldn't do it without you!